Watch Farrah Share How Rare Immune Deficiency Affected Her Life
Farrah Mackenzie turns 13 this coming October, but she has another birthday to celebrate much sooner. On June 30, 2018, the new immune system swirling around her body turns 1!
That new immune system, provided through a bone-marrow transplant from a healthy donor, has given Farrah a new life that provides her a great chance at being healthy as a teenager and throughout her life.
Diagnosed with Primary Immune Deficiency Disorder about five years ago, she's actually been sick since age two with a condition that causes her body to fight itself. Her previous immune system attacked her own organs — mainly her lungs — giving her lifelong breathing problems and stunting her growth.
Until now. Although Farrah is still small for her age, today she's bigger and healthier than ever.
Farrah tells her story at The Inn's annual Evening for Hope Gala:
"Finally I'm getting some new clothes and shoes!" she jokes. And now she rarely gets sick, she says, which is a dramatic change from too many years of colds that became sinus infections that became pneumonia.
Beyond getting new clothes, though, Farrah is excited to get on with her life, which is amazingly full. An actress since childhood, she's been on television and in movies, but she also has many other hobbies. She likes to draw anime, ski and snowboard, is learning guitar, joined a rock-climbing team, and does Parkour and Ninja Warrior stuff.
Her dad, actor Andy Mackenzie, "is in denial" (according to Farrah) that his daughter is becoming a teenager, but he could not be more grateful for this moment in their lives.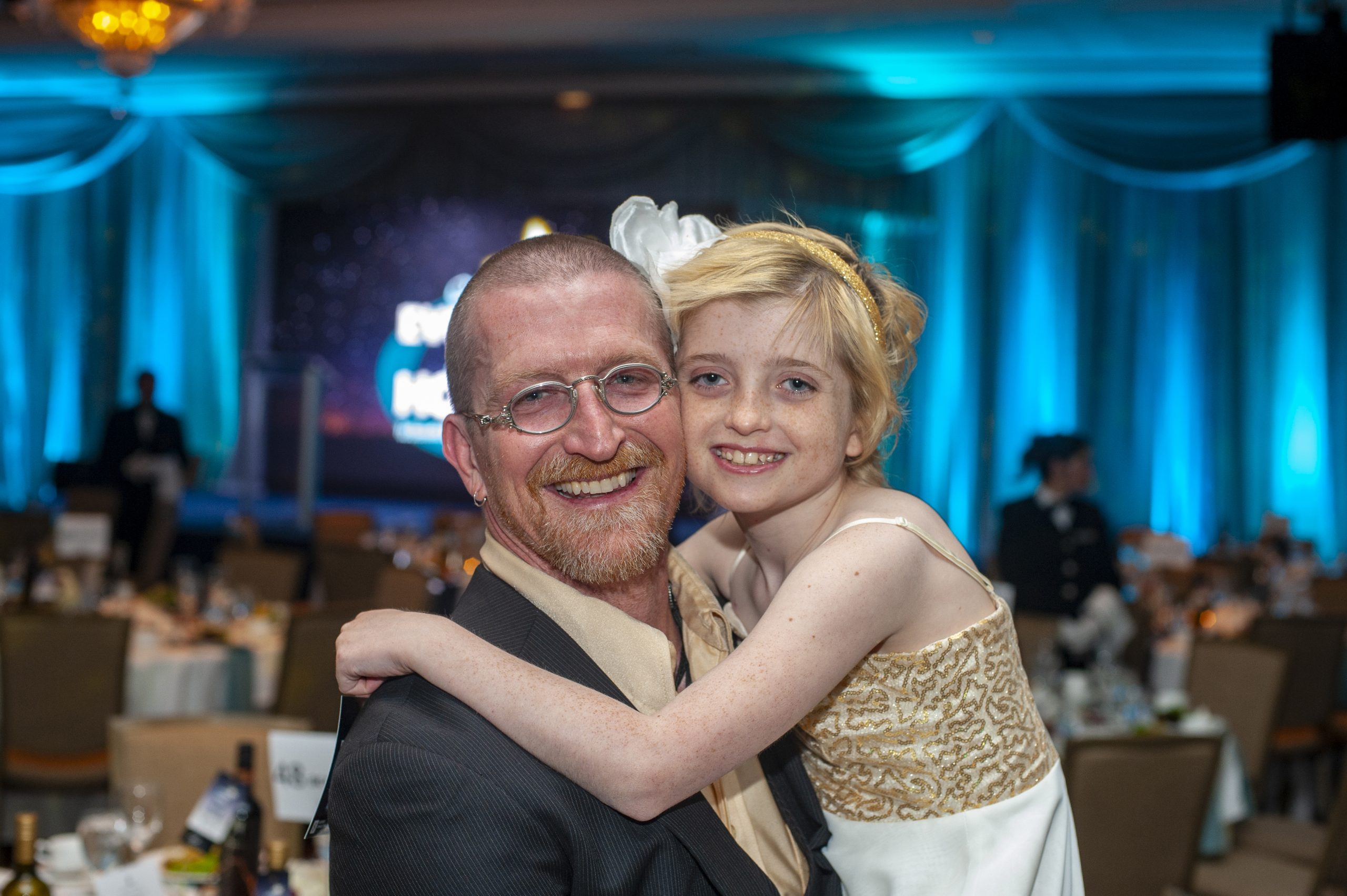 Farrah and Andy Mackenzie
"Speaking as a dad, Farrah and I owe everything to NIH and The Inn. All the warm and caring Inn staff and the amazing medical team — in particular immunologist Dr. Gulbu Uzel and bone-marrow transplant specialists Dr. Jennifer Kanakry and Dr. Dimana Dimitrova," he said. "All these people fell in love with my little girl. They're not afraid to answer our questions, to tell us 'how it really is,' and to just be kind."
Like that of many young patients who stay at The Children's Inn, Farrah's medical story is a long and complicated one. Before getting a diagnosis through NIH, she endured years of monthly immunoglobulin replacement therapy: intravenous injections designed to temporarily boost her immune system's ability to make antibodies. But the treatments never really worked long-term.
In 2014, she first enrolled in an NIH clinical study to try to identify the gene that might be responsible for her immune problems. But her NIH medical team realized that it would take longer than expected, and the damage to her lungs had to be stopped right away (although the gene search is ongoing).
Dr. Kanakry noted that Farrah received bone marrow from an unrelated donor through the National Marrow Donor Program "Be The Match." Without it, Farrah had no other donor options, so she was incredibly lucky.
The first step was getting chemotherapy to prepare Farrah's body for a new set of immune cells.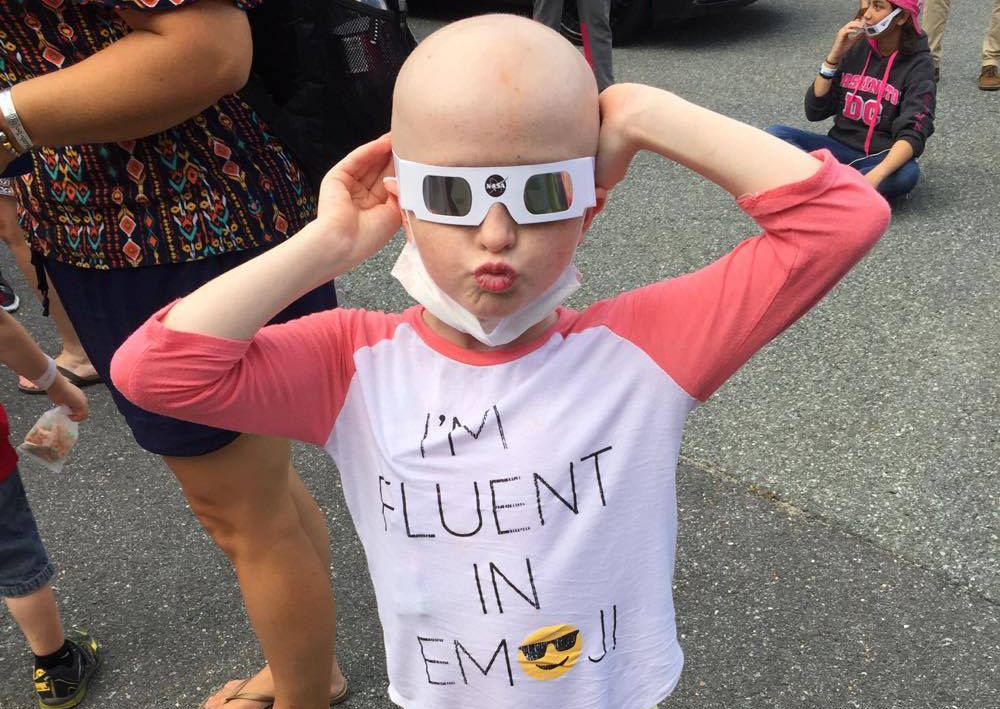 Farrah lost her hair due to chemo
"I lost my hair," says Farrah, adding that both her parents let her shave their hair in solidarity. And then, she got a special surprise.
Farrah and her family cannot imagine what life would be like without The Inn.
"Spending all day getting my blood drawn, getting MRI scans, getting every possible test is tough," says Farrah.
"But because of The Inn, I can just walk across the street, play at the gigantic playground, and then get a fabulous home-cooked meal. I can just be myself."
As a performer who loves to be around people, Farrah loves The Inn's multipurpose room the best. That's where with friends she puts on plays and musicals — like Matilda and Space Unicorns — talent shows, and just goofs around.
"We totally forget that we're even near a hospital, it just feels like fun!" she says.
Stay Up To Date
on how The Children's Inn is creating 'A Place Like Home'