In Her Own Words: Emily Bhatnagar
On January 22, 2022, just-turned-18-year old, Emily Bhatnagar donated 530 books to The Children's Inn. The smiley, smart Quince Orchard High School senior is on a mission! She aims to put more than 15,000 books into the hands of children all across the country by the end of the year.
Emily's motivation? Her father!
"Everyone goes through something in life that absolutely crushes them," said Emily. "For me, that was my Dad's Stage 4 thyroid cancer diagnosis in 2019. I had to pay it forward."
In July of 2021, when her father's health had stabilized, Emily launched For Love & Buttercup. An avid reader from the time she was a little girl, she chose to focus on books and reading as a way to channel her inner child and a way to give back to her community.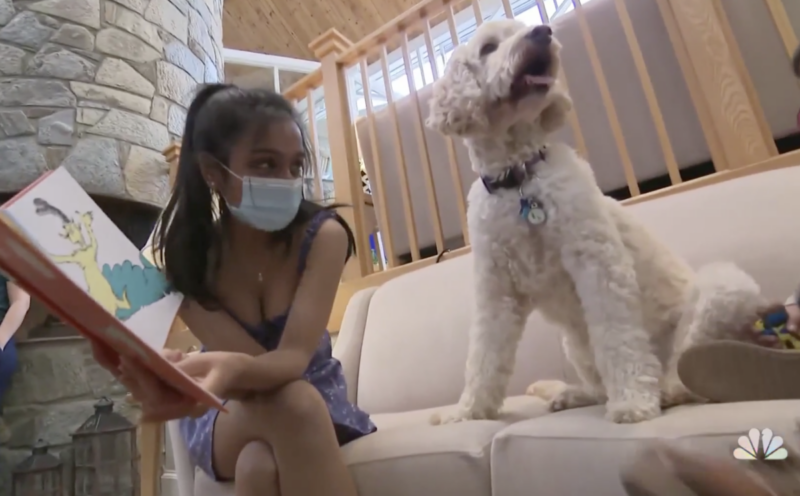 Emily with Zilly, The Inn's therapy dog.
"Buttercups symbolize child-like happiness, charm, innocence and purity…I think that's what being a child should feel like. They deserve the most happiness in the world," exclaimed Emily.
What started as a simple message on the Nextdoor app has since turned into a booming enterprise! Initially a modest book drive for pediatric cancer patients, For Love & Buttercup has grown by leaps and bounds in the last six months, donating over 9,000 books to children in DC-area hospitals and healthcare facilities. With a major following on Instagram and a dedicated Amazon Wish List, the young philanthropist has garnered some extra attention thanks to stories in The Washington Post and NBC Nightly News.
Watch the NBC Nightly News Coverage straight from The Inn Here.
When Emily visited The Inn, she was thrilled to be able to meet a few of the young patients she spends so much of her time thinking about. And The Children's Inn is thrilled to have been chosen as a recipient of so many wonderful books for its educational programs and newly-established Book Club.
"My hope is that these kids can dream with these books…whatever it is that they're facing, there is such a happy life waiting for them."

Emily Bhatnagar
Stay Up To Date
on how The Children's Inn is creating 'A Place Like Home'