A Cure for Emi's Life-Threatening Disease
One Texas family has lots to be thankful for this Thanksgiving. Their daughter, now 13, is doing well after undergoing a hematopoietic stem cell transplant – the only chance for a cure for her rare and deadly disease.
"We're overwhelmed with gratitude," Emi's mom, Katie Ballard of Longview, Texas, says. "We're grateful for the doctors and nurses at the NIH, The Children's Inn, our incredible families and supportive friends."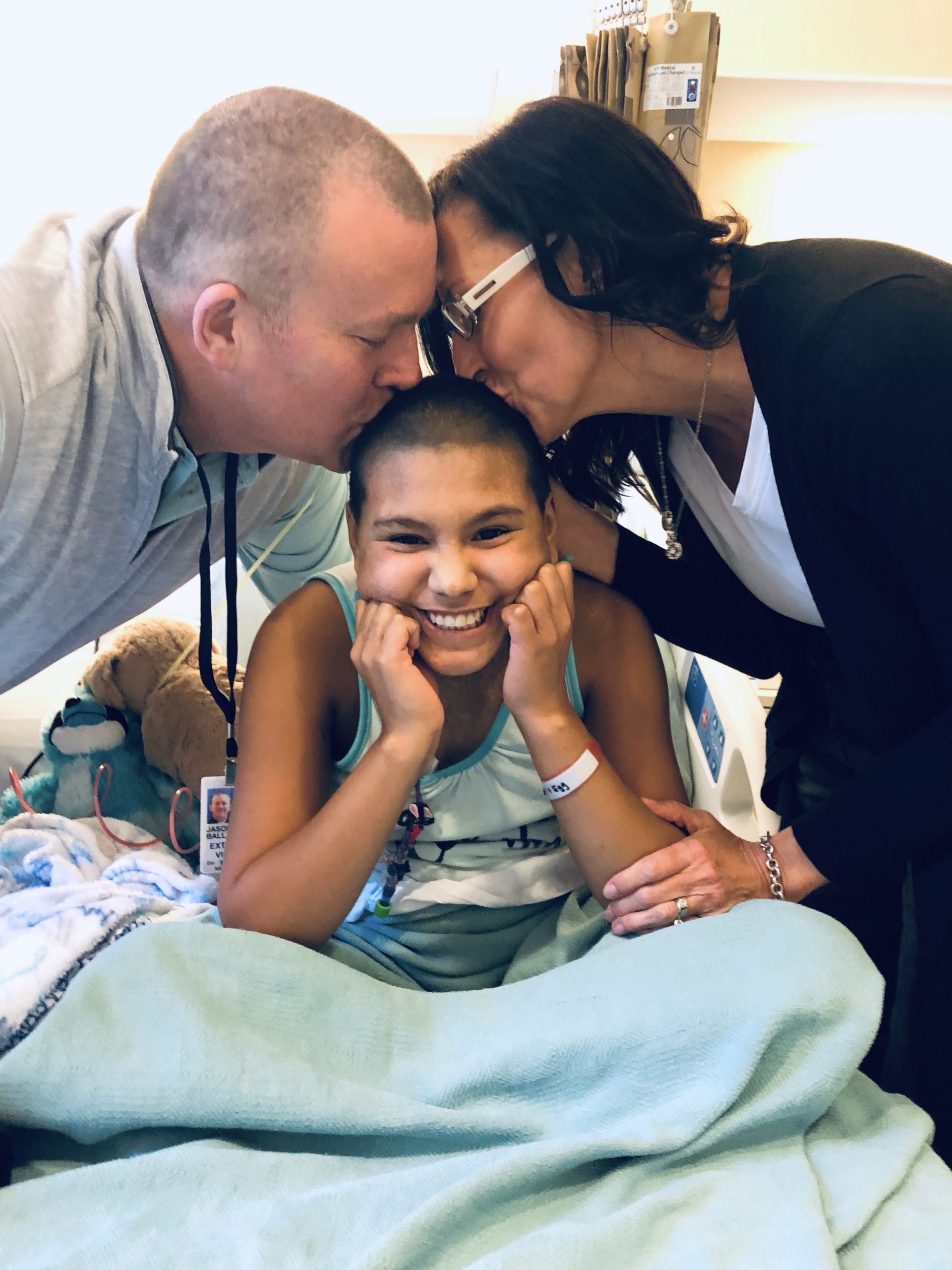 Emi receives kisses from her parents, Jason and Katie Ballard, as she gets ready to receive a lifesaving hematopoietic stem cell transplant, the only way to cure her fatal immune deficiency using cells donated by her birth mom.
But Emi's story is not only a story about the triumph of medical research that is making her cure possible–it's also a story about extraordinary parental love and sacrifice that has given a very sick little girl the best chance at life.
Two Moms, Two Countries and Countless Doctors
Emi was born in Belize, a small country bordering southern Mexico and Guatemala. Her birth mom, who was raising Emi by herself, didn't have access to the specialized healthcare needed to treat her daughter's chronic ear, skin and lung infections. Hope for Emi came when a visiting group of medical missionaries from Texas recognized the little girl's need for urgent medical care and flew the mom and daughter to the United States for evaluation and treatment.
Acting as a host family, Katie and Jason Ballard, and their then 10-year-old son, Maxx, opened their home to little Emi and her mom to help the little girl get the medical care she needed.
Emi's Texas doctors soon recognized that the little girl had a dangerous immune deficiency. They determined that in order to survive, Emi needed to stay in the United States to have access to continuous health care. Emi's mom, who also had a son and other family in Belize, suddenly faced the most difficult decision of her life.
"She asked us, 'Can you love her like I do?'" Katie says. "We said, 'Yes.' We felt like God had put a calling into our laps."
Although the Ballards hadn't planned on adopting a child and didn't know what Emi's future held, they welcomed Emi into their family without hesitation.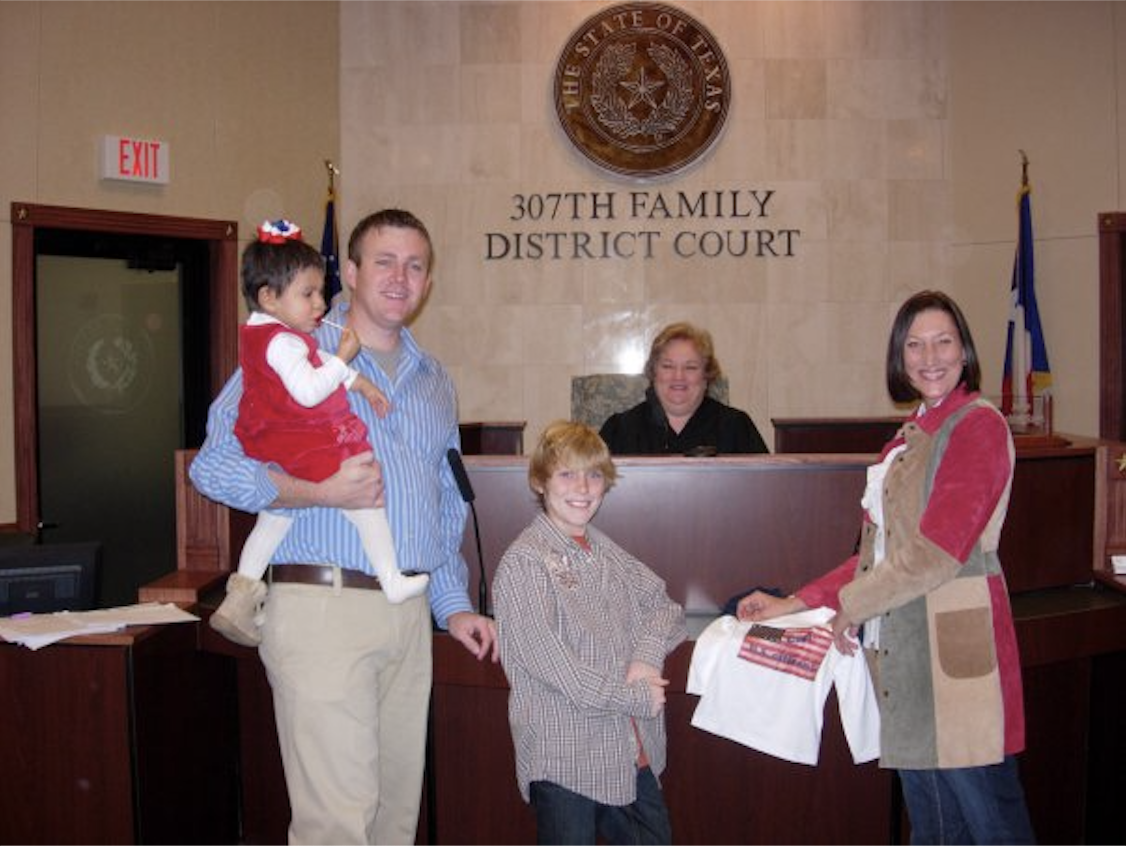 Adoption makes Emi an official member of the Ballard family. Pictured are Emi with her dad, Jason, Emi's brother, Maxx, and their mom, Katie.
Six months later, after receiving intensive health care, Emi finally learned to walk and talk.
With ongoing healthcare, the little girl thrived. She went to school on schedule, played with the neighborhood kids and took up the violin. The family also stayed in touch with Emi's birth mom via social media and sent photos regularly.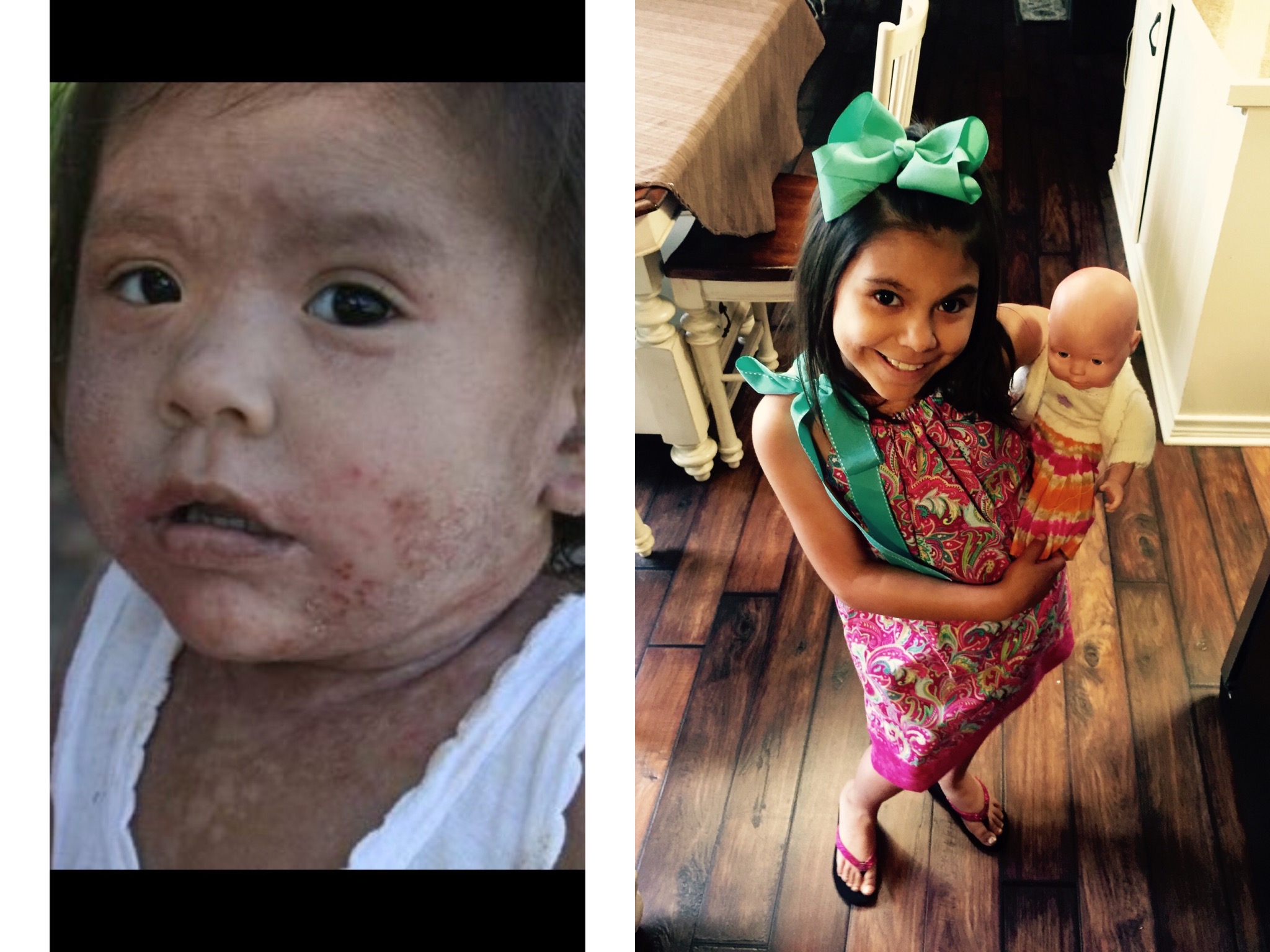 The photo on the left shows Emi with her face covered in eczema when she first came to the Ballards; the photo on the right shows Emi a few years later.
Yet Emi's underlying health condition remained a mystery.
"We always knew there was a piece of her health puzzle missing, although we knew she was dealing with some sort of immune deficiency," her adoptive mom says. "But I was over being a Google pirate, and we decided to treat her as new health issues showed up."
Emi stayed on a tight medication regimen to keep infections at bay and used a machine daily to keep her lungs clear.
In 2017, Emi's immunologist asked if the family would let Emi participate in a genetic study, testing her for a rare disease. Her family agreed.
In the summer of 2018, Katie answered a phone call that changed everything for their family. Genetic testing conducted as part of the study the family had consented to a year prior had identified the source of Emi's health issues. The diagnosis of DOCK8 deficiency–a rare immune deficiency that puts children at risk of recurrent infections as well as asthma, allergies, certain types of cancer and even early death–came as a shock.
Soon, Emi and her family were at the NIH Clinical Center, the nation's largest hospital dedicated entirely to medical research. Emi's team of NIAID doctors informed them in detail about Emi's devastating disease, which tends to worsen as children age and frequently leads to death by the early 20s or 30s. The only chance to heal Emi, her family learned, was by replacing her faulty immune system with a healthy one through a stem cell transplant.
"We had Googled the disease and knew DOCK8 was a possibility," Katie says. "But it's one thing to read about a stem cell transplant and another knowing that's what your child needs to live."
To complicate matters, no matching stem cell donor could be identified for Emi from a worldwide donor list.
Even with more than 2,000 of the Ballards' family members, friends, acquaintances and even strangers answering the countless appeals for stem cell donors Emi's family put out, no donor match could be identified.
Searching for a Stem Cell Donor in Belize
With Emi's health depending on a stem cell donor match, the Ballards took the search for a donor into their own hands. Knowing that Emi's blood relatives at this point were Emi's best chance at finding a donor, Katie in early 2019 was equipped with several DNA swab kits to take to Belize in search of Emi's birth parents and brother.
Only days later, after friends had held a fundraiser for the Ballards, Katie flew to Belize to meet Emi's birth mom and seek out her birth father, whom neither Emi nor her adoptive family had ever spoken to. With the help of a translator, Katie explained Emi's dire need for a stem cell donor and that her birth parents and brother were Emi's only chance at a life-saving treatment.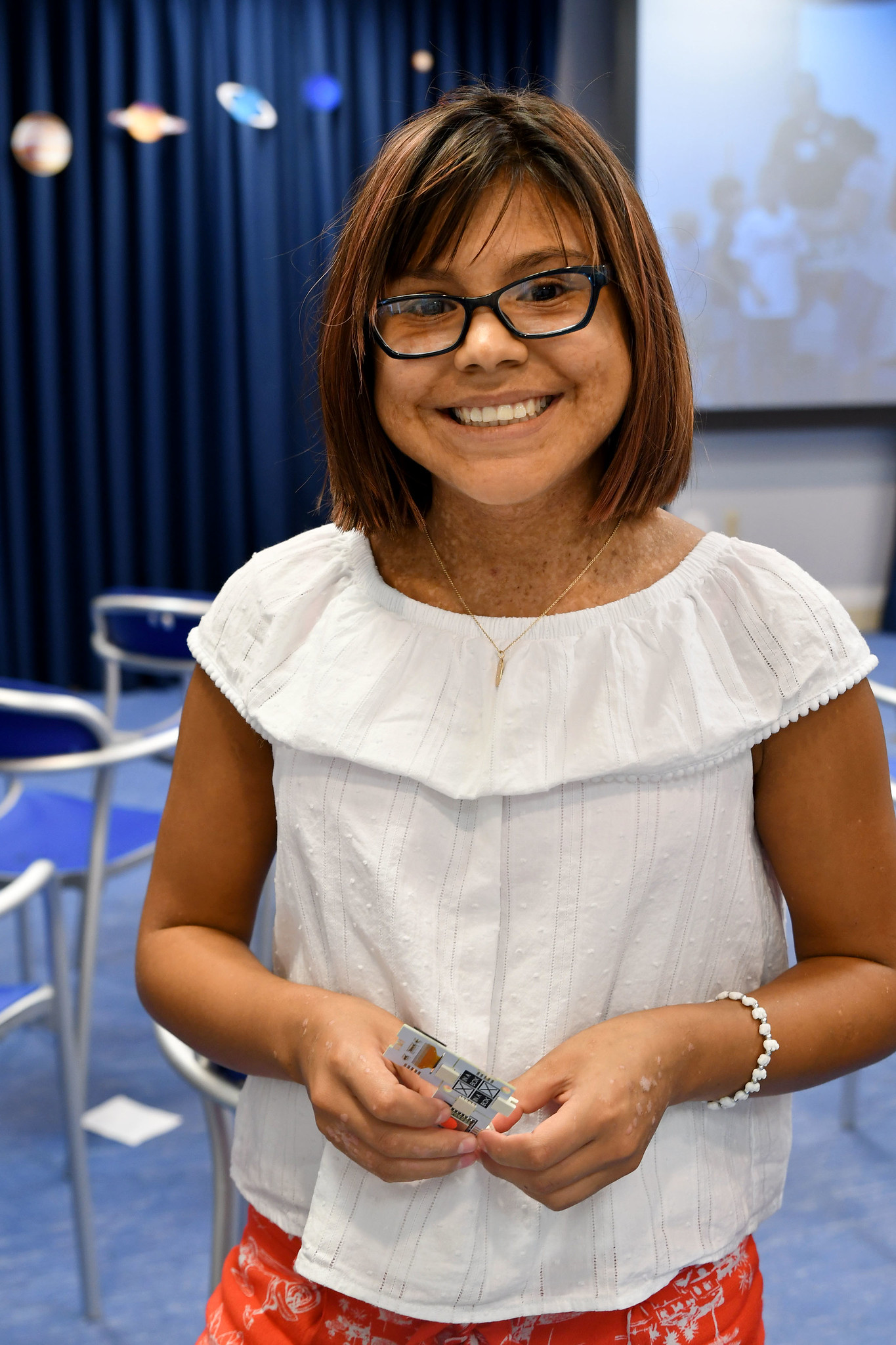 Emi before her transplant.
Both of her birth parents immediately agreed to be Emi's donors and to have their cheeks swabbed to check their eligibility. Emi's birth brother also participated. While none of Emi's birth relatives were a perfect match, to everyone's relief, tests confirmed Emi's birth mom as a haplo – half match – stem cell donor for Emi. Although a stem cell transplant using a perfect match is easier to do, haplo matches have been used successfully to cure DOCK8 deficiency at the NIH.
By mid-August 2019, Emi and her mom flew to Maryland again to get Emi ready for her life-saving transplant. They settled into The Children's Inn at NIH, a nonprofit hospitality house that provides free lodging and a wide range of support services to families like Emi's while their children participate in clinical research studies at the NIH.
Shortly after, Emi's birth mom flew in from Belize. Emi and her mom waited at Ronald Reagan Washington National Airport to greet Emi's birth mom – the first time they had seen each other since she left Emi with the Ballards in 2008.
The reunion was emotional, and Emi and both of her moms cherished the chance to spend time together at The Children's Inn and the NIH Clinical Center, where they stuck together through many tests and procedures, including grueling chemotherapy Emi had to undergo to wipe out her faulty immune system in preparation for her hematopoietic stem cell transplant performed by doctors from the National Cancer Institute (NCI).
The day after Emi's birth mom's hematopoietic stem cells were finally extracted, they were infused into Emi. Several hours later, the transplant was complete.
"Her mom was very happy to be her donor," Katie said. "She saved Emi's life more than once."
But Emi isn't out of the woods.
"Emi got a virus after the transplant," Katie says. "She went through nausea from the chemo, had mouth sores, fever and couldn't eat. It's a long, hard, hard, hard road."
Emi rests as she is receiving her birth mom's cells in an effort to replace Emi's faulty immune system with a healthy one. A hematopoietic stem cell transplant is the only way to cure Emi's fatal genetic immune deficiency.
Recovery from a stem cell transplant takes time. Emi and her adoptive mom must spend the initial 100 days post-transplant at The Children's Inn to stay close to Emi's teams of doctors at NIAID and NCI. To make sure Emi's new immune system is taking hold, she needs regular bloodwork and monitoring through Dec. 28. If she is doing as well as expected at that point, Emi will be able to return home and return to the NIH for regular checkups.
An Unusual But Most Thankful Thanksgiving
Needing close monitoring by her NIH medical team, Emi's adoptive family must spend Thanksgiving and Christmas at The Children's Inn. It's a sacrifice the Ballards are happy to make in exchange for Emi's newfound health.
"We are most thankful for an answer to years of prayers," Emi's adoptive mom says. "Emi got a new start at life, a rebirth day. Every holiday this year will be like the first. We're so grateful to the doctors, nurses and The Children's Inn."
To celebrate Thanksgiving as a family, Emi's adoptive father and brother, 20, a college student, traveled to The Inn.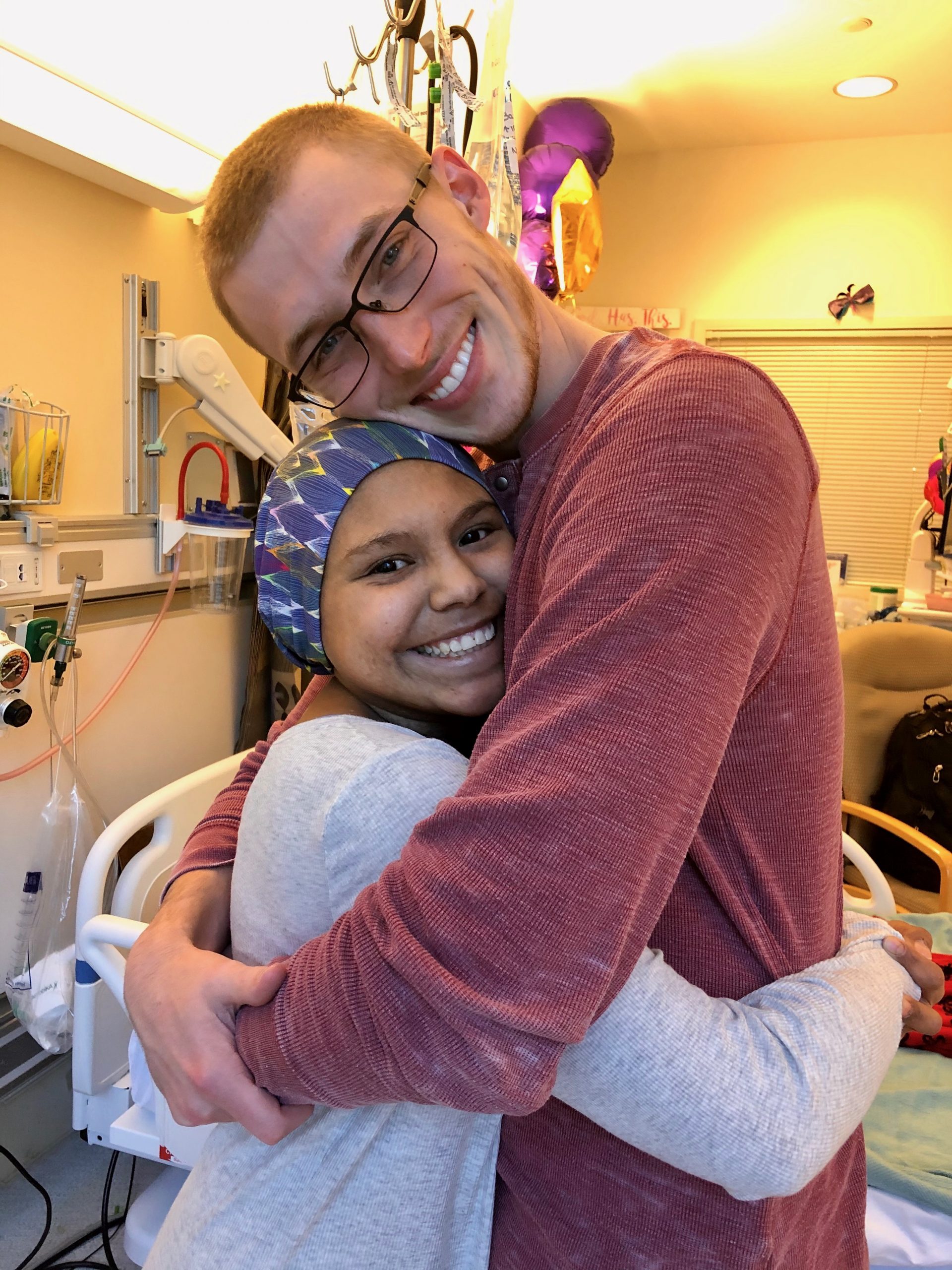 "Jason brought his oil-less fryer from Texas to make a turkey, and my mom made a pan of her cornbread dressing to share," Katie says. "The hardest will be not being with the kids' grandparents. We will eat with our newfound family here at The Inn and be grateful for where we are at in this moment and the promise of home in the future."
Spending several months at The Children's Inn, the Ballards have bonded with other families whose children, like Emi, are participating in potentially life-saving clinical research studies at the NIH for rare and serious diseases. On Thanksgiving Day, families who cannot travel home for the holiday will be served a traditional Thanksgiving meal at The Children's Inn prepared by a group of dedicated volunteers.
Most importantly, the Ballards are thankful that for the first time since becoming a family of four, they know Emi's future is bright and that their family is finally free from the dark shadows of an unpredictable, deadly disease that had loomed over them for so long.
"It took two moms who love this little nugget to fight for her right to life," Emi's adoptive mom says. "We finally are getting to see that beautiful part of the story that we always knew was there."
Emi and her family are looking forward to spending New Year's Eve at home in Texas for the start into a truly new year.
Stay Up To Date
on how The Children's Inn is creating 'A Place Like Home'