Field Trips, Author Visits Highlight Educational Programming Offerings
Families and staffers pose on a field trip to the National Mall in Washington, D.C.
As part of its mission of providing a "place like home" for the children, teens, and young adults who come to the National Institutes of Health to participate in groundbreaking medical treatments, The Children's Inn at NIH offers a wide array of educational programming designed to further the educational journeys of residents of all ages. For the last six months, Matthew McCormack has served as The Inn's Family Program Coordinator for Education, rebuilding the educational programming at The Inn after the major disruption caused by the COVID-19 pandemic.
"When I started, I wanted to learn everything about the framework that was in place," McCormack remembered. "I wanted to see what programs had happened before, what worked, what didn't work, and think about some new things that we could bring to the table."
McCormack's arrival at The Inn coincided with some gradual easing of restrictions aimed at keeping the staff and families at The Inn safe and healthy during the ongoing COVID-19 pandemic. Those guidelines did their job – The Inn was able to keep its doors open throughout the pandemic while maintaining the health of all who walked through those doors. But they also led to a necessary curtailment of educational opportunities, particularly those that would have brought the children, teens, and young adults staying at The Inn off-site to explore the Washington, D.C. area.
During McCormack's first week on the job, he got to know families and new colleagues on a long-awaited walking tour of the National Mall. Since then, he has helped organize visits to the International Spy Museum, the National Gallery of Art, and VisArts in Rockville among other field trips, and is planning for more as the school year progresses.
"In the past year, we have been able to nearly double the amount of educational programming available to families," said Family Programs Operations Manager Emily Johnson. "In the summer of 2021 and leading into 2022, we were unable to take families on many field trips because we were focused solely on providing families with the basic needs in a tumultuous time. COVID caused so much uncertainty among both staff and families, and heavily impacted our ability to provide families with much educational programming."
In addition to finding opportunities to safely bring families off site, McCormack and the Family Programming team has worked to bring educational opportunities to the families at The Inn. In October, Newbery Medal-winning author Meg Medina came to The Inn to read her book, Mango, Abuela, and Me to families. It was the first installment of an author series that also brought award-winning author Debbie Levy to The Inn to read I Dissent: Ruth Bader Ginsburg Makes Her Mark.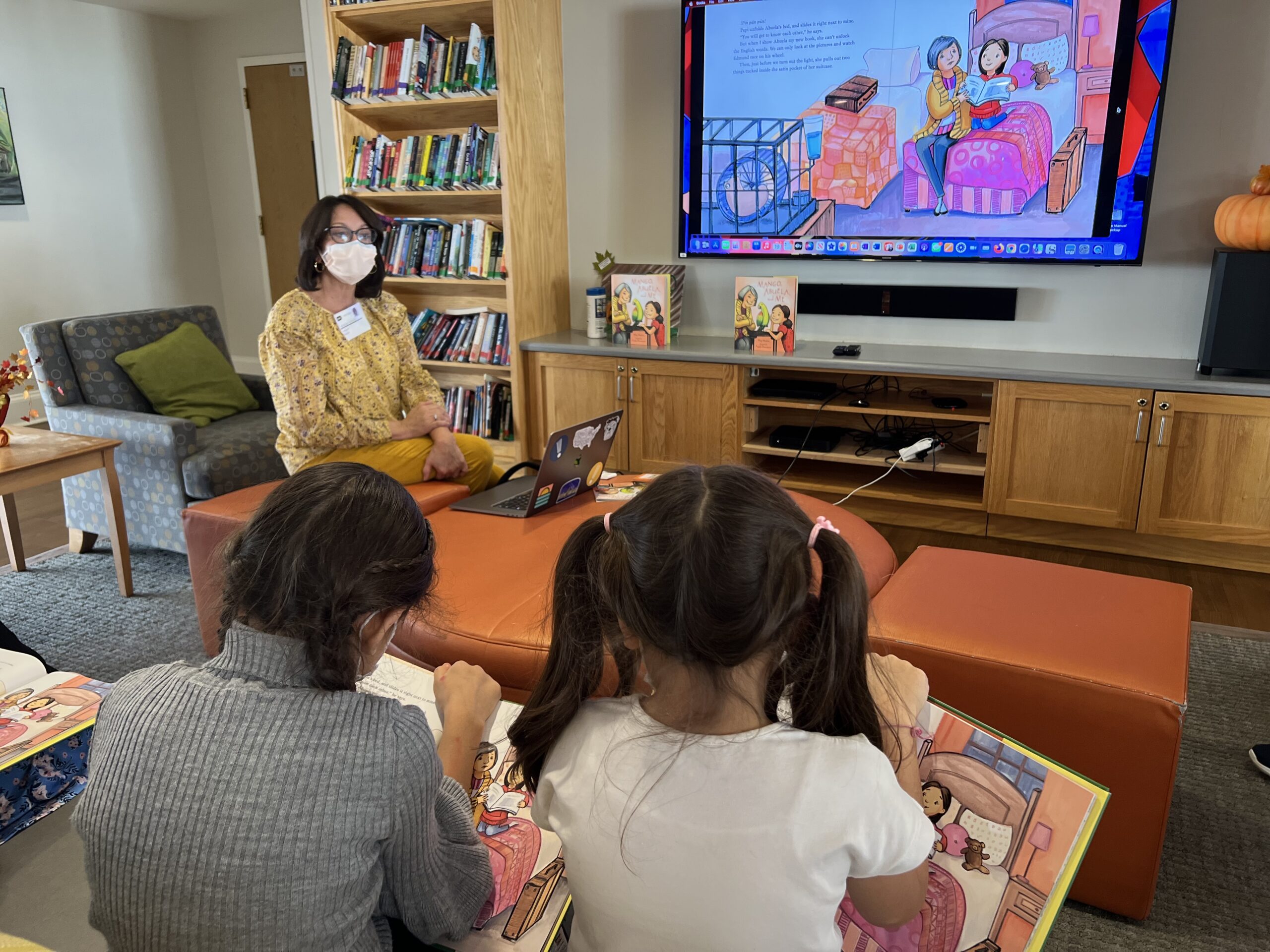 Meg Medina reads her book, Mango, Abuela, and Me, to families in The Inn's bistro room.
"They actually got to meet with families," McCormack said. "They talked with them outside of the book reading, just making individual connections."
The revitalized educational programming is possible thanks to the support of funding from Women for the Inn (WINN), who have provided donations that have supported the broad work done by the Family Programming team. "That has allowed us to do some pretty cool things," McCormack said. "We're bringing more people in and going more places, which is providing different experiences for our families."
In addition to the field trips and special events at The Inn, regular classes help families further their educational journeys even when spending extended periods of time away from their schools. Weekly art classes with a volunteer, Dave, have proven popular, and prepped families for what they would see on a recent visit to the National Gallery of Art. An engineering program will debut in December. And general tutoring is also once again becoming a viable option for many families, as volunteers are once again allowed on site.
Providing a "place like home" has always meant more than a warm bed and clean kitchen space. Through the work of McCormack and the Family Programming team, it also means keeping the families that stay at The Inn engaged in their education in meaningful, enjoyable ways during an otherwise difficult time. Thanks to support from WINN and friends like you, those programs can continue to expand and engage residents of all ages during their time at The Inn.
Stay Up To Date
on how The Children's Inn is creating 'A Place Like Home'