Deloitte Consulting LLP Has Been Helping Bring out The Inn's Strengths for Nearly Two Decades
Over the past 19 years, The Children's Inn has been able to count on Deloitte Consulting LLP to provide crucial financial, in-kind and hands-on support whenever needed. When the coronavirus pandemic recently forced The Inn to cancel its largest annual fundraiser, Deloitte repurposed its event sponsorship into a generous donation. This act of kindness is helping ensure The Inn can continue to provide a comfortable and nurturing "place like home" during the most difficult chapter of the nonprofit's 30-year history.
"Team members are inspired – they're inspired by the courageous families, they're inspired by the mission of The Inn," says Beth Meagher, Deloitte Consulting LLP's chief strategy officer for government & public services, who joined The Children's Inn's board of directors in 2019. "They are reconnected with a purpose, and that key component I have seen helps us build really strong teams at Deloitte."
To support The Inn's strategic planning efforts for the future, Deloitte Consulting LLP recently donated pro-bono journey-mapping services to The Inn. This state-of-the-art technique is helping The Inn understand how to better support its children and families.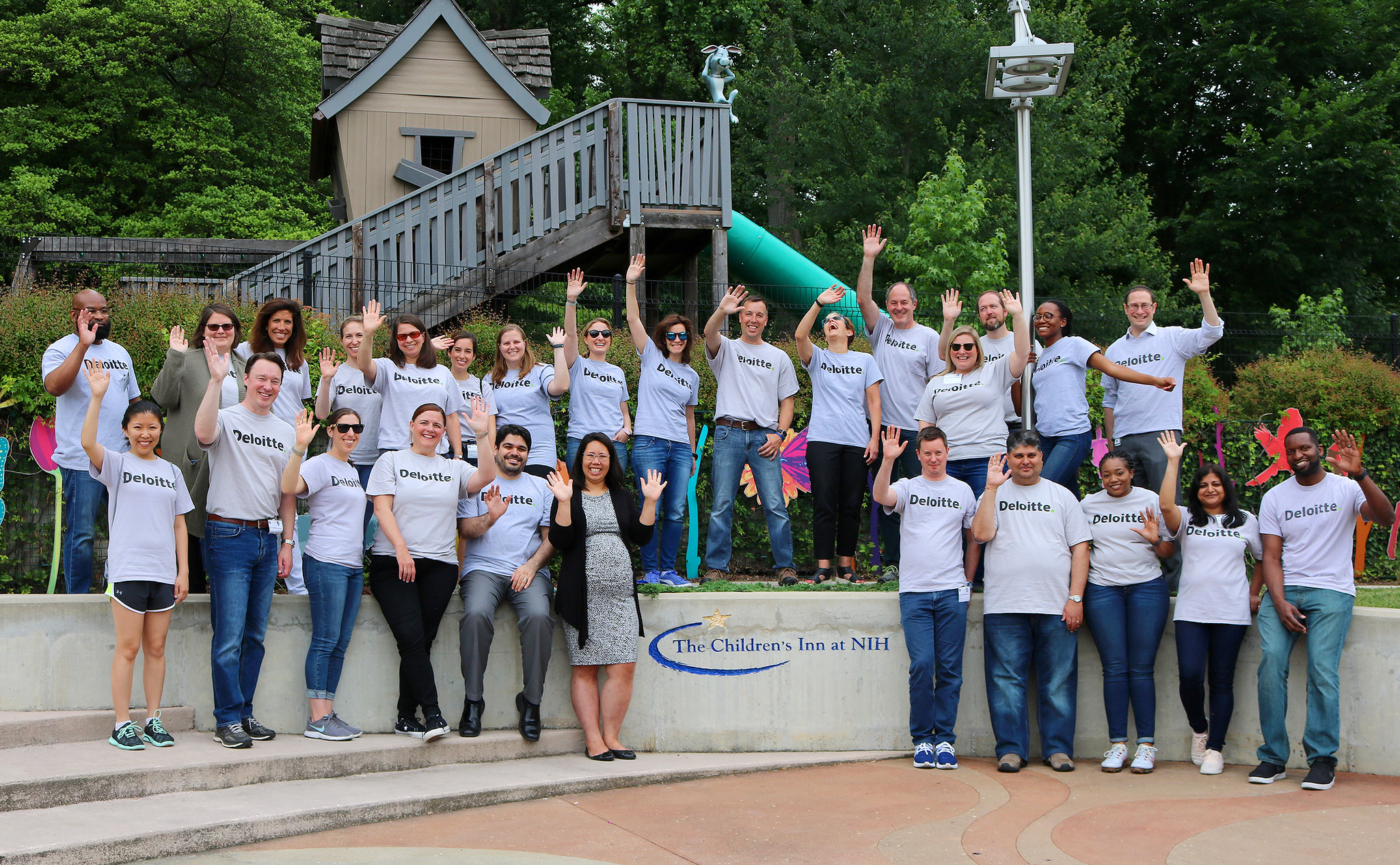 A Deloitte team poses on The Inn's playground after participating in a day of service at our facility.
"Deloitte Consulting LLP is one of our longest and most loyal supporters, going back 19 years," says Children's Inn CEO Jennie Lucca. "It is an honor to count this well-respected and generous corporation among our close friends and to see our relationship continue to grow. Their staff are clearly invested in our mission, and as a large NIH contractor, they are equally devoted to helping advance NIH discovery to benefit generations to come. We are so thankful Deloitte Consulting LLP is invested in the future of The Inn and in helping us figure out how to best serve our children and families as we embark on our next 30 years of service."
Stay Up To Date
on how The Children's Inn is creating 'A Place Like Home'