Batmobile, Lamborghini and Sports Cars Delight Inn Children
On Father's Day, a special convoy of cars roared into The Children's Inn's parking lot for a surprise car show, including a Batmobile, an antique Lincoln and several specialty sports cars as well as two motorcycles.
At The Inn for a photo shoot several months earlier, Inn volunteer and photographer Ken Visser noticed a father and son spend 20 minutes admiring a bright orange Nissan GTR sports car in The Inn's parking lot. The car was there representing Driven to Cure, a nonprofit founded by local resident Andrew Lee, who at age 19 was diagnosed with a rare form of kidney cancer. Andrew uses the car to help raise awareness of and funds to support rare kidney cancer research. Inspired, Ken decided to bring more specialty cars to The Inn to bring joy to Inn children and their families. Reaching out to friends and acquaintances with antique, luxury and specialty automobiles, Ken soon had a list of car aficionados excited to participate in a surprise car show at The Inn and share their love for cars and motorcycles.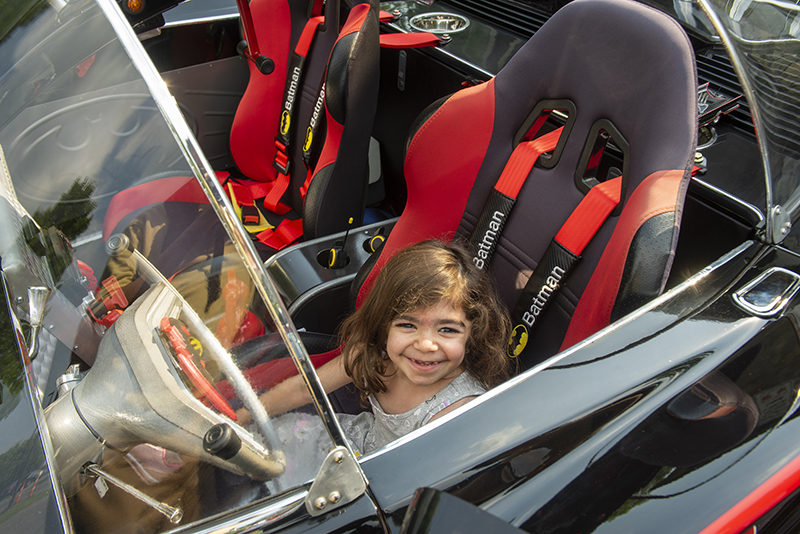 Inn resident Maryam grins as she takes the wheel of the Batmobile
Among them was Alessandro Farmeschi, chief executive officer for Automobili Lamborghini America; Bill Gibson, owner of a self-built Adam West Batmobile; Rick Parker, a collector of antique Lincolns; Bob Rizzolli, owner of a 1937 Fiat Topolino; Walt Ziffer, owner of one of only six McLaren MP4-12c Project Alfa cars; and motorcycle collector Peter Calles. On Father's Day, the specialty cars and two motorcycles – a 1962 BSA and a 1972 Harley-Davidson – rolled into The Inn's parking lot to the delight of Inn families and staff. Although health issues prevented Andrew Lee from bringing his Nissan GTR, his father Bruce Lee attended with a new 650-hp Cadillac.
Inn resident Dhruv Jain, 17, of Kampala, Uganda, enjoyed the chance to sit behind the steering wheel of a brand-new Lamborghini, joining in a live conversation about the car via social media with his friends back home.
Ahmad Ayyash, 5, of Hebron, Palestinian Territories, also shared the experience with his family at home via live video chat.
"The show hit its mark by delivering smiles to Inn children and their families, Inn staff and the car owners as well," Ken said. "For all of us, the show was a welcome reminder about what is really important in life and that we all need to stop to relish every moment and do what we can to make this world a better place for all."
Car exhibitors also brought giveaways to the children and families, including miniature McLaren cars, Batman masks and swag.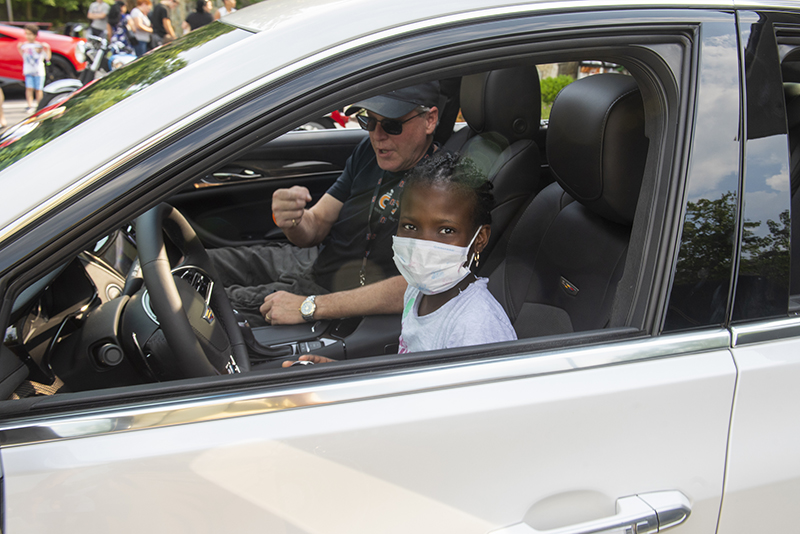 Inn resident Mercy sits in a brand-new Cadillac
"We greatly appreciate Ken for organizing this surprise car show for our children and families and to all the car owners for bringing joy to our children and their families," said Mallory Lewis, The Inn's assistant director of resident services. "The children had a great time, and their families loved seeing their children smile and forget about their medical issues for a while."
DONATE
Stay Up To Date
on how The Children's Inn is creating 'A Place Like Home'