Accenture Helps The Inn Move Into the Future
Accenture may not mention The Children's Inn in its mission statement, but considering the many ways its civilian health team supports The Inn, it's clear that helping our children and families is a top priority.
"Accenture Federal Services is honored to support the mission of The Children's Inn," says Greg Adler, civilian health lead, Accenture Federal Services (AFS). "The work being done at The Inn is vitally important and allows children and families to participate in the groundbreaking research at the NIH. Our support of The Inn is our way of giving back to those who work tirelessly to improve the lives of others."
The company's support of The Inn started with a sponsorship of The Inn's annual An Evening for Hope gala—a sponsorship that the consulting services corporation has stepped up year after year. Accenture Federal Services has also sponsored The Inn's annual Golf INNvitational tournament. Its staff and leadership volunteers regularly serve dinner to the children and families at The Inn and have created "thoughtful treasures"—small gifts children find in their Inn mailboxes to start every day off with a smile.
In 2017, Adler joined The Inn's Marine Corps Marathon (MCM) and 10K charity team and raised funds for The Inn in the process. He's kept up his support of The Inn's MCM team since, and his volunteer spirit has spilled over to a growing number of his staff. This year, Accenture staff made up Team #RunINN4Kids' largest corporate team, boasting 19 runners and raising $12,000 for The Inn. Accenture Federal Services' ties to The Inn recently tightened even more when Inn board member Jill Olmstead joined the company as managing director in the federal practice.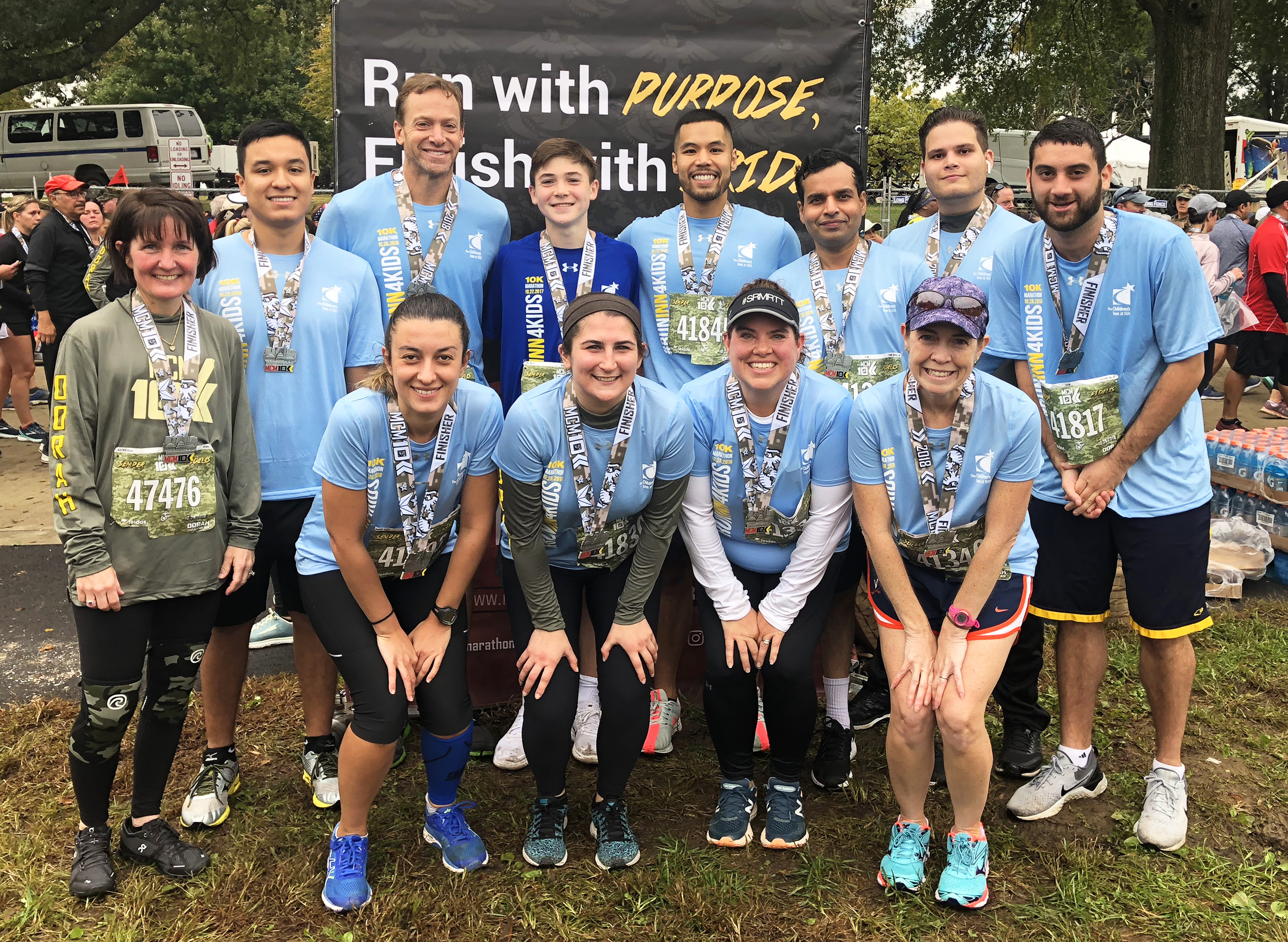 Accenture Federal Services staff pose for a photo with Civilian Health Lead Greg Adler, third from left, his wife, Heather, left, and their son Jake, now 16, after running the 2018 Marine Corps Marathon 10K in support of The Children's Inn.
However, Accenture Federal Services' most critical support to date has come in the form of pro-bono consulting services that are helping The Inn's staff and board of directors execute its strategic plan to help lead The Inn into the future.
To move the strategic plan forward, the company's consulting experts have helped analyze and streamline The Inn's procedures to recognize, report and address maintenance issues. Based on Accenture Federal Services' recommendations, The Inn is now evaluating new initiatives that will allow us to maximize family room availability and, as a result, serve more families.
"Accenture Federal Services is an invaluable partner for The Children's Inn," says Jennie Lucca, CEO of The Inn. "The company's leadership and staff have given so much in so many areas—it's become impossible to imagine The Inn without Accenture Federal Services. This is especially evident as we're planning for The Inn's future by heavily relying on the expertise and strategic support of their consultants—all provided pro-bono. We're beyond grateful!"
Stay Up To Date
on how The Children's Inn is creating 'A Place Like Home'