A Huge Weight Lifted from One Family's Shoulders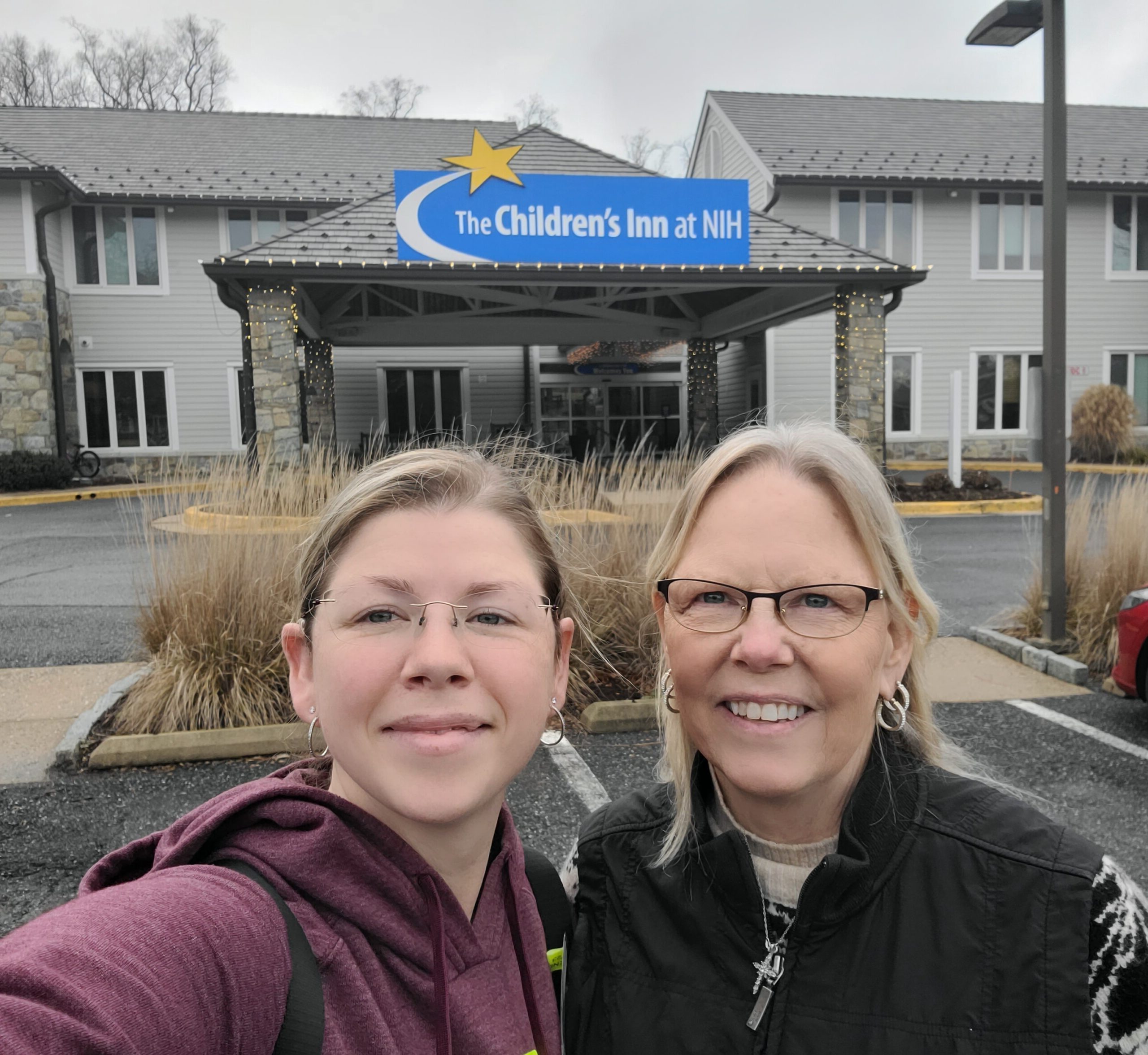 Jen and her mother in front of The Children's Inn at NIH
As a young child, Jen did not fully understand what was happening to her father. Unfortunately, neither did his doctors. A native of Baltimore County, Maryland, Jen was just six years old in 1998 when her father passed away of what is now believed to be GATA2 deficiency, a rare immune system disorder with wide-ranging and serious effects. At the time, doctors knew little about the condition.
A few years after her father's death, Jen began experiencing health concerns. At first, it was the sort of thing that is typical in young children – ear infections, colds, and the like. But colds would linger for weeks, much longer than expected, leaving her far weaker.
"When I was nine, I came down with pneumonia," Jen remembered of a particularly debilitating ailment. "We were on vacation in Ocean City, and my stomach started bothering me. We thought it was the flu, but nothing was helping my fever come down. I couldn't pick my head up off the couch. [Urgent care] diagnosed me with pneumonia."
Other symptoms bubbled up over the years, from red nodules that a doctor diagnosed as an allergic reaction to dramatic hearing loss attributed to pneumonia. As she grew older, exams showed precancerous cells that required surgeries, procedures that Jen said "tore me apart" and negatively impacted her mentally and physically. In 2014, now a young woman 22 years old, Jen made up her mind that there would be no more surgeries, whether the result was cancer or not.
Though she had been too young to fully grasp what had happened to her father, Jen's mother remembered it all too well. She worked at Union Memorial Hospital in Baltimore, where Jennifer's father had seen an infectious disease doctor. She reasoned that a doctor who had known her father might be able to help Jen, so she arranged for her daughter to have a consultation.
At first, the feedback was just as mystifying as any Jen and her mother had received. He did not know what was causing her myriad problems, but he compiled all the data he could and sent it to a colleague – the Chief of Immunology at the NIH.
Quickly, Jen's doctor heard back and called her and her mother to convey the findings. She had GATA2 deficiency. By this time, early in 2015, there was a treatment – a bone marrow transplant and chemotherapy.
With the support of her fiancé and her mother, Jen made the trip from her home near Baltimore to Bethesda, where she was an inpatient at the NIH Clinical Center for more than a week. In preparation for her treatments, Jen had elected to undergo an egg harvesting procedure that required regular injections, blood work, and ultrasounds. She had her first experience at The Children's Inn during this time.
"My first thought was what an amazing place it was," Jen remembered of her initial stay at The Inn. "Everyone there is so caring and kind, and the food is amazing. My first meal there was crabcakes and shrimp. I was there late and just got what was left, but it was awesome. And [The Inn] is super convenient. What more could we ask for when we're dealing with such a situation?"
By February 2016, when Jen turned 24, she was admitted for her bone marrow transplant. It was successful, and she was discharged from the Clinical Center within two weeks to once again stay at The Inn to be closely monitored following chemotherapy treatments and her bone marrow transplant. During that time, she met former Governor of Maryland Larry Hogan on a visit to The Inn. Recovery was not without its hardships, however. Jen described a painfully itchy rash that started on her head and spread all over her body, requiring experimental drug treatments before it faded away three months later. But ultimately, the transplant and chemo had the desired impact, and Jen returned to full health.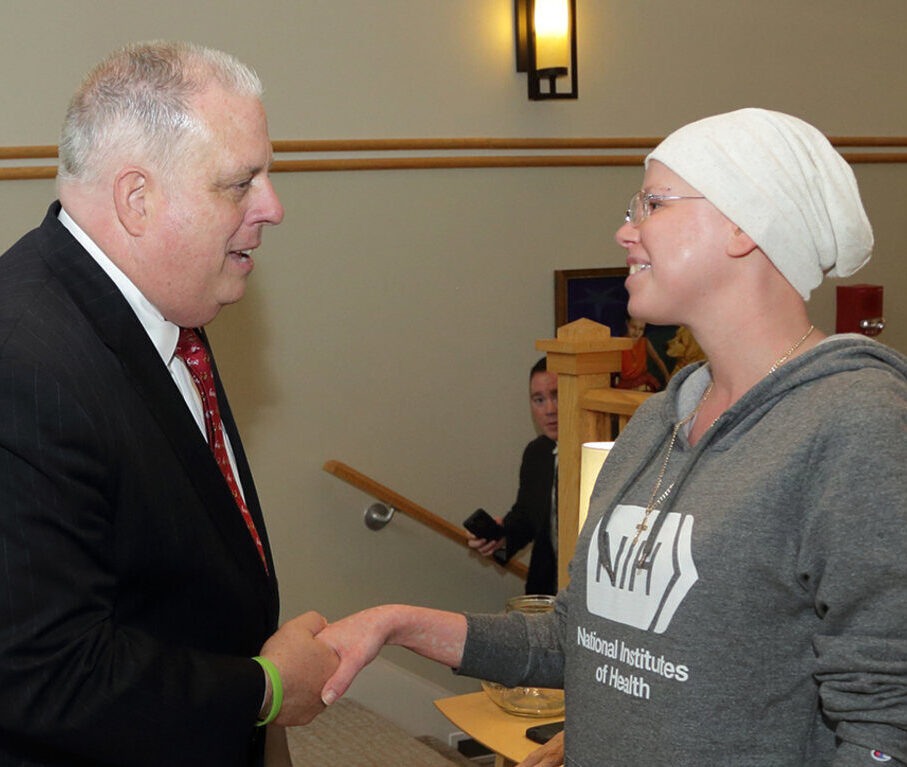 Jen meeting with former Governor of Maryland Larry Hogan in 2016 at The Children's Inn at NIH
Jen benefited from medical treatment that did not exist in time to save her father, and that is never far from her thoughts. "I believe I was the 20th person that the NIH had done the transplant and treatment for the GATA2 deficiency," Jen explained. "When my dad started to have his issues with illnesses, GATA2 research was just starting to become a thing. The research had come such a long way by the time I had my transplant [18 years later]. It's emotional that he didn't get that change, but he's always in the back of my mind."
Joined by her mother and fiancé, Jen has embraced her new lease on life. "I'm very blessed these days," she smiled as she detailed her new career as a longshoreman in the International Longshoremen's Association Local #333. "I love my job. Work can sometimes be extremely busy. When things slow down, I try to get caught up on errands and that sort of stuff. But I love my job." Jen explained that once dominated by men, the profession now welcomes women into the union and offers a wide array of jobs for all members.
A self-proclaimed "foodie" who loved exploring the restaurant scene in Bethesda and Washington on her early visits to The Children's Inn, Jen now spends her free time exploring the plentiful Baltimore options with her family. She also went on her first significant vacation in 2019, taking her first plane ride on a visit to a resort in Clearwater, Fla. Now able to find moments of reflection and relaxation after years of anxiety and illness, Jen knows how large a role The Inn played in turning her family's fortunes around.
"We've been through a lot in this family," she said. "With that comes stress. So just taking that huge weight off our shoulders – not just mine, but my mom's – I can never explain how fortunate we are to have had that and how thankful we are. The Inn did so much for us."
Stay Up To Date
on how The Children's Inn is creating 'A Place Like Home'