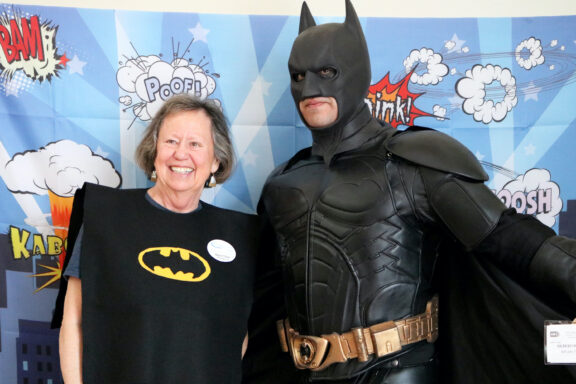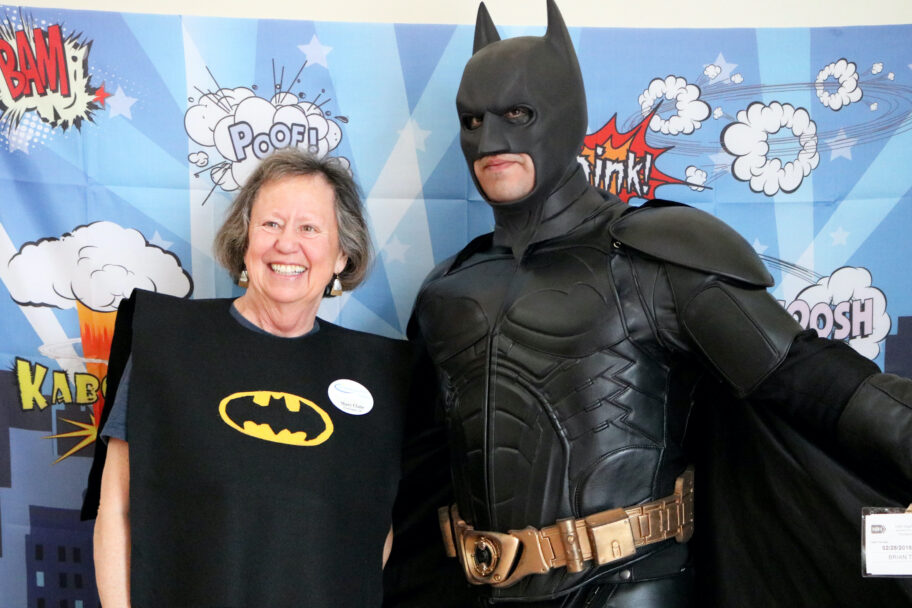 "There's Something About Mary"
Mary Clute can't remember when, or even how, she first learned about The Children's Inn – that's how long it's been. Perhaps an old-fashioned newsletter, she recalls? What she does remember is that as soon as she found out there was "a place like home" for children suffering from serious and rare diseases right here in the DC area, she knew she wanted to be a part of it.
"I thought it was a magnificent mission! I started by working at the welcome desk on Sunday evenings when everybody was checking in. It was so great to see these kids so excited to be there! Nobody is 'different' at The Inn," says Mary.
Three years ago, while donning a Batman costume during "Comicon at The Inn," Mary proved that nobody is different at The Inn. Mary fondly remembers children flying through the hallways in capes and the looks on children's faces when they got to meet superheroes from Foundation 4 Heroes and Star Wars characters from the 501 Legion. That special day, everyone at The Inn — from children and their parents to staff and volunteers — participated in light-hearted activities while listening to video game music performed by the Washington Metropolitan Gamer Symphony Orchestra. Good times were had by all, and Mary was at the center of the fun.
When asked what she loves most about The Inn, Mary responds, "It is incredibly uplifting to see these children and how resilient they are. Nobody cares what you look like or where you come from. I also find the staff to be amazingly creative."
And the staff can attest to the fact that volunteers like Mary, who has been giving back to The Inn for more than 20 years, make all of our jobs that much better!
Join in the hope created at The Children's Inn by donating today.
Donate