A Long-Awaited Return for Benjamin
It would not quite be accurate to say that Benjamin has grown up at The Children's Inn. But for the native of Coquimbo, Chile, who will turn 18 years old in 2023, that isn't far from the truth.
Benjamin recently returned to The Inn for the first time in three years, where he was greeted by familiar faces who have gotten to know him and his family since he started coming as a toddler. He was accompanied by his parents, Cristian and Alejandra, and the trio was delighted not only with the reception at The Inn but with the updates they got from his medical team.
When Benjamin was just a year old, it became clear that something was wrong. He ran extreme fevers and vomited constantly. He was very weak and developed an abscess on his arm. His parents took him to the best clinic and hospital in Chile, both of which required a six-hour bus trip to Santiago from his hometown.
Eventually, doctors in Chile diagnosed Benjamin with Disseminated Nontuberculous Mycobateria (NTM), an immunodeficiency in which mycobacteria disseminate infections throughout the body, affecting his development and leading to other infections. Despite the diagnosis, he was not showing improvement. Doctors ultimately recommended that Cristian and Alejandra simply take Benjamin home to be in a peaceful environment. But his parents did not give up and decided to come to the United States in an effort to find treatment for their little boy.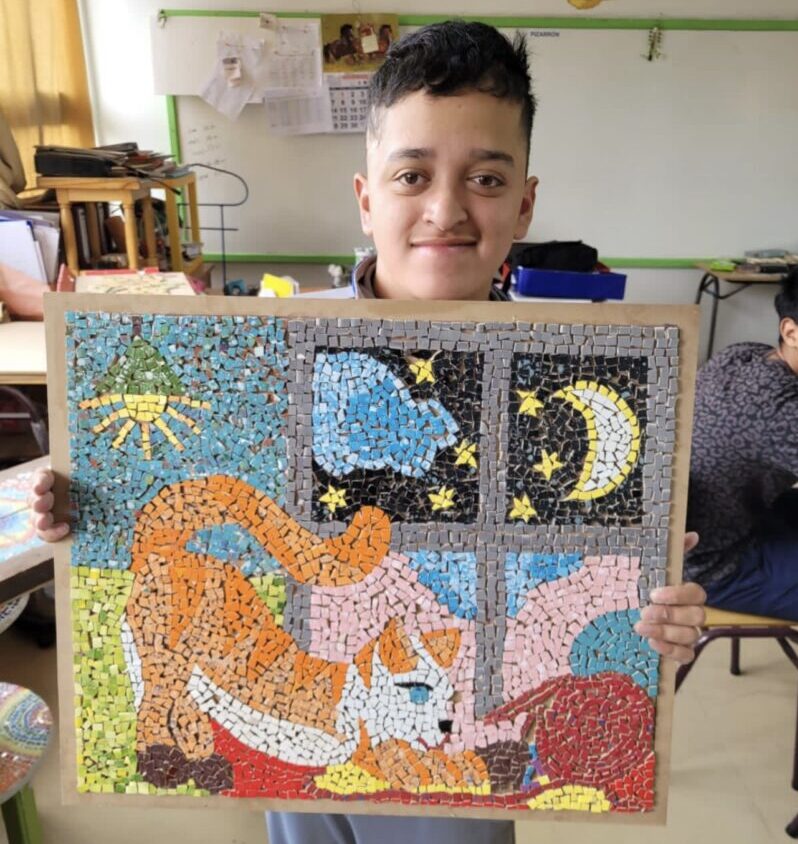 After a few months in Utah, doctors referred Benjamin to the National Institutes of Health. Cristian remembers the difficulty of that first visit, not only extending his family's absence from home but going to a strange new place with very little resources at their disposal.
"We are very thankful for The Children's Inn," Cristian said through an interpreter. "We came here without food, without enough clothing, and without knowing anyone. This has been a refuge for our family and a place where we are hopeful about his continued treatment."
Benjamin was three by the time his family arrived at The Inn in 2008, and they would stay for three years before finally being able to return home. During that time, The Inn lived up to its reputation as "A Place Like Home."
"There is no slogan more perfect than The Children's Inn's," Cristian laughed. "It really is a place like home for us."
We came here without food, without enough clothing, and without knowing anyone. This has been a refuge for our family and a place where we are hopeful about his continued treatment."

Benjamin's Father, Cristian
During those first three years, the precocious young boy loved spending time in the playroom. He ingratiated himself not only with other families staying at The Inn but to the staff who saw him grow up every day. Many of those staffers, particularly among The Inn's leadership team, were still at The Inn for Benjamin's return in 2023.
After returning home in 2011, Benjamin would return to The Inn annually for the next eight years. Always accompanied by one of his parents, he would undergo a series of tests and treatments at each visit. In part, the treatments were meant to attack the tumors that had formed on Benjamin's brain.
In 2020, Benjamin's family was among the many whose regularly scheduled visits to NIH and The Inn were interrupted by the COVID-19 pandemic. It would be three years before he could return and resume his course of treatment. For perhaps the first time since that first visit, Benjamin's parents felt some trepidation about what they would encounter on the trip to Bethesda. Cristian, an engineer specializing in risk prevention in mining, and Alejandra, an accountant, both decided to put their jobs on hold to accompany Benjamin for the nervously anticipated tests and any decisions that may have been needed about his medical future.
Those fears were thankfully put to rest when Benjamin was examined by his medical team. The tumors on his brain are "on pause" and no longer growing, Cristian happily explained. His only remaining significant symptoms are infrequent epileptic seizures, but treatment is neutralizing those as well. The family saw familiar faces and met new people. Benjamin's tastes have shifted from the playroom to the games room, where he plays pool and video games. But the constant in his family's life has been The Inn's joyful and welcoming environment, as much of a respite now as it was on that first visit more than a decade ago.
At home, Benjamin goes to school in Chile that teaches him day-to-day life skills. He spends his free time working with ceramics, making beautiful mosaics that he shares with family and friends. As a young child, Benjamin barely knew of a world outside of The Inn. Now, he and his family are optimistic for the life ahead of him at home in Chile. But The Children's Inn will always be their "Place Like Home," and for that they will be forever grateful.
Support the families of The Children's Inn by donating today.
Donate