For Abram, 8, getting to throw the first pitch at a Nationals game was a dream come true. A sports fan who also loves playing baseball himself, Abram had to stop physical activity due to a rare and painful auto inflammatory disorder that sometimes confines him to a wheelchair. But thanks to the Washington Area Toyota Dealers K's for Kids program, Abram was back on the field recently to start off a major league game.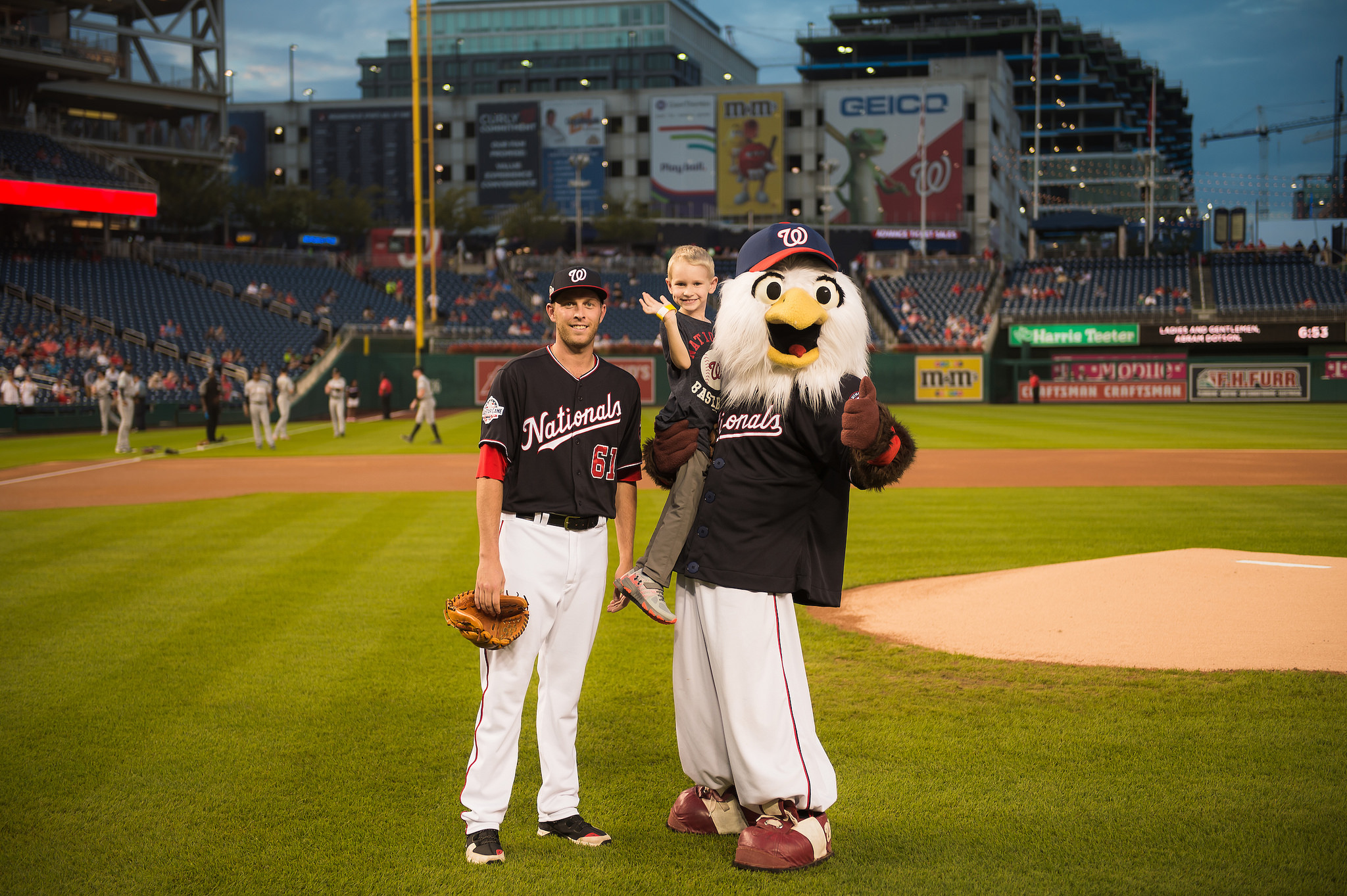 Abram waves alongside Nats pitcher Kyle McGowin and Screech the Eagle. Photo by Paul Kim of the Nationals.
Abram throwing the first pitch. Photo by Paul Kim of the Nationals.
"This was the best day of my life," Abram's mom, Julia, said Abram giddily told her at the end of a fun evening at the ballpark.
Abram of St. Louis, Missouri, is participating in a research study at the National Institute of Arthritis and Musculoskeletal and Skin Diseases (NIAMS) and the National Human Genome Research Institute (NHGRI). He has stayed at The Inn eight times and, thanks to Washington Area Toyota Dealers, was one of 15 children and their parents who got to experience a night at Nationals Park in Washington, D.C. – for many of them, the first time they got to enjoy a live major league game.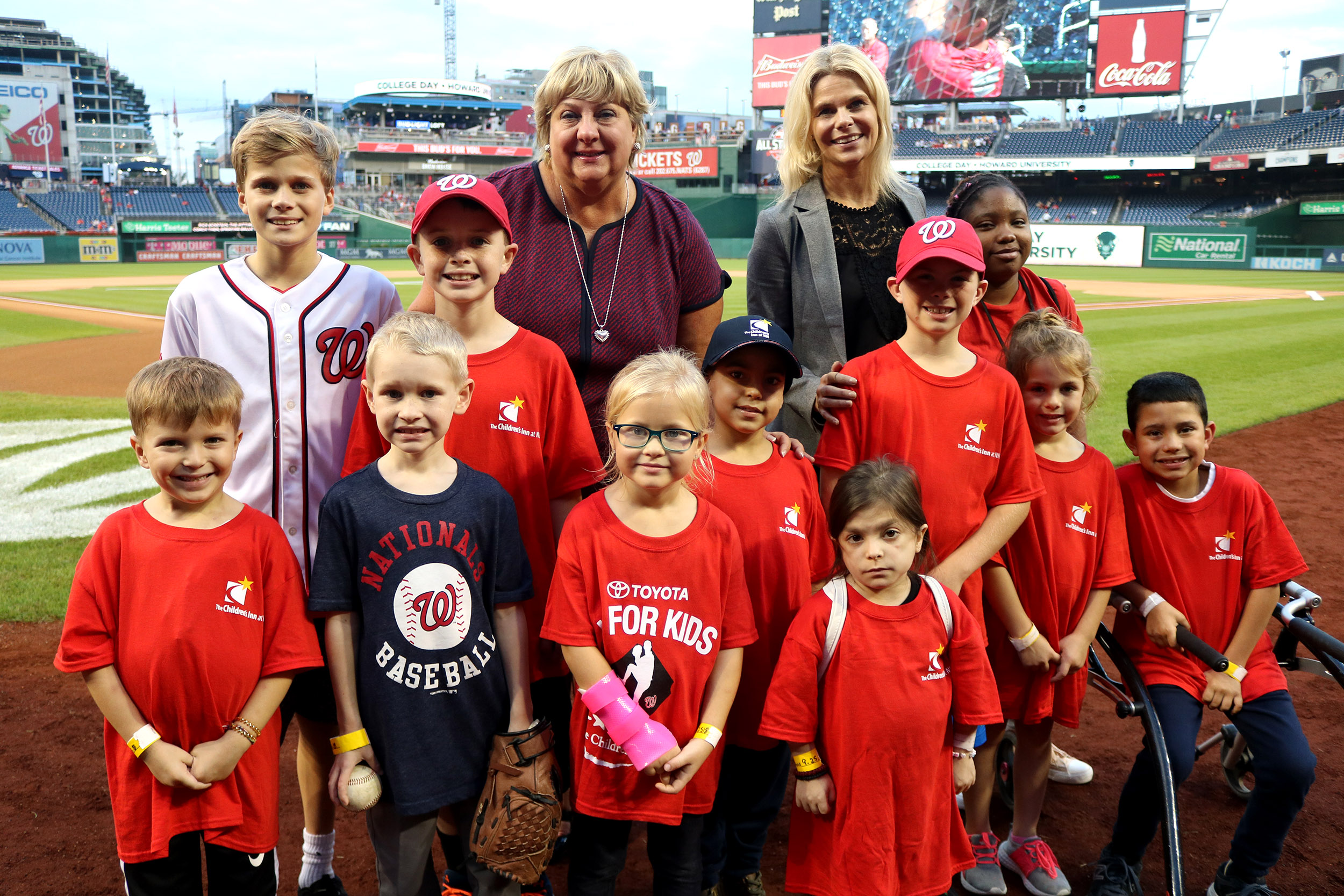 Some of our residents had the opportunity to go on the field – here they are with board member Susan Penfield and Inn CEO Jennie Lucca.
For every strikeout during the season, Washington Area Toyota Dealers awarded The Inn $44, totaling more than $55,000. The Toyota dealers presented the check to The Children's Inn's CEO Jennie Lucca and board member Susan Penfield at the start of the game.

Photo by Paul Kim of the Nationals.
"This is the seventh year for the Washington Area Toyota Dealers to support The Children's Inn, and what a wonderful partnership it's become!" Lucca says. "The chance to go to a Nationals game and for Abram to throw the first pitch – these are such special memories for our children and families that they will cherish for the rest of their lives. We also appreciate the continued financial support, which allows us to help more children like Abram and their families, so they can get needed medical help through clinical trials at the NIH."
"It was exciting, and I was a little nervous," says Abram about throwing the first pitch. Taking home a baseball autographed by Nationals pitcher Kyle McGowin, Abram adds, "It was cool!"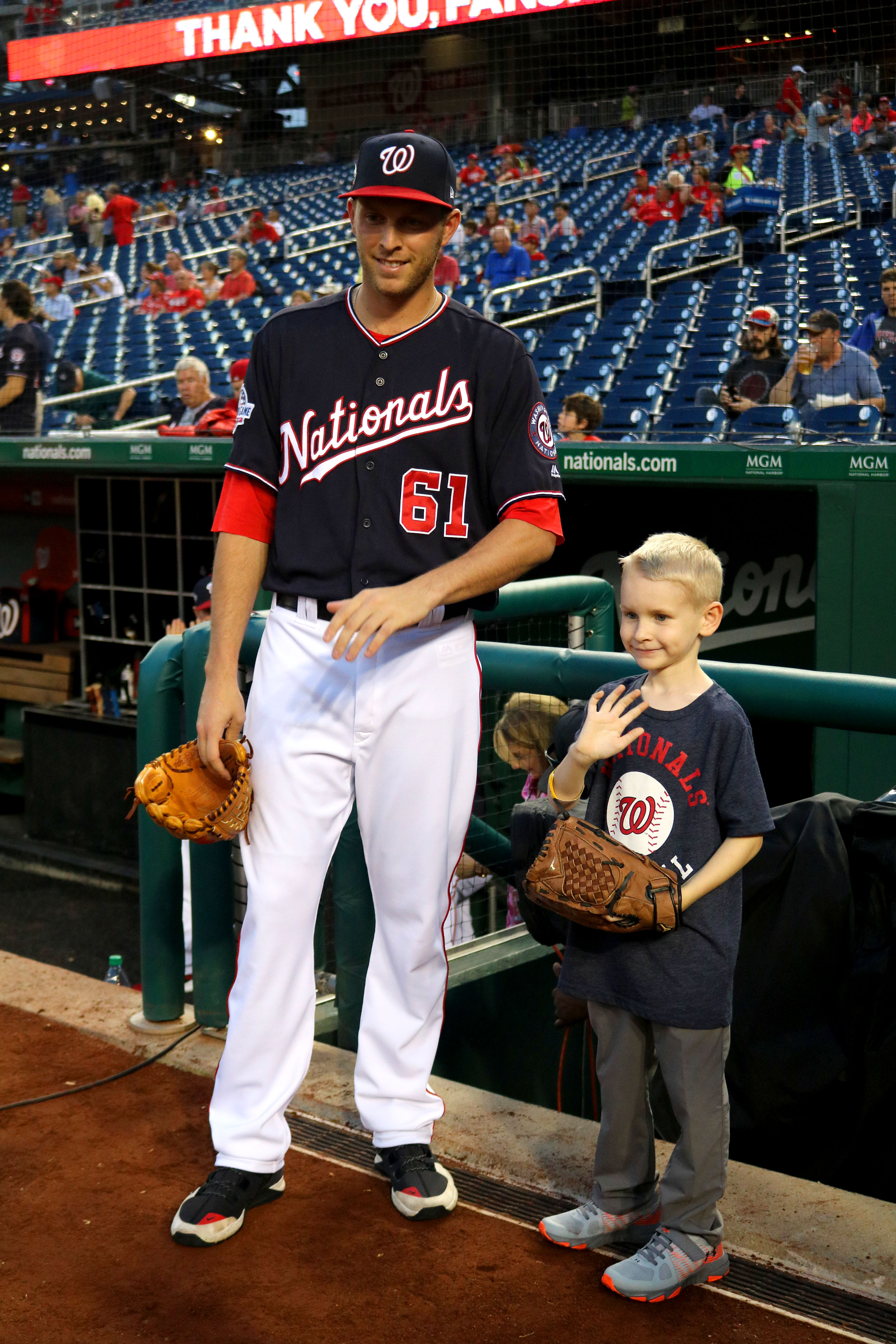 Abram waves to the camera alongside pitcher Kyle McGowin

See more photos from this game and others this season, below.
Additionally, Abram's story was recently featured on NBC4. Read the story here or watch below: