Volunteer
March 13, 2020
The Children's Inn has recently had to suspend its volunteer program in light of the COVID-19 outbreak. Learn more: childrensinn.org/covid.
---
With the help of 195 dedicated volunteers, we are able to help serve children and families coming from around the world for groundbreaking research studies at the National Institutes of Health (NIH). From greeting our guests with a friendly hello at the welcome desk, to keeping the kitchens organized and well-stocked, to hosting a fun activity in the evenings, our volunteers are truly the heart of our organization.
Whether you are looking for a long-term volunteer position working a scheduled shift, or a short-term volunteer opportunity, we invite you to come join our world-class group of volunteers who help make The Children's Inn at NIH "a place like home" for 1,500 families and children each year.
Volunteer Opportunities
The Children's Inn at NIH is a proud recipient of the 2020 Presidential Service Award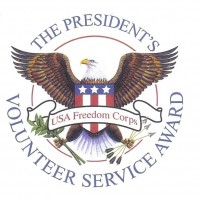 For more information about volunteer opportunities at The Inn, contact Meghan Arbegast at [email protected] or 301-827-6054.