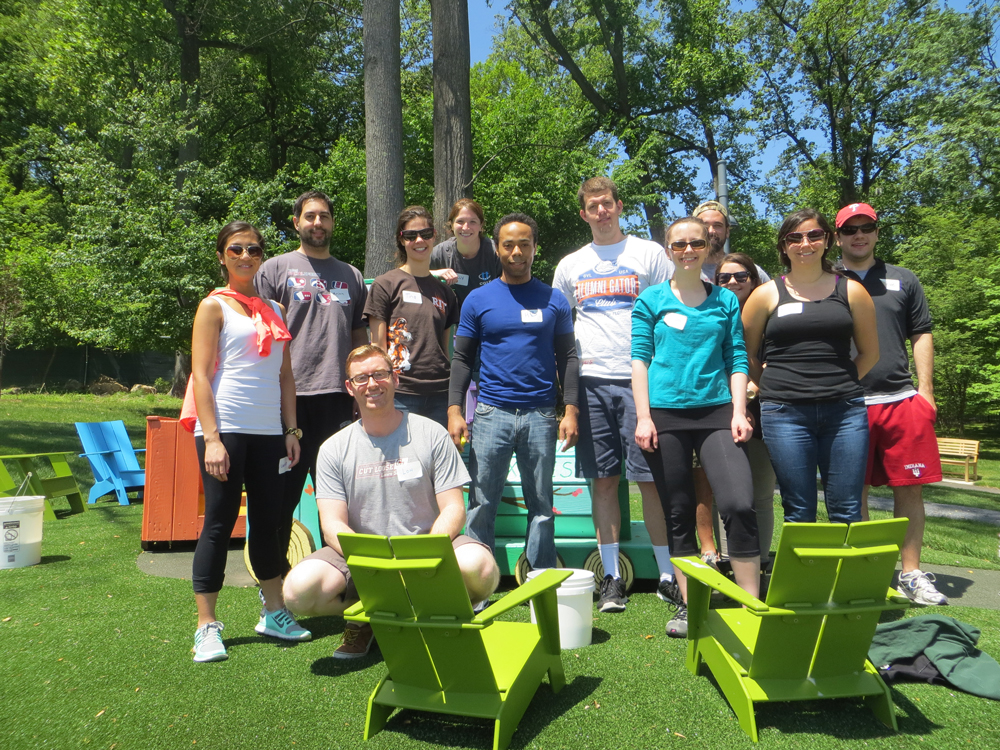 The Inn was buzzing with activity on Sunday, September 7, when the Young Ambassadors Council (YAC) hosted its second Volunteer Service Day. Twenty young professionals from throughout the DC area took part in indoor and outdoor "hands on" projects as part of a fall cleaning effort around The Inn. From 9:00 a.m. to 2:00 p.m., volunteers completed projects around the facility including painting, organizing, gardening and landscaping, and installing shelving.
"The Volunteer Service Day is a great way for young professionals to connect with The Inn's mission," says Rebeccah Ray, who serves as Chair of Volunteer Engagement on the Young Ambassadors Council and helped organize the event. "Practical projects like organizing canned goods helped volunteers understand the basic needs of the families, while cleaning and painting the Playground reminded everyone that The Inn is a place where kids can be kids. It was a very rewarding experience."
In addition to the Service Day, the YAC organizes volunteer opportunities on an ongoing basis throughout the year, providing numerous occasions for young adults to support The Inn's mission and network with other socially conscious professionals. One popular volunteer activity with the YAC is the "Family Dinner" program, where individuals can sign up to help prepare dinner for Inn residents on a quarterly basis. These dinners allow Inn families to relax, alleviating the worries of having to prepare a meal after a long day at the Clinical Center,  and provide an opportunity for them to meet and interact with other families who are facing a serious illness. Since the YAC started organizing family dinners in 2012, more than 100 young adults have participated, serving more than 12 dinners to date.