Jules Shares How He Beat Sickle Cell Disease
Jules, 25, was born with severe sickle cell disease. The treacherous blood disorder caused excruciating pain from frequent clotting of his misshapen red blood cells, crushing fatigue, kidney failure and left him vulnerable to serious infections. He recently talked about life with sickle cell disease and how an NIH clinical trial saved his life at The Children's Inn's Snowed Inn event. Most of all, Jules gives credit to you for allowing him to stay at The Children's Inn while he underwent and recuperated from his life-changing treatment.
"It feels like sharp pain, like shards of glass in your blood," says Jules, describing a sickle cell pain crisis. "Children die from sickle cell every day. Not just adults—but children, young adults, older people. A lot of times we don't make it until 40 years old."
Even more than the pain, Jules felt slowed down by the crushing fatigue he experienced daily, alleviated only by regular blood transfusions. To cross campus in between classes, the pre-med college student had to drive his car. Sometimes, even walking from his bedroom to the kitchen felt as exhausting as running a half marathon, he recounts. Jules' greatest hope was a bone marrow transplant trial conducted by the National Heart, Lung and Blood Institute (NHLBI) that could cure his disease.
"The day that I found out I was eligible for the trial, I was ecstatic," Jules says. "I saw endless opportunities in the future. I didn't know what to expect, but I knew it was something good."
Jules became the first patient in kidney failure to undergo a bone marrow transplant at the NIH Clinical Center. Surpassing expectations, he sailed through the procedure without complications.
"Now I'm cured of sickle cell disease, and I can do so much more than I could ever do," he says. "It's a blessing to be here at the NIH and The Children's Inn."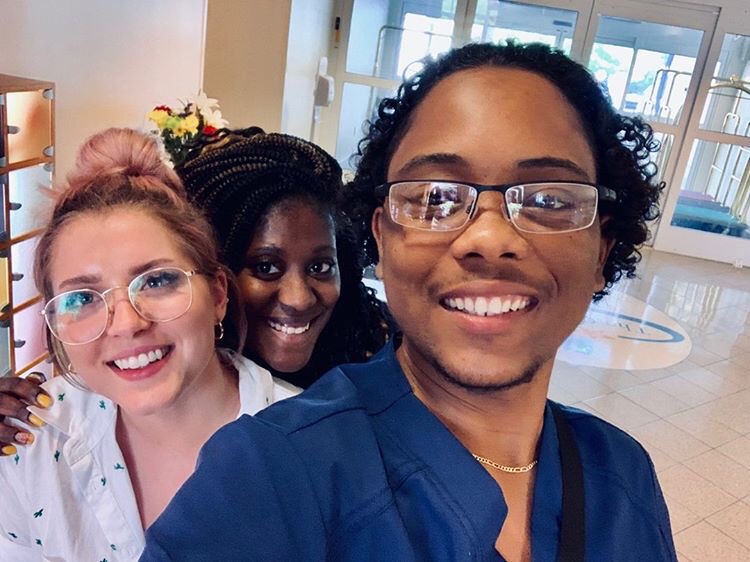 Jules with Children's Inn staff
Thanks to you, Jules has many happy memories of fun activities he took part in during his stay at The Inn, along with new friendships that will last a lifetime.
"I loved the young adult activities," he says. "We went out to eat to local restaurants, the Escape Room, bowling and more."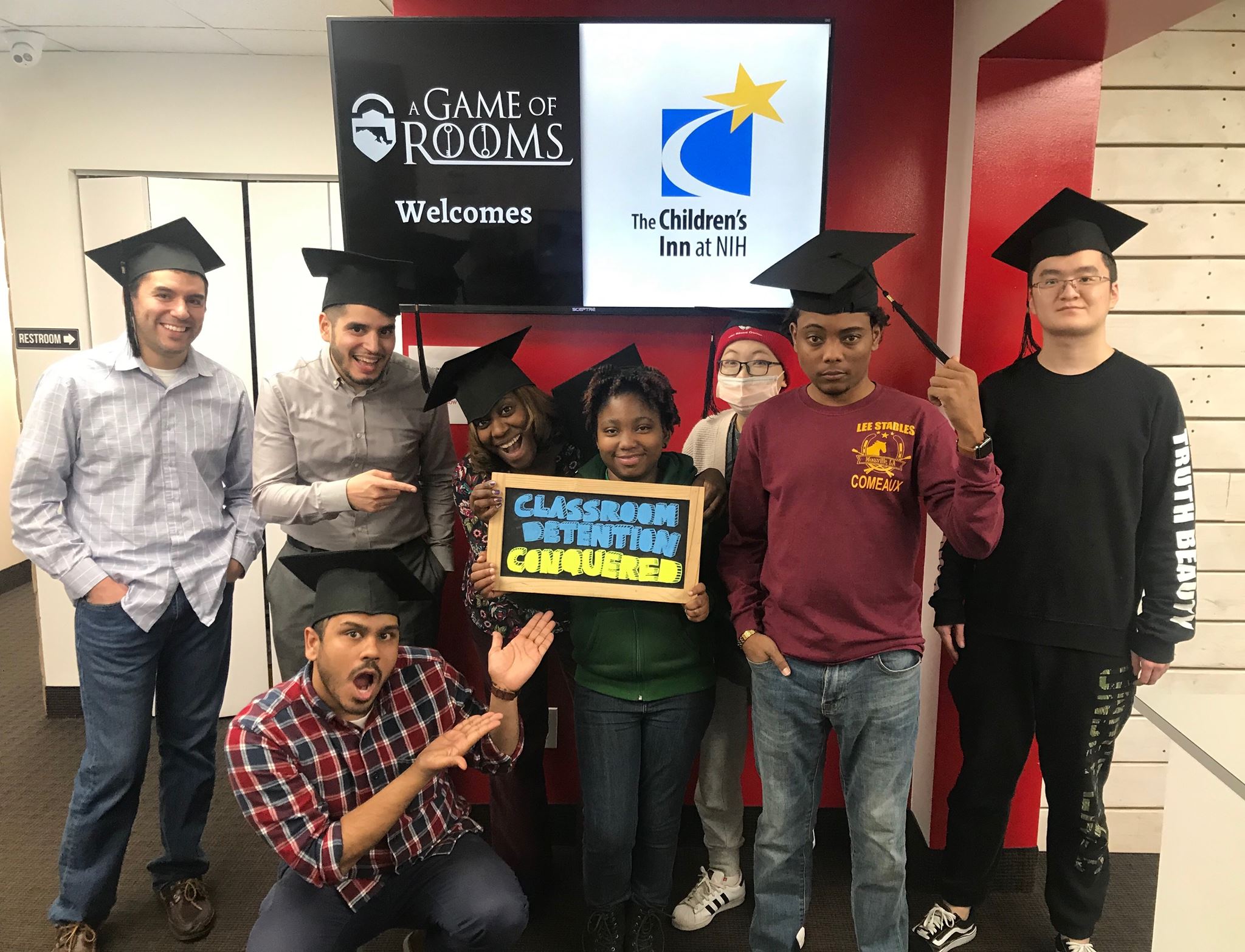 Jules with fellow young adults, volunteers, and Inn staff after successfully beating an Escape Room challenge
Most importantly, thanks to your support, Jules is finally free from pain and fatigue, and he is able to pursue his dream of becoming a doctor, so he can help other sickle cell patients.
Thanks to being cured of sickle cell disease, he is also finally able to qualify for a kidney transplant.
NIH clinical research is giving hope to sickle cell patients like Jules everywhere by making curative stem cell transplants safer and by accelerating gene therapy to find a widespread cure for sickle cell disease within the next decade through NIH's Cure Sickle Cell Initiative.
Your support allows Jules and families like his to stay comfortably at The Children's Inn so they can focus on what matters most – their children's health and the medical care they need. Thanks to caring donors like you, our families never have to worry about paying for lodging, food or finding activities to lift their spirits and occupy their time. Your donations to The Children's Inn make childhood possible despite serious illness.
Stay Up To Date
on how The Children's Inn is creating 'A Place Like Home'