Alison Needed You and the NIH To Overcome Two Life-Threatening Diseases
A festering infection on her lip caused by a scrape from her braces brought Alison to the emergency room in 2015. Although she was initially released with medication, the hospital immediately called the family back after getting Alison's frightening blood work results.
A painful bone marrow biopsy revealed Alison had severe aplastic anemia, or bone marrow failure, a potentially fatal blood disorder. Alison spent six months in the hospital, kept alive by blood transfusions, while her family searched for treatments for her. Frighteningly, the only treatments for her disease – a serum treatment and a bone marrow transplant – were out of reach not only due to their high costs but also because bone marrow transplants aren't performed anywhere in El Salvador.
"I didn't believe I'd leave the hospital alive," Alison remembers thinking.
Her family contacted hospitals in Cuba, the United States and other places, only to be rejected.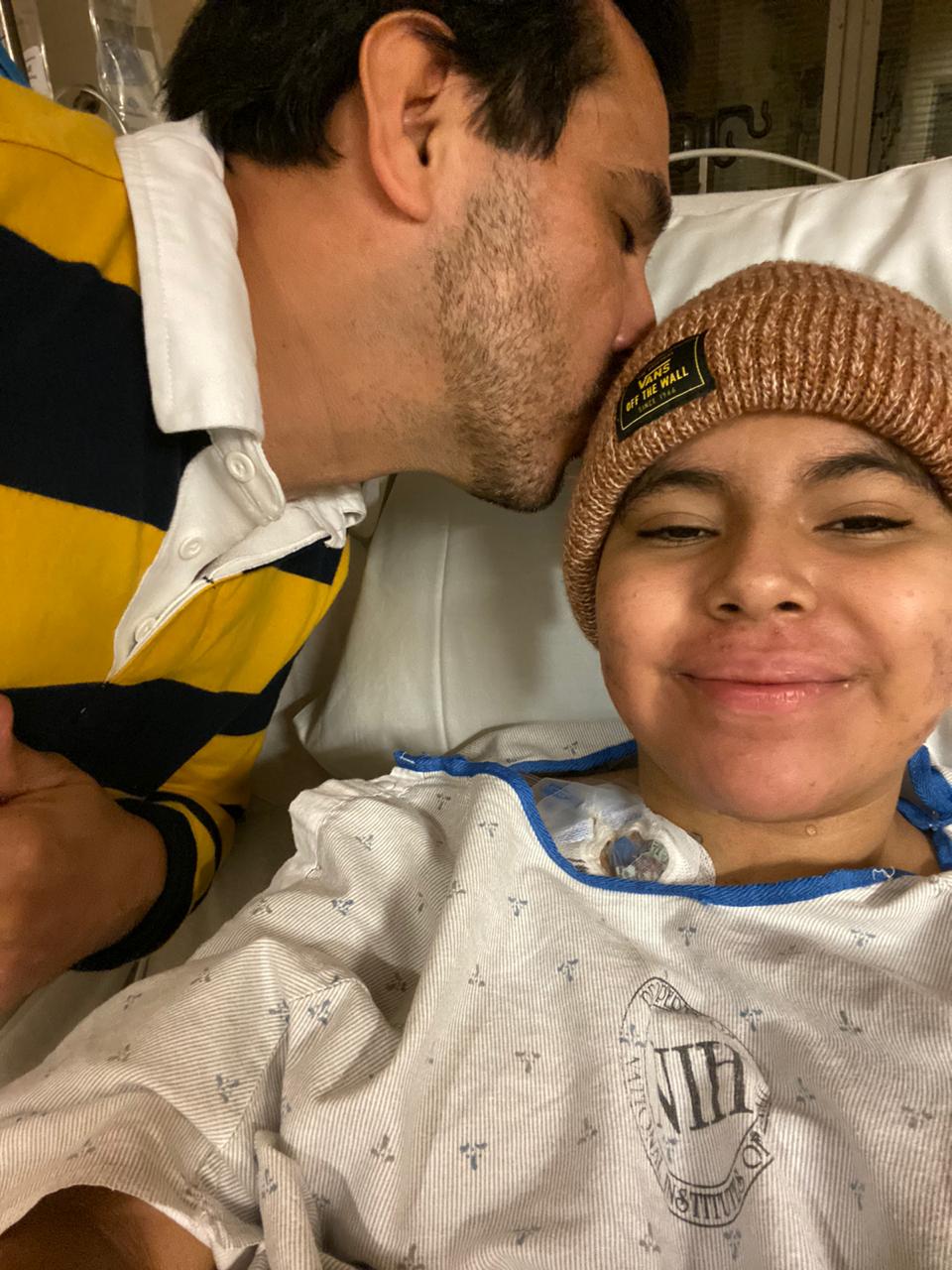 Through a coworker, Alison's father learned about a family whose child had received a bone marrow transplant as part of a clinical trial at the National Institutes of Health in the United States and stayed at The Children's Inn. After contacting the NIH, the family quickly learned they had the perfect trial for Alison.
"The girl told me about that where I was going, they had food and hamburgers and all kinds of things," Alison says. "That's how I learned about The Children's Inn."
Only days later, Alison arrived at The Children's Inn at NIH to join a clinical trial conducted by the National Heart, Lung and Blood Institute. After many months of trying medications, Alison's bone marrow finally began producing blood again.
Her experience at the NIH and The Children's Inn left a deep impression: "Imagine, for a girl from El Salvador, The Inn was wonderful," Alison recalls her first impression of The Inn. "There were video games and play areas, food, and we had our own room. It was great!"
A year and a half after arriving at The Inn, Alison finally was ready to go home. She returned to The Inn for regular checkups at the NIH Clinical Center. In 2019, one of her checkups showed her blood counts had plummeted again. This time, she received an even more frightening diagnosis: an aggressive form of leukemia caused by her underlying blood disorder.
But there was hope: a bone marrow donor had been found for Alison, making her eligible for a potential cure.
The grueling procedure left Alison feeling sick and in pain for weeks. She became so weak, she had to relearn to walk and eat. Just when Alison had completed her six-month recovery, the COVID-19 pandemic struck.
Being severely immunocompromised due to her treatment, she could not leave the NIH campus to pursue favorite activities, like going to the mall or the movies, biking, hiking, or camping. For the first time in her life, Alison was feeling sad and anxious. One day, she asked our staff if we had a tent she could borrow. Although we didn't, our team ordered her a tent and surprised her with it a few days later. Elated, Alison immediately set it up on the grassy areas by The Inn's playground.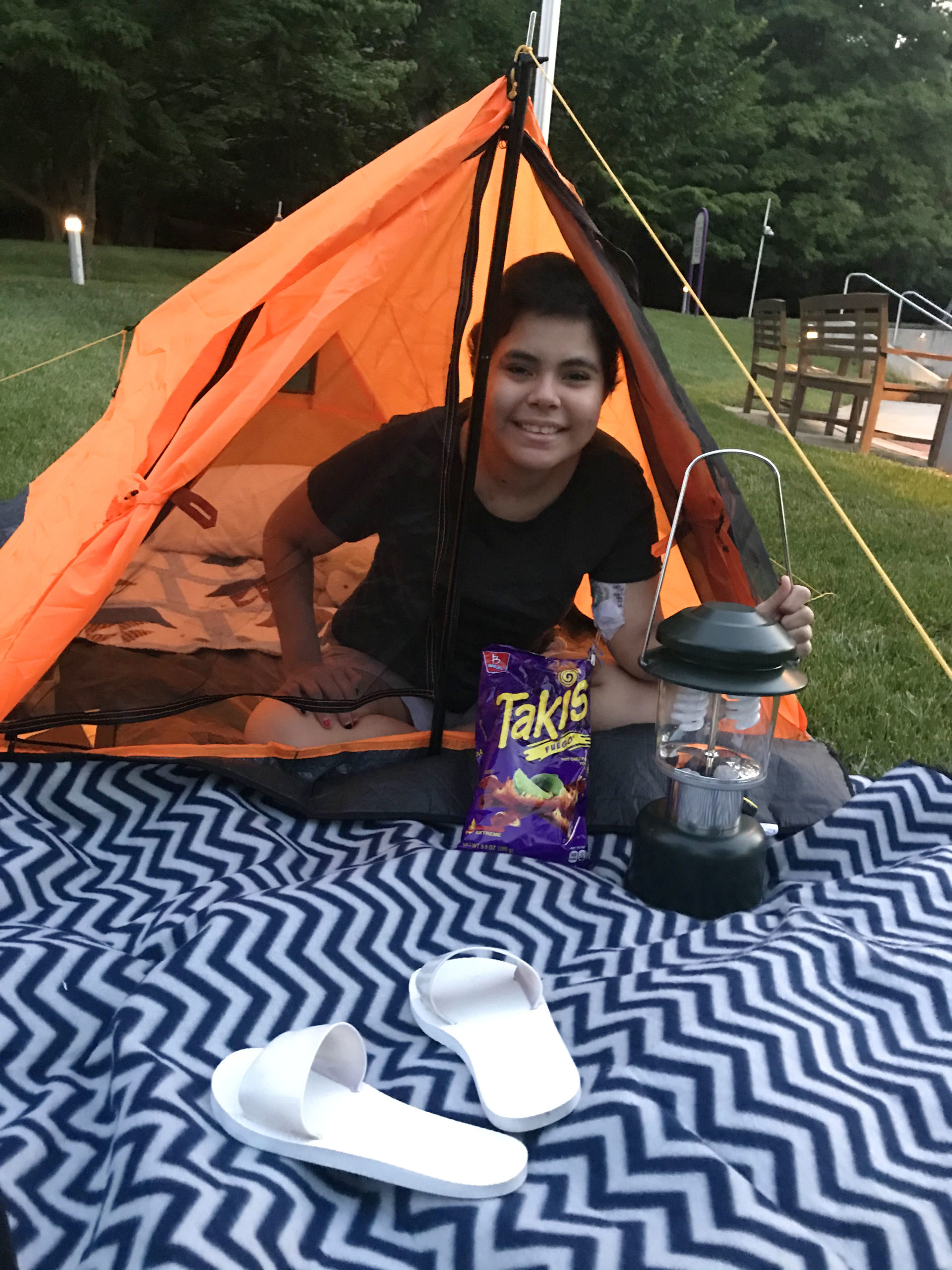 "Camping on The Children's Inn playground park made me feel good again," she says. "It made me not feel like a sick patient who needs to take medicine every day but like a young adult with her future ahead of her. It made me feel like me again. Happy. I knew things would be OK again."
Since then, Alison has used her tent as her personal space to read, journal, reflect, listen to music, watch the stars and observe the NIH campus deer herd from up close.
Alison and her family are thankful for Alison's improved outlook on life. Most of all, they are grateful for having been able to stay at The Inn for more than two and a half years free of charge to participate in clinical trials that have saved Alison's life twice.
"Without the NIH or The Children's Inn, I might not be here today," Alison says.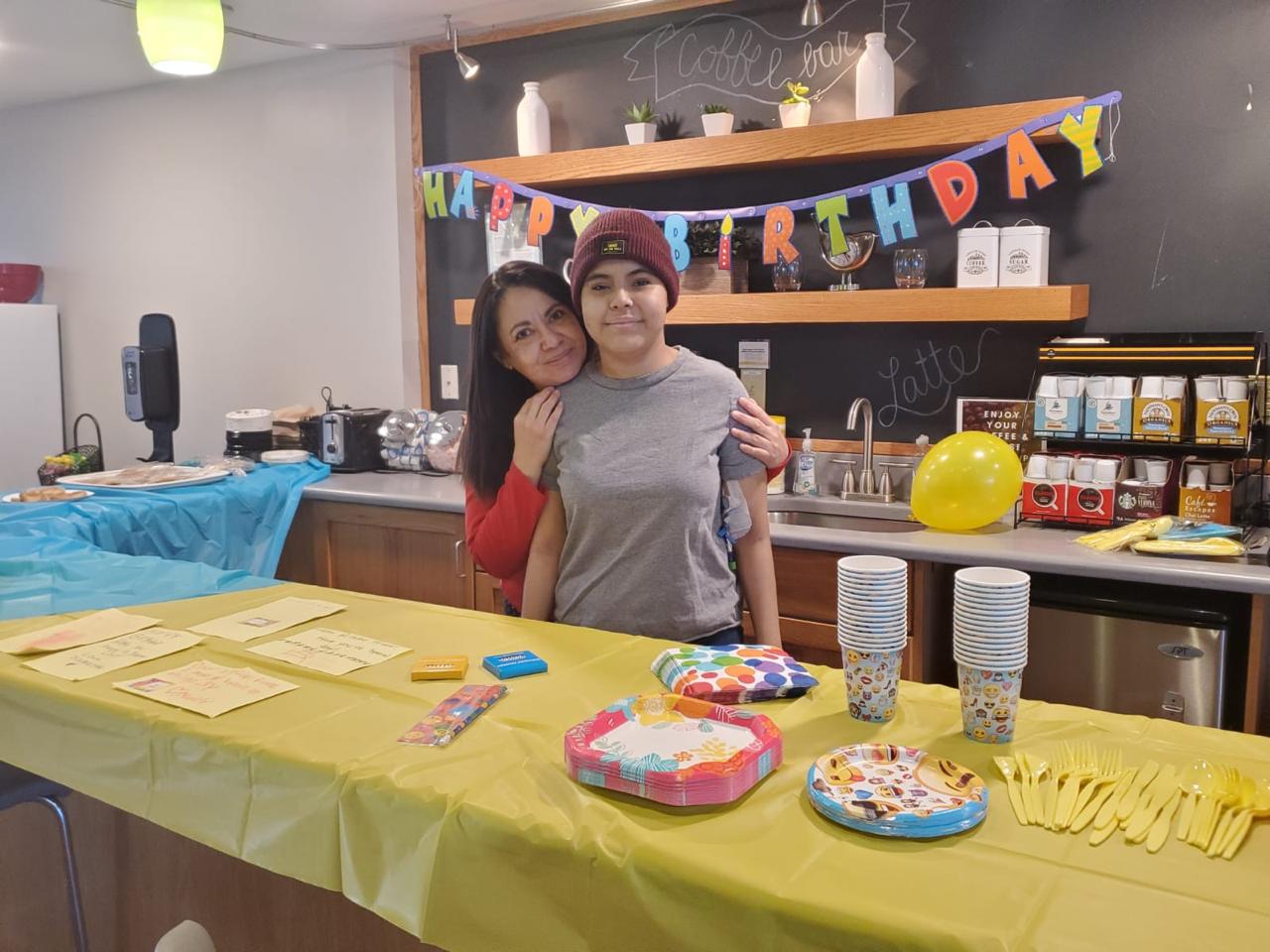 Thank you for giving Alison the chance to participate in life-saving clinical trials and stay at The Inn free of charge!
Your support allows Alison and families like hers to stay comfortably at The Children's Inn, so they can focus on what matters most – their children's health and the medical care they need. Thanks to caring donors like you, our families never have to worry about paying for lodging, food or finding activities to uplift them. Your donations to The Children's Inn make childhood possible today and a cure possible tomorrow.
Recently, the local NBC4/Telemundo44 station filmed and interviewed Alison, 19, and her mom, Rocío. Watch her interview below (in Spanish).
Stay Up To Date
on how The Children's Inn is creating 'A Place Like Home'