A Special Valentine's Day: Children Decorate Cookies, Exchange Cards With First Lady
For the third year in a row, children staying at The Inn celebrated Valentine's Day by creating themed crafts with First Lady Melania Trump.
"It was fun meeting the first lady," said 11-year-old Lucy of Midlothian, Virginia, said. "Not many people get to meet her."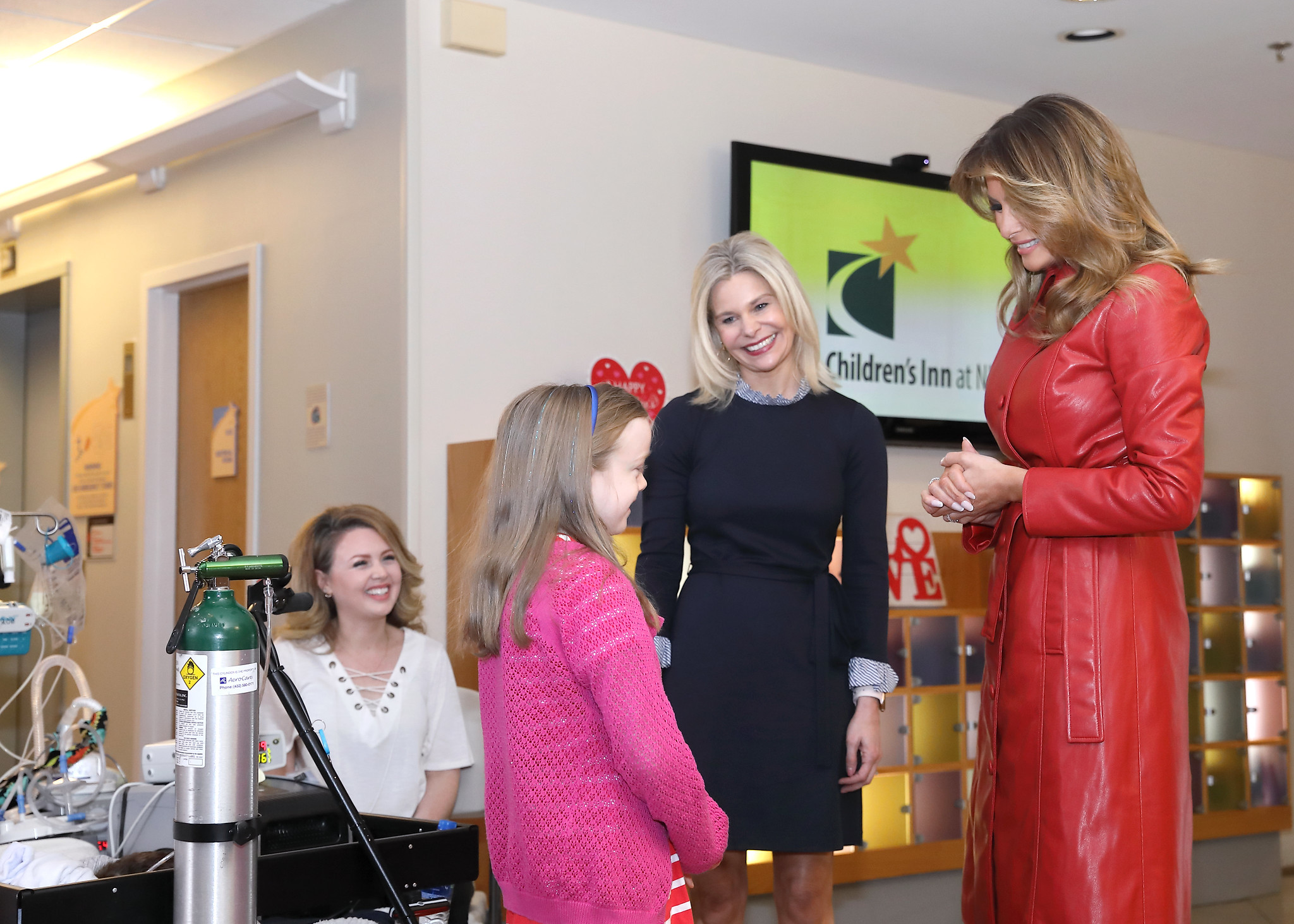 Inn resident Lucy greets First Lady Melania Trump alongside Children's Inn CEO Jennie Lucca.
"We talked about decorating cookies and the White House, and how many rooms there are," she added.
Joining Lucy and other children staying at The Inn, the first lady enjoyed decorating cookies and cards, making wreaths and more.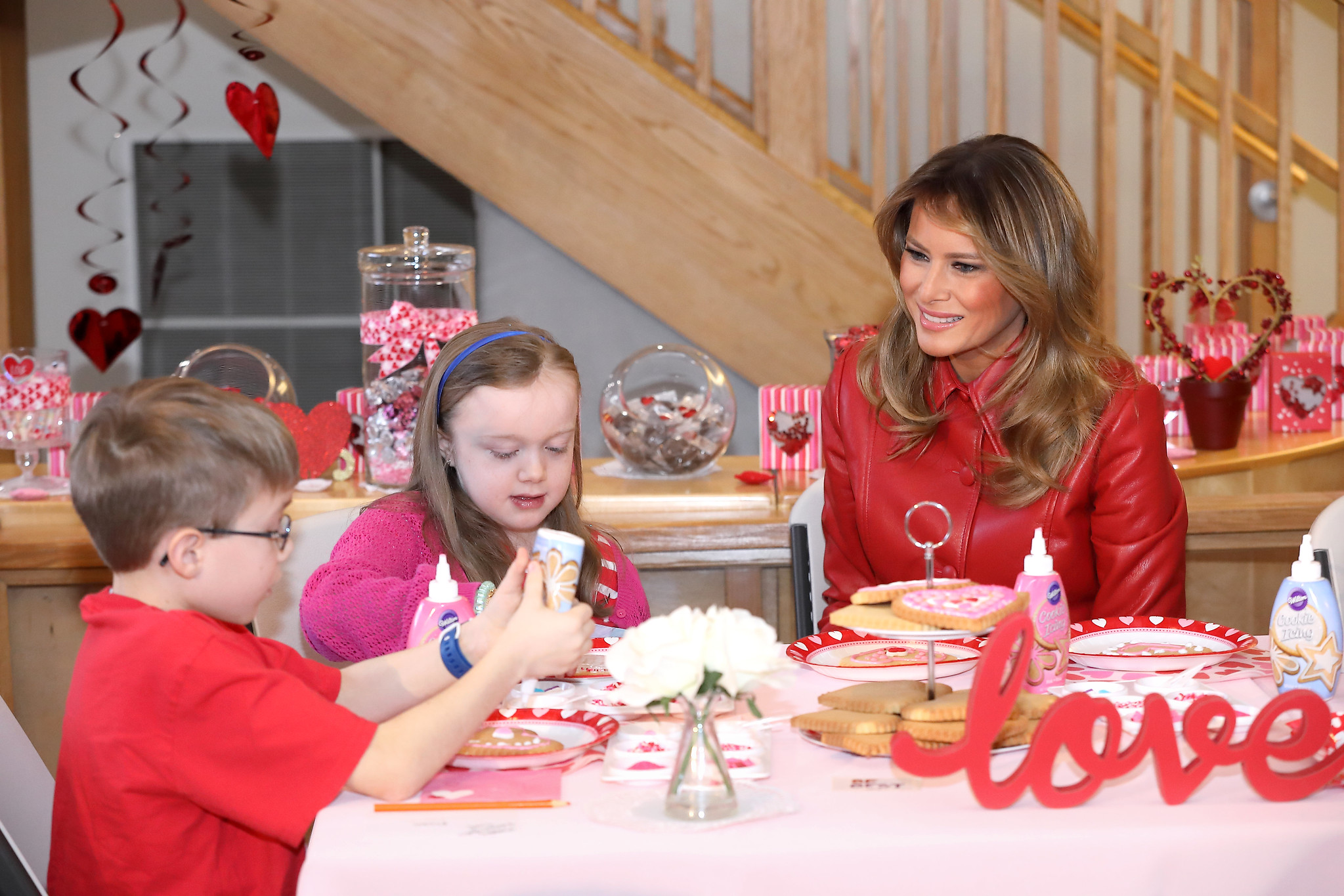 First Lady Melania Trump decorates cookies with Lucy and her brother.
Among the children who were delighted to welcome the White House guest to The Inn were Amber, 10, of San Diego, California, who is participating in a NINDS gene therapy trial, and her brother, Andrés, 16.
"When she [Melania Trump] got here, my sister said, 'She's here, she's here,'" Andrés said. "Her spirits were lifted, yes. I asked her, 'what would make you more excited than meeting the first lady?' She said, 'Meeting Jesus Christ'."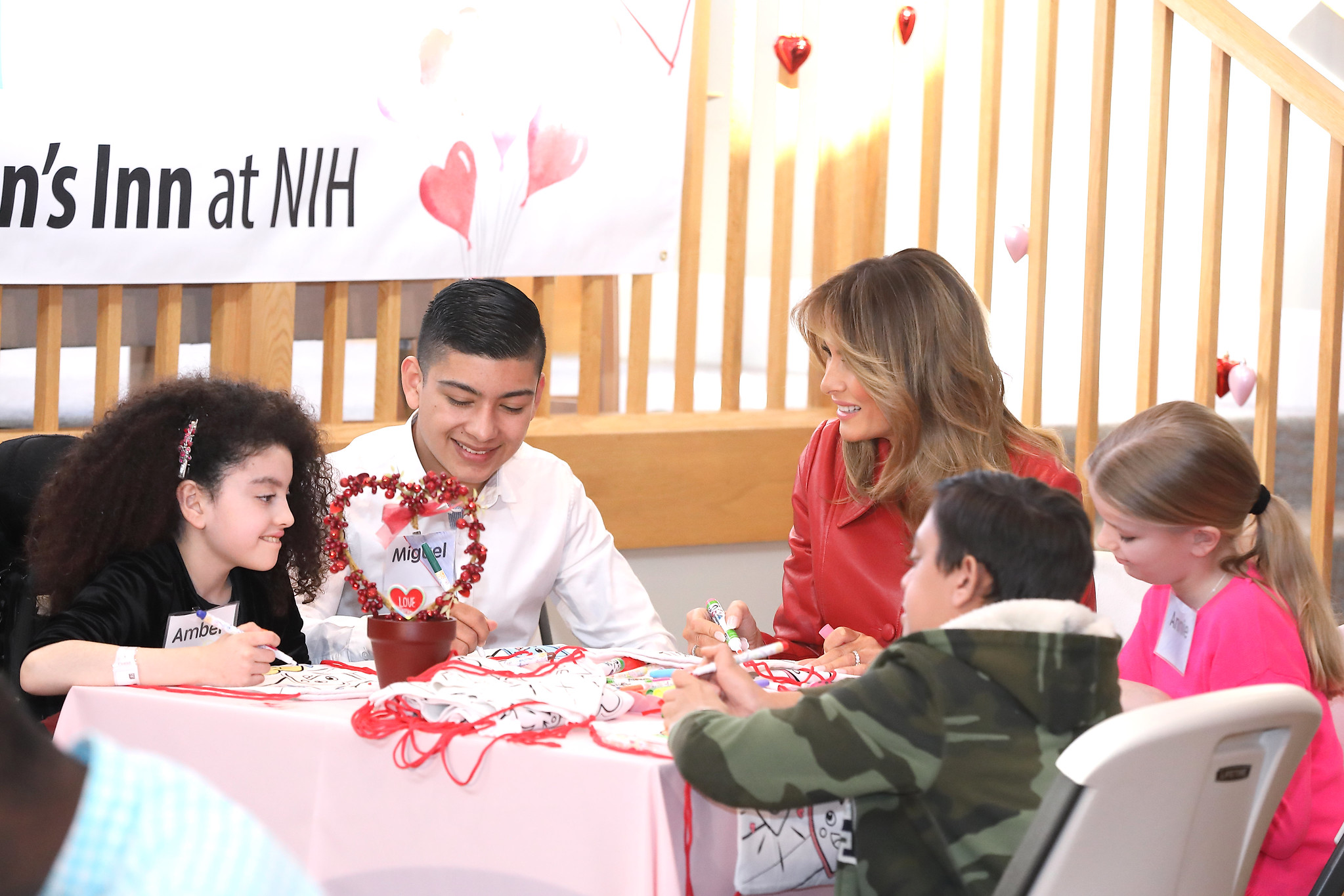 First Lady Melania Trump does arts and crafts with Inn residents, including Amber. She and Amber have met on Valentine's Day at The Inn for the last 3 years.
The First Lady also exchanged Valentine's Day cards with the children and made brief remarks. Her main message to the children was to stay strong.
To thank Trump for her visit, Children's Inn resident Amana, 9, of Mombasa, Kenya who donated life-saving stem cells for her brother, Amani, 13, that cured him of sickle cell disease, presented a personalized framed gift to the first lady; and Thais, 8, of Lima, Peru, who has Proteus syndrome, presented flowers to Trump on behalf of all the children at The Inn.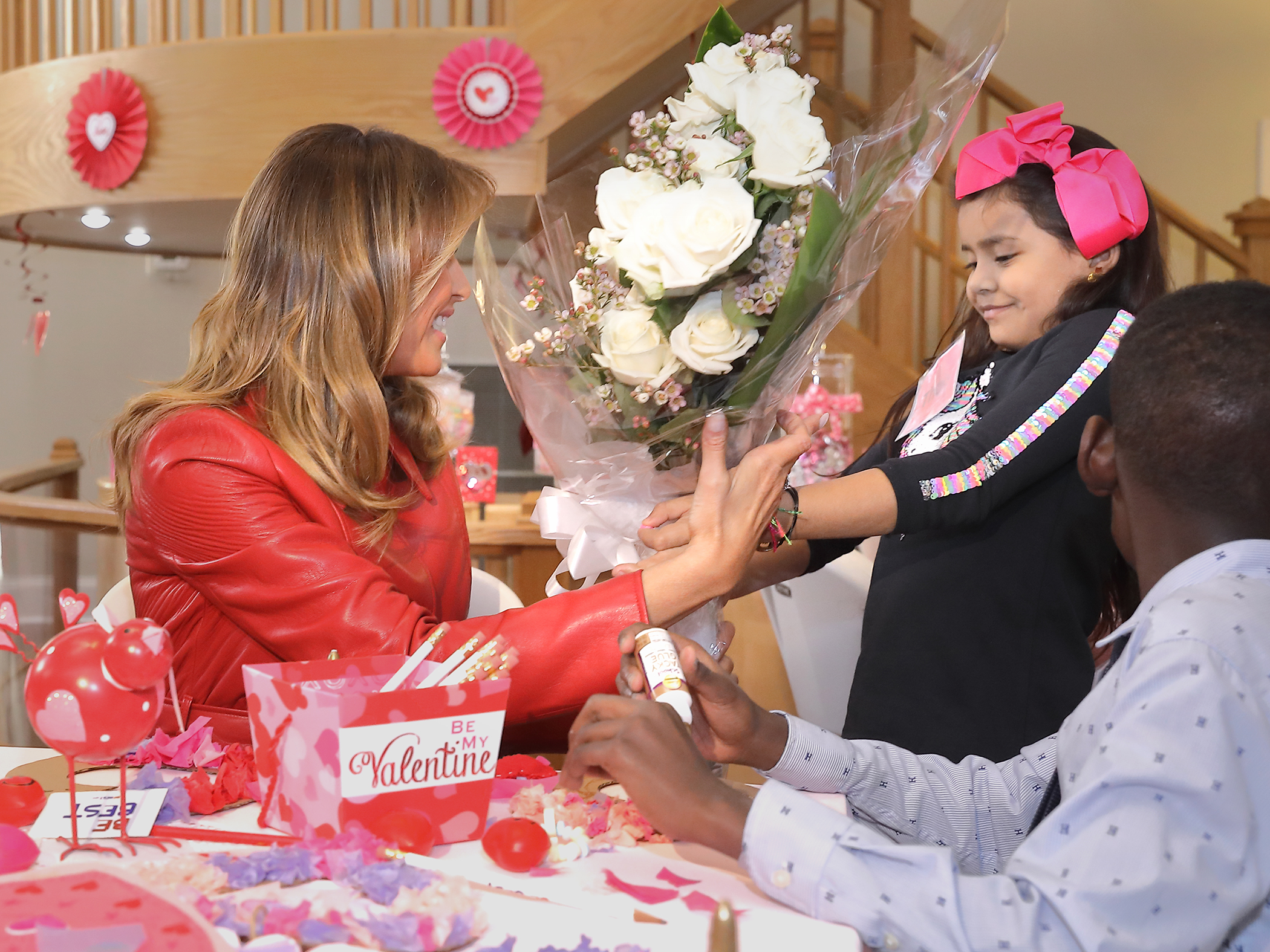 Inn resident Thais presents a bouquet of roses to the First Lady.
"The first lady was very, very, very sweet," said Ellie, 7, of Albuquerque, New Mexico, whose brother is participating in an NIH clinical trial. "She asked how my brother was feeling. I taught her how to do the heart craft."
"It was so lovely that Mrs. Trump was able to spend a significant amount of time with each child," Aisha Campbell, associate director of program and services for The Children's Inn, told FOX Business. "To know how much she cares about the children at The Children's Inn means so much to our children and families, and it made Valentine's Day extra special."
"Mrs. Trump's visit not only brings a delightful experience for our families but also awareness to the much-needed medical research happening at NIH that's helping the seriously ill children we serve every day," says Jennie Lucca, Children's Inn CEO.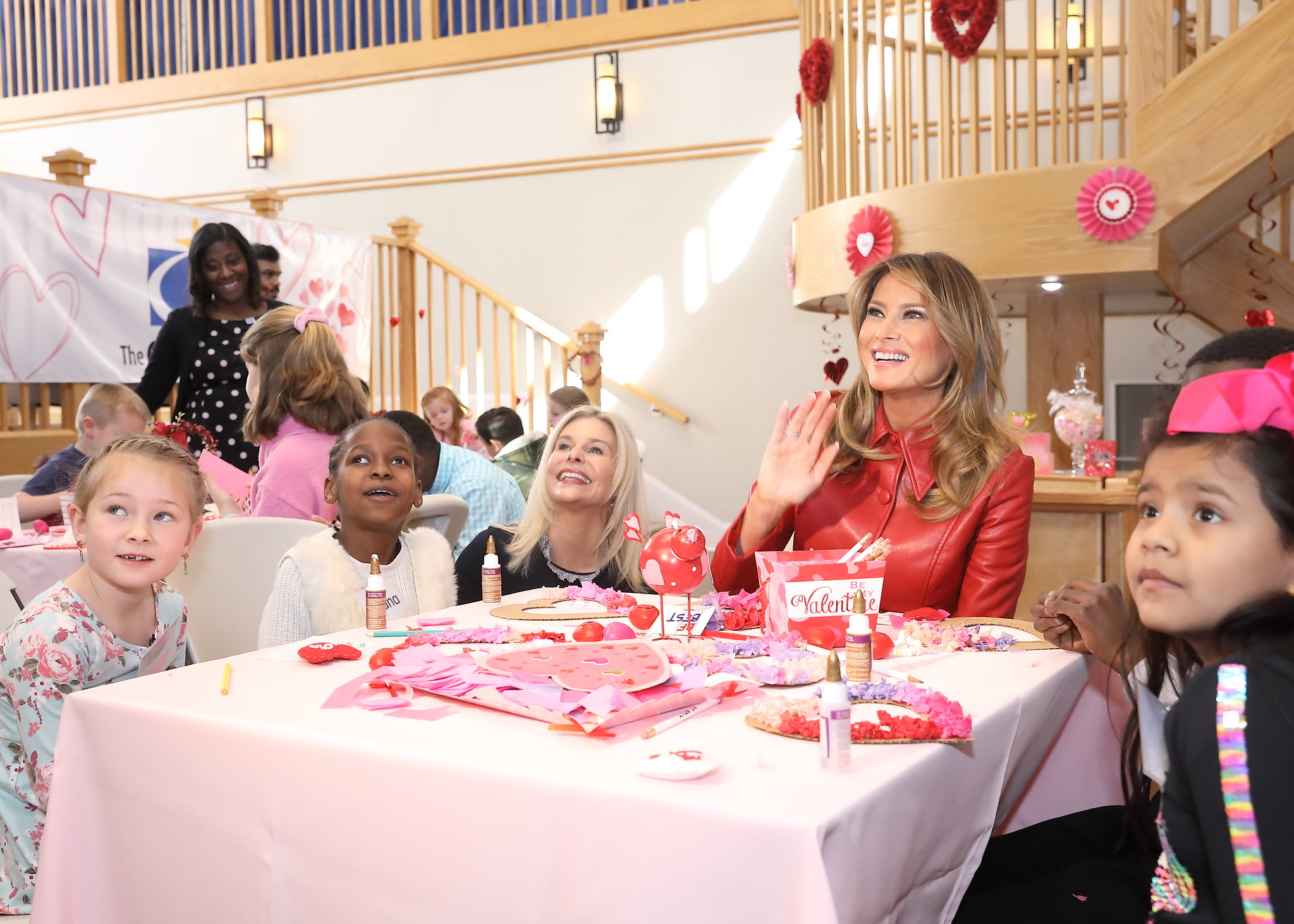 First Lady Melania Trump waves to parents and caregivers while making heart wreaths with Inn residents.
Over the past year, the first lady also invited Children's Inn families to participate in the White House's annual Easter Egg Roll, Christmas tree lighting ceremony, Halloween celebration and the one-year anniversary of her Be Best campaign.
Your support makes childhood possible for seriously ill children and their families. Thank you!
Stay Up To Date
on how The Children's Inn is creating 'A Place Like Home'