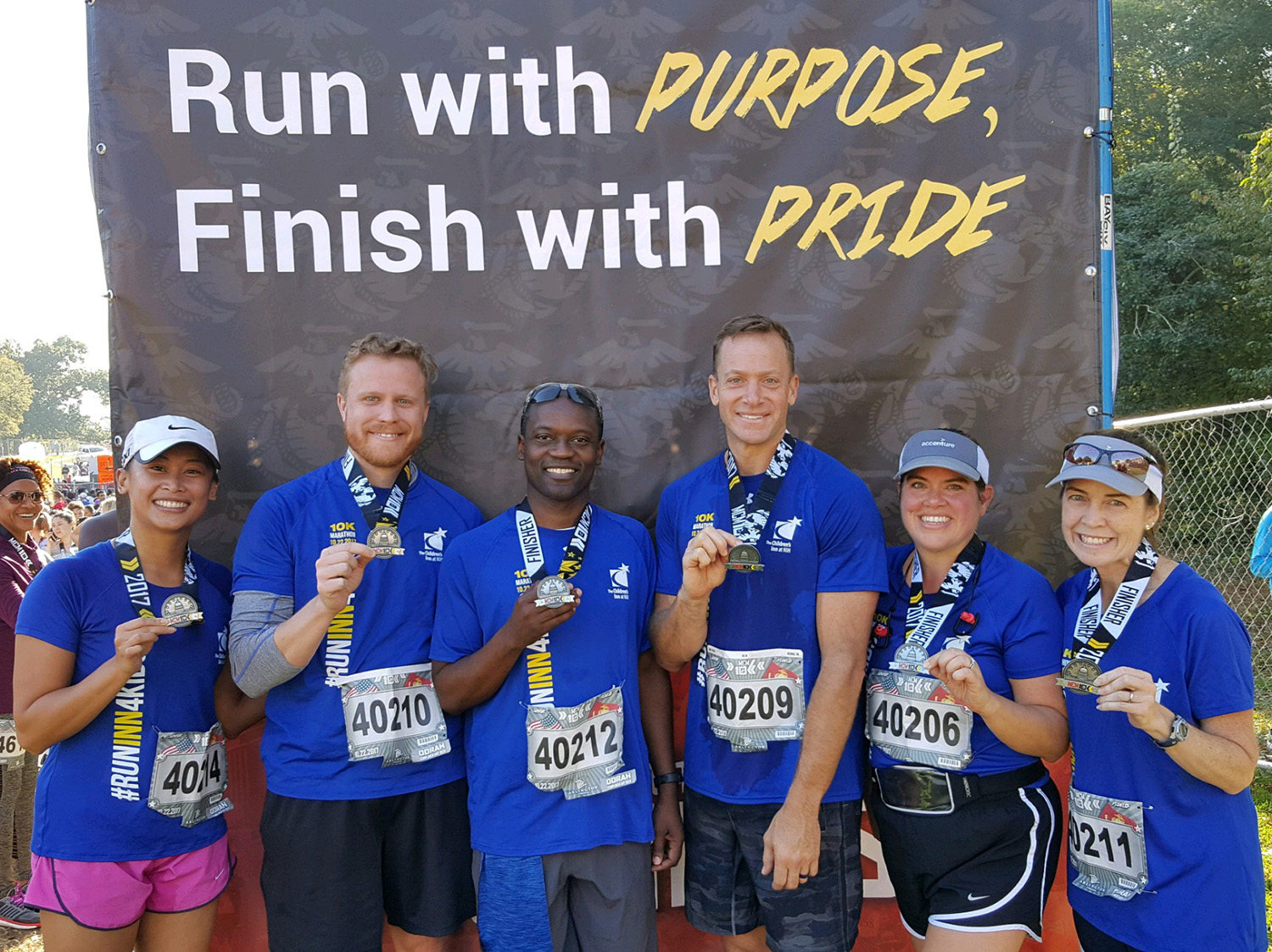 The Marine Corps Marathon is dubbed "The People's Marathon" because everyone can participate – as long as you win a lottery-system-assigned race slot. If you don't, charity teams like The Children's Inn at NIH's #RunINN4Kids team offer a great chance to not only run the race but also do so much more. Here are 11 reasons why you should sign up for The Inn's charity race team now, regardless whether you actually want to run the race:
Have fun.
This should be the number one reason to join anything! For many of us, training for a race simply isn't much fun alone. Training and/or fundraising with a group, on the other hand, can motivate us and give us greater purpose. That's fun! However, lone wolf runners or fundraisers are just as welcome to The Inn's charity team.
Guarantee yourself – and your friends – a race slot.
Whether you missed the sign-up deadline, didn't bother to enter or simply didn't win a coveted slot, #RunINN4Kids is your chance to enter the race on your terms. Joining a charity team is the only way to guarantee race slots for a group of people.
Do something that truly makes a difference – even if you don't run.
When you join The Children's Inn's charity race team, it doesn't matter how fast you run or whether you run at all. What matters is that you are making it possible for more children with rare or serious diseases to stay at The Children's Inn for free so they can participate in groundbreaking clinical trials at the NIH to help bring about new treatments and cures that benefit children today and generations to come.
Promote The Children's Inn and get people to listen.
Want to talk up The Children's Inn at NIH and NIH research? Fundraising for a cause gives you permission to talk about your favorite charity as much as you want. Because you are making a specific ask of people, they will listen. Attaching a well-known race with your charitable goal further legitimizes your promotional efforts.
Network with like-minded people.
Caring about the same cause is a great way to bond. The Children's Inn's charity MCM team provides a natural network for you to meet others who also care about children with serious medical needs and want to help contribute to medical breakthroughs at the NIH. So get ready to make new friends!
Honor someone you love.
Many people join our team to honor someone they love by fundraising for The Children's Inn in their loved one's name. It's a special way to pay tribute to a special person and a great way for friends and relatives to join in.
Take advantage of free perks and benefits.
Team #RunINN4Kids is an especially good choice for first-time runners because our team provides lots of guidance and support that you don't get when you run on your own. Team #RunINN4Kids members benefit from a running coach, team training opportunities, weekly training tips, gear like T-shirts and other swag, and more.
Party.
Load up on a catered carb-forward meal provided by The Children's Inn, meet some of the children and families you're supporting, and tour our facility during our annual pre-race pasta party held race day weekend. It's our way of saying "thank you" and a perfect way for you to bond with the people running The Children's Inn (but not the race). Delicious all the way!
Boost your company's corporate social responsibility index.
Start a corporate Children's Inn charity MCM team at your work with the buy-in of HR, leadership and communications. Sign up others to join in your charitable efforts, and help raise your company's CSR profile by touting your team's efforts on social media. We already have several corporate teams from Emmes, Accenture and Lidl that have joined #RunINN4Kids. The Inn will help support your social media efforts through plenty of likes and reposts.
Refine your personal brand.
Showing others what you care about allows them to connect with you in new ways. It also shows you're willing to go the extra mile for a cause and do not shy away from challenges. That's a personal brand any employer will value.
Expand your skill set.
Running a marathon takes diligence, practice, tenacity and endurance, and speaks volumes about who you are. Couple that with successful fundraising skills – which take people skills, communication skills, salesmanship skills and organizational skills – and you got a winning skill set that will benefit you throughout your career. It'll also give you the perfect answer to the personal challenge question you're sure to get during your next job interview. Score!
Learn more about The Children's Inn's charity MCM team at childrensinn.org/marinecorps. The deadline to sign up is August 17. Questions? Send an email to [email protected].