When Pepe Bryan, 18, heard his cancer had returned, he felt hopeless.
"I don't normally cry, but I cried then," he said.
Before his first diagnosis the previous year, Pepe noticed he had begun drinking unusually large amounts of water. He eventually developed a strong pain on the right side of his belly, and his lymph nodes would swell up for periods of time.
His family took him to several doctors, but repeatedly he was sent home with the assurance that nothing was wrong. Finally, the family saw a private doctor in their hometown of Kingston, Jamaica, who took a biopsy of Pepe's lymph node. The diagnosis came as a shock: Pepe had adult T-cell leukemia/lymphoma (ATLL), a rare type of an aggressive blood cell cancer affecting the immune system's T-cells.
He started on the standard treatment of several months of chemotherapy, which initially proved effective. But a couple of months after chemotherapy, his cancer returned.
His doctor explained that his options were to either do another round of chemotherapy or participate in a clinical trial at the NIH testing a new medication on ATLL patients for whom chemotherapy was unsuccessful. After reading up on the options, his family, consisting of Pepe, his mom, aunt and grandmother as well as Pepe's eight living siblings, held a family council to make a decision.
"We decided the NIH clinical trial was our best option," Pepe said.
A top student and president of his school's student council, Pepe had been awarded a prestigious scholarship to study international affairs and security at Atlantic College in Wales, pending his final exam grades. Despite worrying about his health and final exams, he ended up graduating top of his class and was accepted into an internship program at Yale University.
However, instead of getting ready for college over the summer months, Pepe and his aunt, who helped raise him after the death of his father, flew to Bethesda, Maryland, to spend nearly two months at The Children's Inn so Pepe could receive experimental medical treatment at the NIH Clinical Center.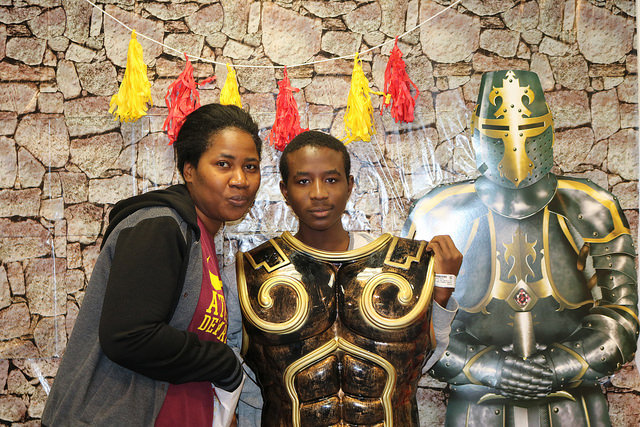 Three times a week for six weeks, he spent several hours at the Clinical Center getting drug infusions.
"The medication killed all my cancerous blood cells, and I soon can go home. Yay!" he said, throwing up his arms and laughing. "Doctors won't say I'm cancer-free, and I'll come back for checkups, but I can go home."
Pepe had missed his family, their cooking – especially curried goat – and the relentless Jamaican summer heat.
During his last week at The Children's Inn, he let staff know how grateful he is for the NIH and the chance to stay at The Inn.
"I really enjoy the people at The Inn," he said. "Everyone is really different, being from some far away country but they are really nice, and I learn so much from them. The world has hope with people like those."
Pepe has participated in many of The Inn's young adult activities, including trips to restaurants, a karaoke evening and more.
He's also enjoyed the large-screen TV to watch movies and the free Wi-Fi to read up on international news and the chance to talk to his beloved grandmother, who's in her 90s, via Facetime. And he's made friends with some other young people and children at The Inn, including a Syrian boy who speaks little English and a young adult from Jamaica.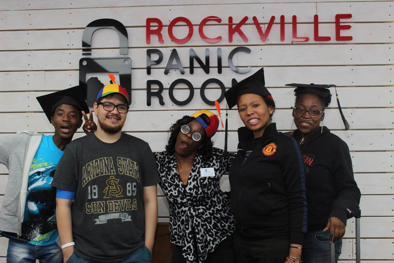 His happy, friendly demeanor and easy smile have endeared him to staff and volunteers at The Inn.
"The NIH means life to me," he said. "And The Children's Inn is a great place. Let me tell you, it's wonderful. They give you food and housing, and they take you on outings and activities. It's wonderful!"
Despite promising clinical trial results at the NIH, Pepe's difficult fight against cancer continues. The Children's Inn is there for Pepe and his family when needed.