Support Inn children like Paige and her family by making a donation.
One girl is from Pennsylvania, and the other from South America. Even though they don't speak the same language and just met, as soon as they see each other, they sit together and play, comforted to know that the other exists.
For Shelley, mom of 8-year-old Paige, it's moments like this that make The Children's Inn so invaluable. The moments in which Paige can come to the realization that she's not alone in living with her disease.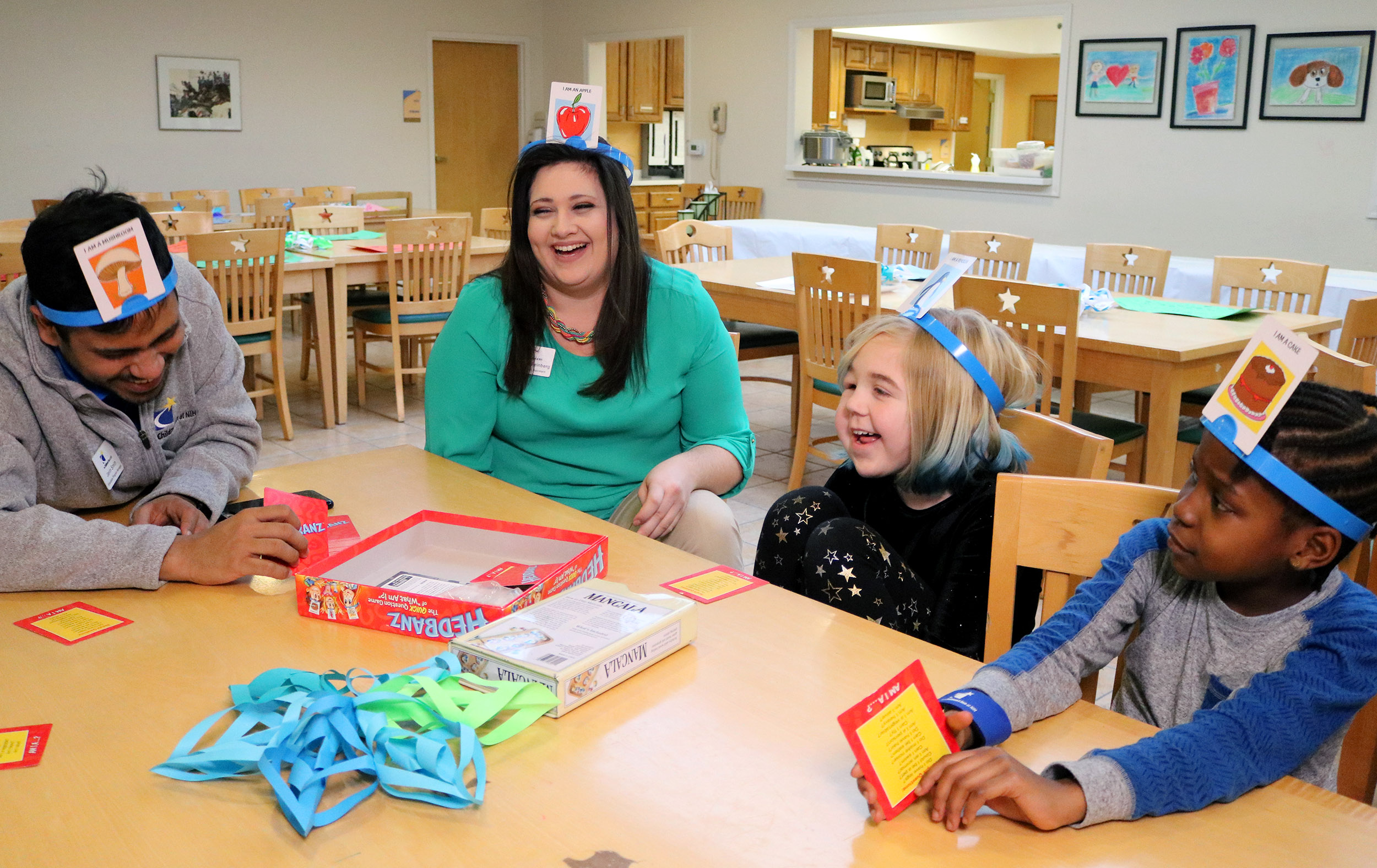 Paige plays a game with Inn staff members (from left) Javin and Stephanie, alongside Inn resident Amana
Shelley knew something was wrong the first time she laid eyes on her newborn daughter, Paige. But doctors in her hometown in Pennsylvania assured her the swelling on her daughter's face was due to excess fluids that would go away on its own. When it didn't, an MRI revealed shocking news: Paige had large tumors on her face and spinal cord. A biopsy showed that Paige's tumors are caused by an incurable genetic disorder called Neurofibromatosis type 1 (NF1). Doctors told Shelley that her infant daughter might never be able to walk or talk.
"I was told if she moved her head the wrong way, she could stop breathing," Shelley recalls.
"This is a genetic tumor predisposition syndrome, which has a lot of different manifestations. But one of the most common are these tumors, the plexiform neurofibromas, that can occur on any nerve in the body," says Dr. Andrea Gross, an assistant research physician in the Pediatric Oncology Branch of the National Cancer Institute's (NCI's) Center for Cancer Research. "While these are tumors, they're not cancerous because they don't break off parts of themselves and spread to other parts of the body. But they can cause lots and lots of problems."
As Paige grew, her tumors grew as well, distorting one side of her face and threatening her ability to breathe, hear and see.
Paige's parents looked for anything to help their daughter. They were relieved when in 2015, Paige was accepted into a clinical research study at the NCI to test a cancer medication that looked promising in treating tumors in NF1 patients. When the medication did not achieve the desired results, Paige joined another trial testing another medication.
"Within a couple of months on the drug her ear canal opened, and she got her strength back," Shelley, says. "Three years later, she is talking and walking like a regular second grader. She went from being unable to do anything to this."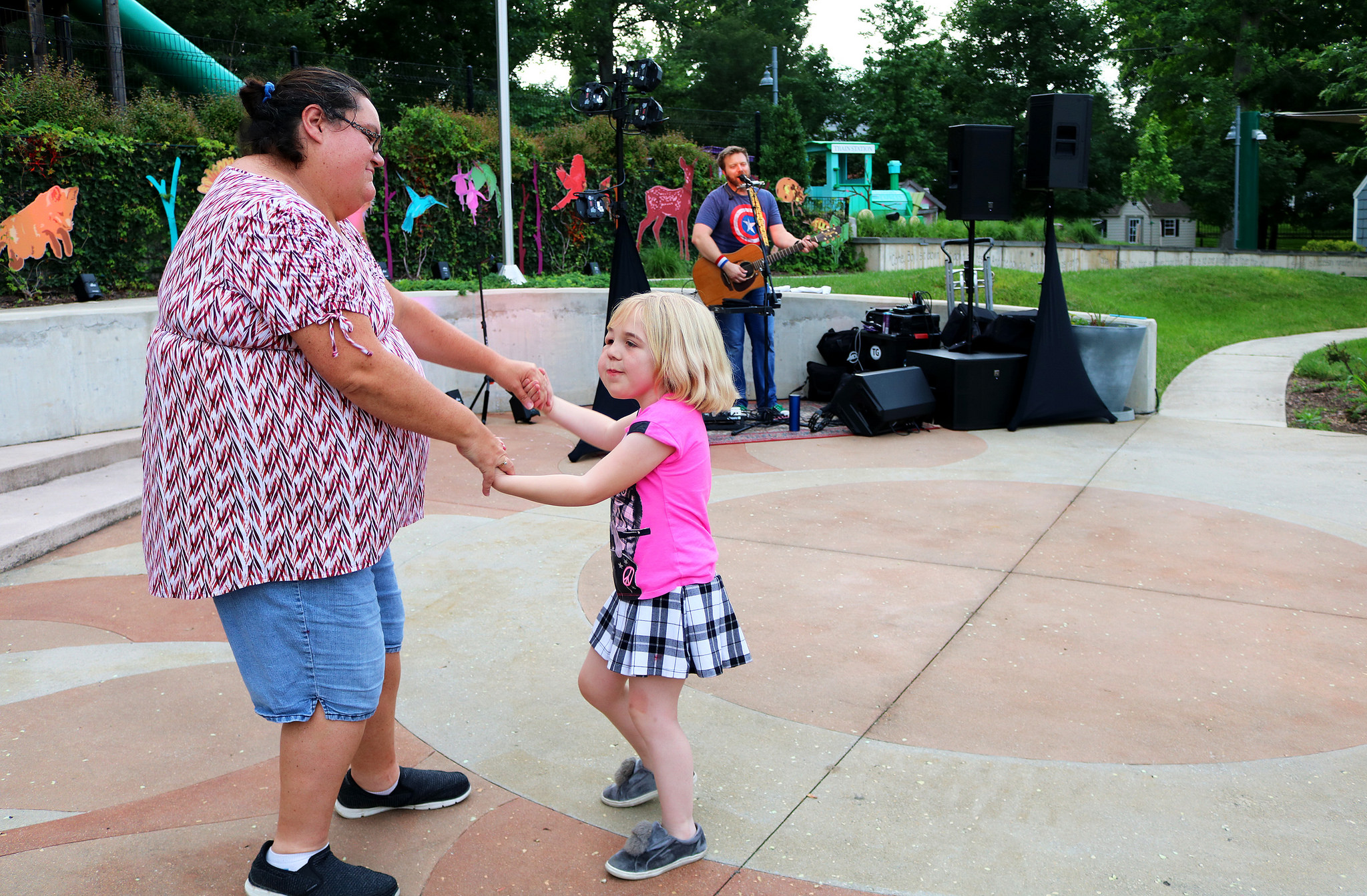 Paige dances with her mom Shelley during The Inn's summer concert series
"Paige has been what we call a responder on her trial, which is really exciting" Dr. Gross says. "Since she started the drug about three years ago, her tumor has not only stopped growing but it's actually shrunk."
Over time, Paige's large facial tumor shrunk by 28 percent. The medication also keeps her airways and ear canal open and preserves her vision.
Since early 2015, the family has come to The Children's Inn 11 times.
"They feel like they're on a vacation when they're here," Shelley says. "They feel totally comfortable at The Inn. They love to run around to find what new toys are in the playroom, and they look forward to all the activities and seeing Zilly, The Inn's therapy dog."
Most of all, Paige loves checking for Thoughtful Treasures in her Children's Inn mailbox.
"That's the one thing that gets her up in the morning," Shelley adds.
Paige and her sister, Maddie, 4, also love playing bingo at The Inn, spending time in the art room and participating in the Inn's Camp INNcredible in the summers.
Paige and her sister Madison
"For all of our patients, being here at The Children's Inn is absolutely invaluable, and it's their favorite part of the experience," Dr. Gross says. "They like playing with Zilly and all the experiences they have here. And, I think for the families to know that at the end of every day they get to be back here and be part of this warm, welcoming environment and know that it is just a safe haven for them is huge."
At The Inn, Paige has also made friends with other children with NF1 – something she hadn't had the chance to do at home in Pennsylvania. And, Shelley connected to The Inn's Facebook community for Inn families.
"It's great to be able to follow up with the families you meet at The Inn," she says. "The kids play for a week and then go home. It's nice to know how things turn out. People have reached out to see how Paige is doing."
"I just want to thank everyone who donates to make The Children's Inn possible," Paige's mom adds. "I cannot imagine being away from Paige while she is an inpatient or driving back and forth to make outpatient care possible without The Children's Inn. So thank you very much for making our lives easier during this time!"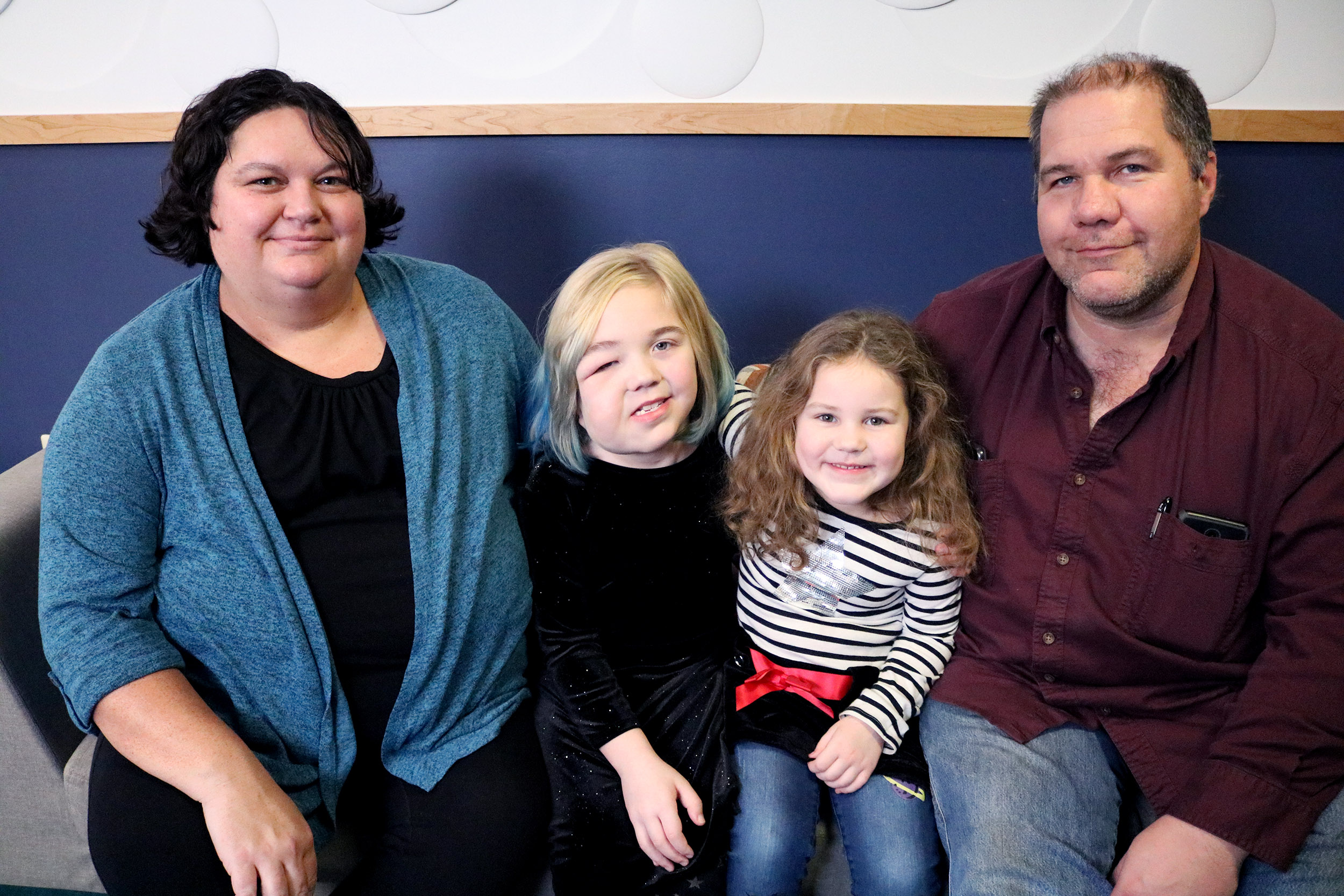 Paige (center left), with her mom Shelley, sister Madison, and dad Kevin
Your support allows Paige and families like hers to stay comfortably at The Children's Inn, so they can focus on what matters most – their children's health and the medical care they need. Thanks to caring donors like you, our families never have to worry about paying for lodging, food or finding activities to occupy their time. Your donations to The Children's Inn make childhood possible despite serious illness.