#GivingTuesday 2019

How you can make an impact and help The Inn on #GivingTuesday
This #GivingTuesday – December 3rd – be a social media hero for The Inn! Help us share our mission and raise money to help provide a "Place Like Home" for the many families with children in treatment at the National Institutes of Health (NIH). You can donate today or create your own fundraiser for The Inn.

Create your own fundraiser!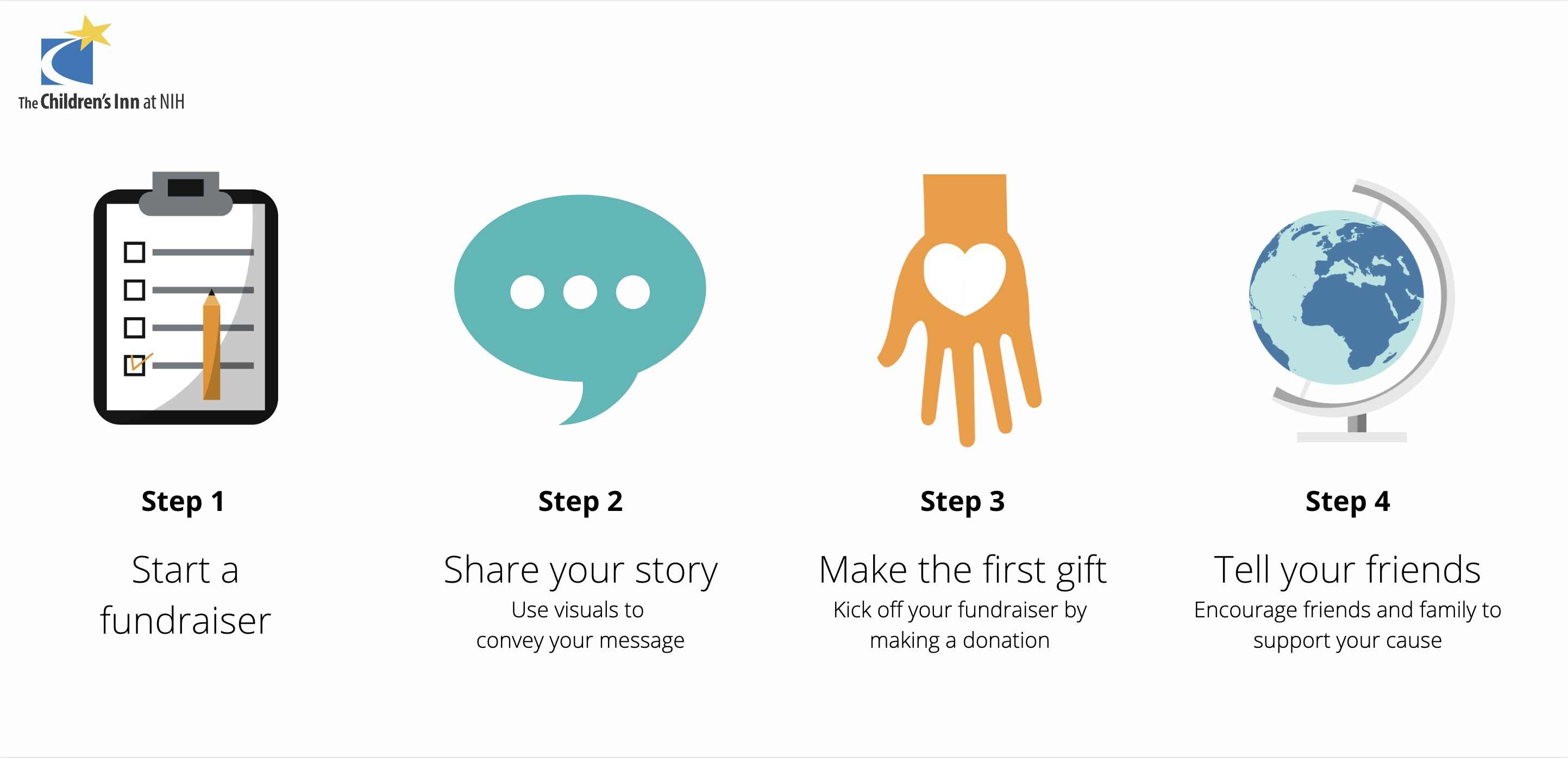 1. Create a fundraiser on behalf of The Children's Inn on Facebook or Crowdrise.

2. Promote your fundraiser by posting on all of your social media pages.

3. Share and like posts about #GivingTuesday on The Children's Inn's social media outlets.

4. Send an email sharing your enthusiasm for The Children's Inn's participation in #GivingTuesday to your friends, colleagues, and family members. (see sample email below).

Sample social posts:
Let's make a difference for families with seriously ill children while being part of a global day of giving – #GivingTuesday. Learn more: childrensinn.org/givingtuesday.
Help make childhood possible by donating to @thechildrensinn on #GivingTuesday. childrensinn.org/GT2019.
Give the gift of hope this holiday season. Donate to @thechildrensinn on Dec. 3 for #GivingTuesday childrensinn.org/GT2019
Donate to my #GivingTuesday fundraiser to help give hope to seriously ill children and their families this holiday season

[insert your fundraiser link here]
Sample Email to a friend:
Hi [Friend's name],

With the holidays approaching, it's important to consider how to make an impact on those in need. I'm partnering with one of my favorite charities for #GivingTuesday on December 3rd and I hope you'll join me.

The Children's Inn at NIH is a nonprofit residence for families with seriously ill children and young adults who are enrolled in an NIH clinical research study. By the time they get to The Inn, families have run out of options and are seeking their last, best hope for a successful treatment or cure. Every night of the year The Inn houses up to 59 families for free – and many have to stay at The Inn during the holiday season in order to continue their treatment at the NIH.

You can make an impact and make childhood possible for a seriously ill child staying at The Children's Inn. Your gift can give an ill child the chance to see his first Nationals baseball game, provide a meal that starts an unforgettable friendship, or give a family caregiver the support he or she needs. Your help enables The Inn to take care of the little things so families can focus on the big ones: keeping their sick child happy, making time for themselves, and supporting one another.

Please join me and make a contribution to The Children's Inn today by visiting [insert your fundraiser link or childrensinn.org/GT2019].

Thank you!

[your name]
How do I create a Facebook Fundraiser?
1. Visit The Children's Inn Facebook page and click the "Create Fundraiser" button.
2. A pop-up will appear, asking how much money you want to raise and when you want your fundraiser to end. You can raise money up to any amount, and this amount can always be exceeded! Additionally, you don't have to reach your goal for The Inn to receive the funds. Make sure to set your fundraiser to end on or after December 3rd so it counts for Giving Tuesday! After filling this out, proceed to the next step.

3. Give your fundraiser a name and share why you are raising money. This will already be automatically filled out, but feel free to edit it! We have sample messaging above.
4. Next, choose a photo! There will be one automatically chosen, but feel free to upload your own. Then you're done! Your fundraiser will look something like this: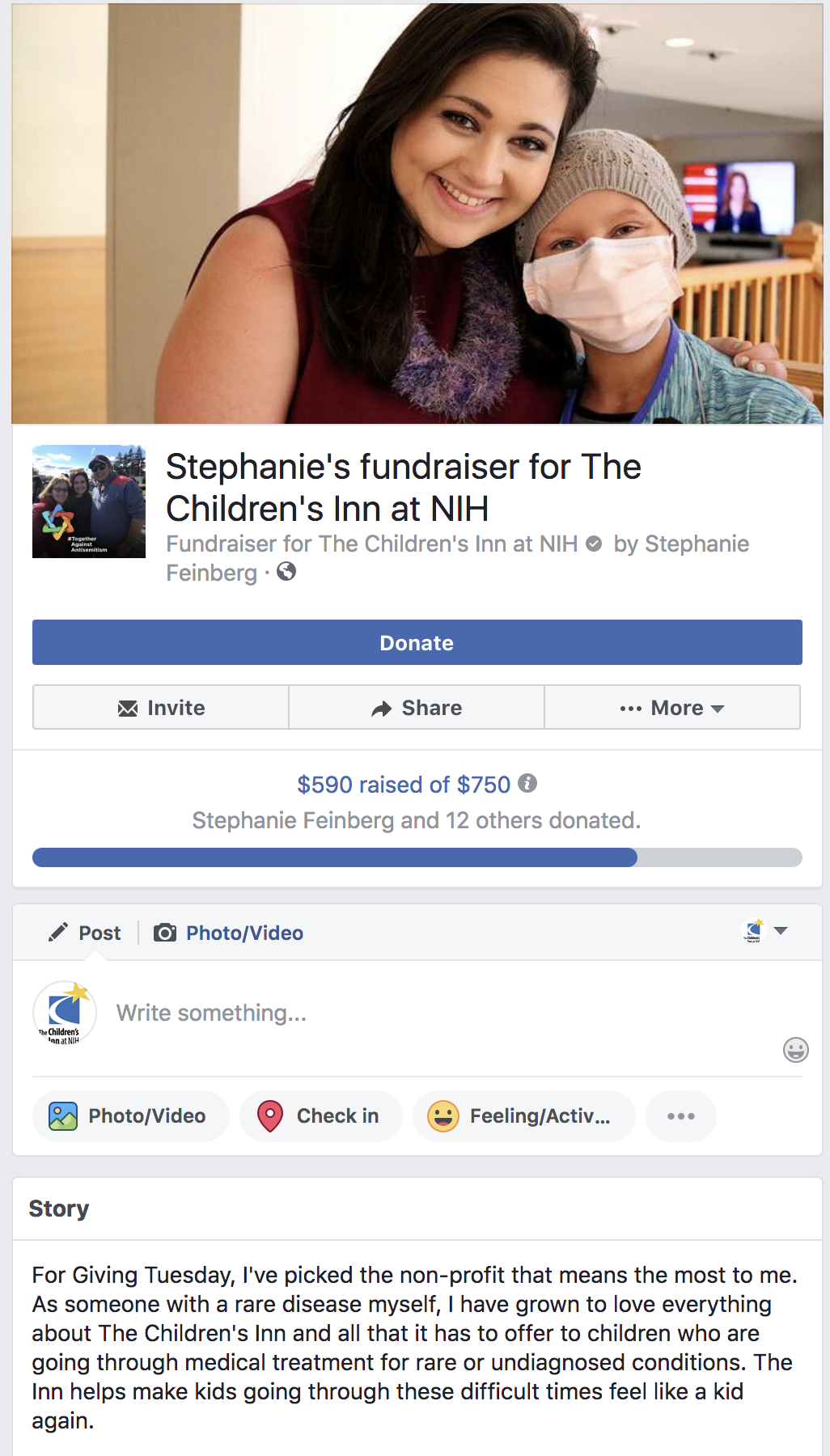 5. Finally, feel free to invite your Facebook friends to contribute. Or, you can share your fundraiser on your newsfeed so your whole friends list will see it. Best of luck!
Questions? Feel free to reach out to us at:

[email protected]

.