Children's Inn Emergency Updates
Please continue to monitor this page as we post updates in regards to The Inn's emergency closure.

Wednesday, November 7, 2018
When Jordan, 8, of Arizona arrived at The Inn recently, he was disappointed to find half of his second home closed.
Watch a brief video tour of Jordan talking about how the roof damage affects him.
---
Friday, November 2, 2018
Even with only half of The Inn operational after the emergency closure, we were able to host a fun-filled "Trunk-or-Treat" for our residents.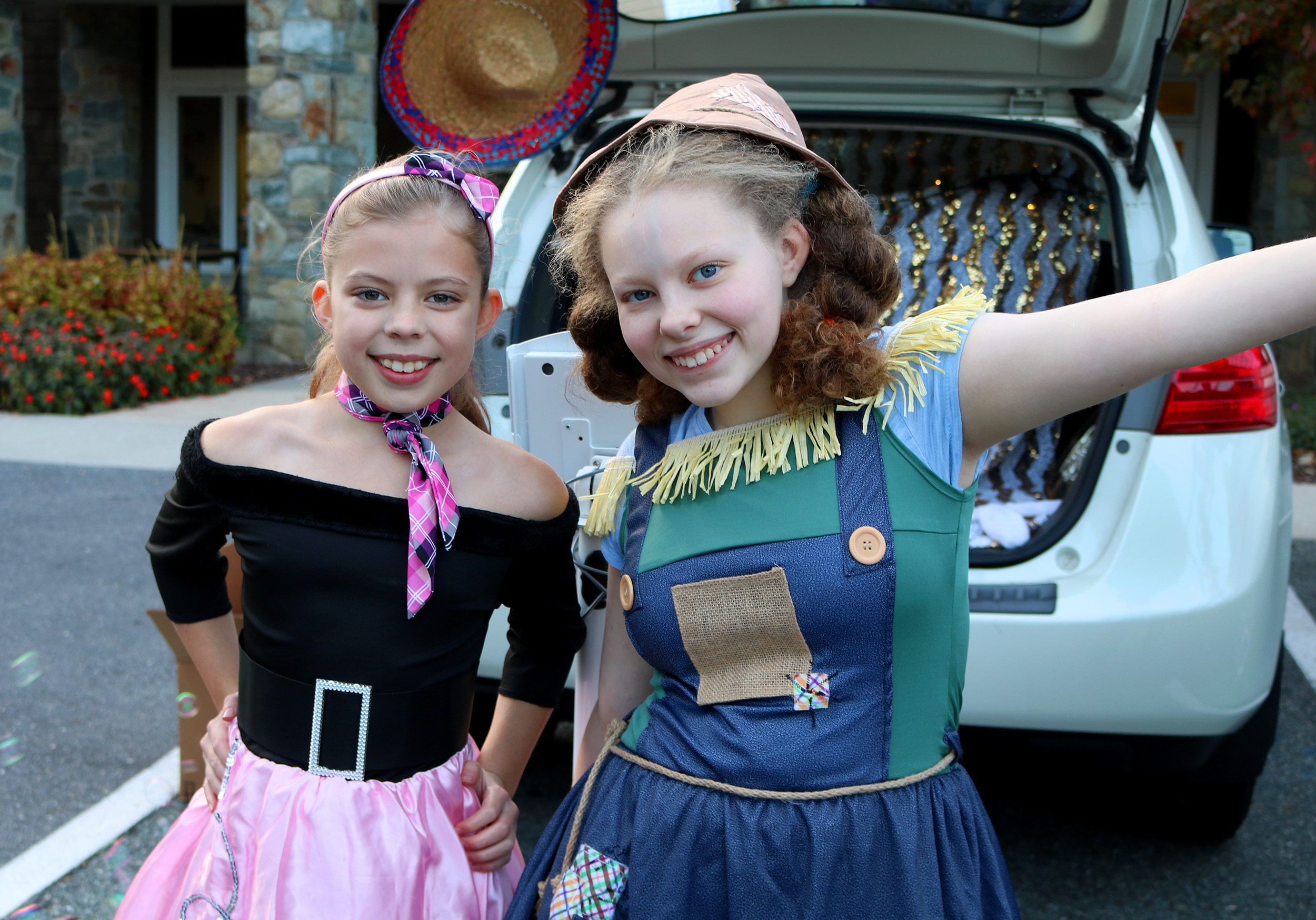 Other Inn News:
Thank you for your continued support to The Inn. Stay up to date with other news and events on our website.
---
Friday, October 12, 2018
In addition to offering a full schedule of activities to children and families staying at The Inn, our family programming team and has begun offering activities for the families staying at the 15 community residences rented at The Brody Apartments at Bethesda Row.
Here's a photo of the first activity held this week on the apartment building's expansive roof top: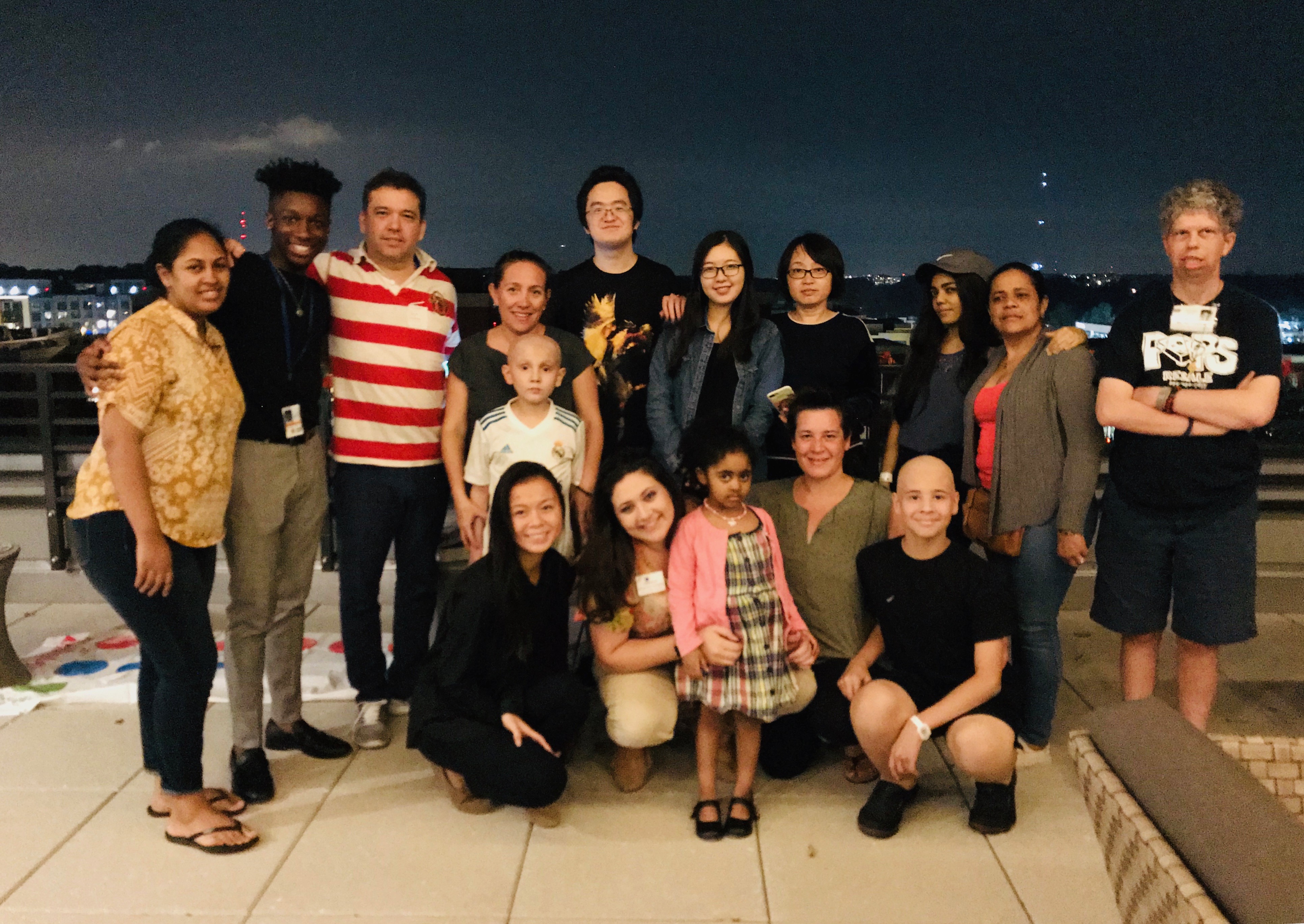 "The temperature cooled down and left the perfect breeze," says Stephanie Feinberg, The Inn's family program assistant. "We had fall decorations, apple pie juice, caramel apples, kettle corn, board games and more. We had 18 people participate, and many stayed around to socialize after the activity ended."
Next week, The Inn will invite families staying at the apartments to go on a walking tour of Bethesda.
Interested in seeing our full family programming schedule? Click here.
The Children's Inn continues to need your help! For the best ways to support our children and families, please view the many ways to help listed in our Oct. 9 post (below).
---
Tuesday, October 9, 2018
The contractors have shared their timeline for repairing the roof and estimate that the project will be complete by the end of February. At the same time, the contractor is working on the Building Envelope project which includes the replacement of windows, roofing and new siding which should be completed in the B and C quads at the same time.
The Inn continues to offer lunch and dinner meals each week and we have created more programming space in the upper hallway which can also be used by families to relax.
There are many ways to support The Inn during this challenging time:
From all of us at The Children's Inn, and our families, we appreciate your support!
---
Friday, September 21, 2018
DARCARS visited The Inn and donated items on our Amazon Wish List, and more. Watch video of their visit below or read the story on ABC7 here.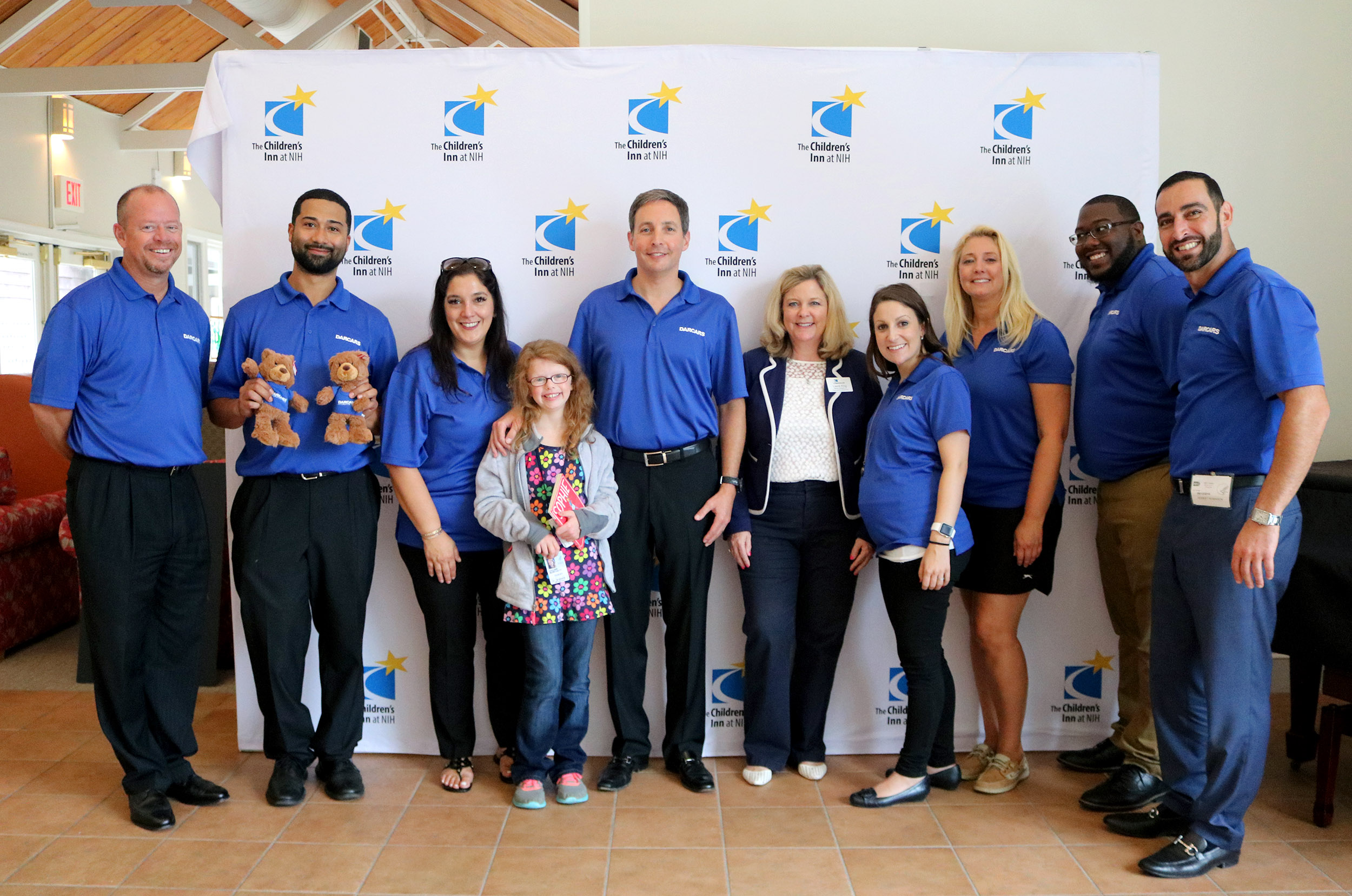 ---
Thursday, September 13, 2018
Ways you can help our families:
As always, thanks to each and every one of you that have sent us good wishes, provided financial support, meals, advice or assistance during our time of need. Our community of supporters is unsurpassed.
---
Tuesday, September 4, 2018
Despite the difficult situation, our staff continue to provide families with all the support they need to attend all of their medical appointments and a busy schedule of activities to fill their afternoons and evenings.
While we await news on when roof repairs can begin, we'll stop our daily updates. We'll continue to update this page as we have news to share.
Here's an event from the weekend and an exceptional Inn volunteer we'd like to highlight:
On Sunday, Sept. 2, Audie Atienza, founder of the XA Project, gave one Inn family an unforgettable experience by taking them by limousine to the Kennedy Center to see the musical Hamilton. Meghan, 13, who was born with a rare immune deficiency called Dock8, recently underwent a bone marrow transplant at NIH.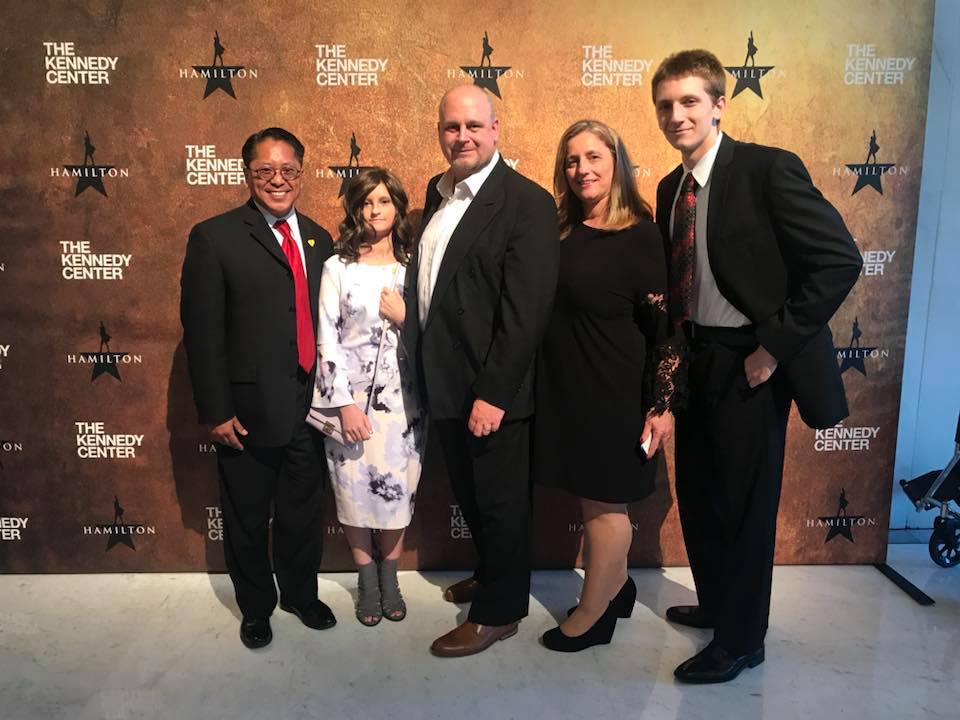 Audie (l) and Meghan's family
Meghan and her family had never seen a Broadway musical before and were excited about this special treat that also included dinner at a restaurant, a hair appointment and a shopping trip to get Meghan a dress, shoes and purse as well as makeup for the "Cinderella experience," as her mom calls it.
See media coverage of the event on WUSA9 and on FOX5.
Audie started the XA Project in honor of his son Xavier, who was 8-years-old when he suddenly passed away.  The XA Project gives children suffering from life-threatening illnesses free tickets to the theater and other performances.
The Children's Inn continues to need your support during this time. Your help means families who cannot stay at The Inn due to the emergency situation can comfortably reside in apartments near the NIH campus or in hotel rooms – at no charge to them. To help children and families who depend on The Children's Inn for support, please make a donation today.   
---
Friday, August 31, 2018
Today, Children's Inn families moved into 10 local apartments. Several staff and volunteers worked tirelessly this week to prepare the apartments with furniture, kitchen supplies, and other items to create a "place like home," even if it's not at The Inn.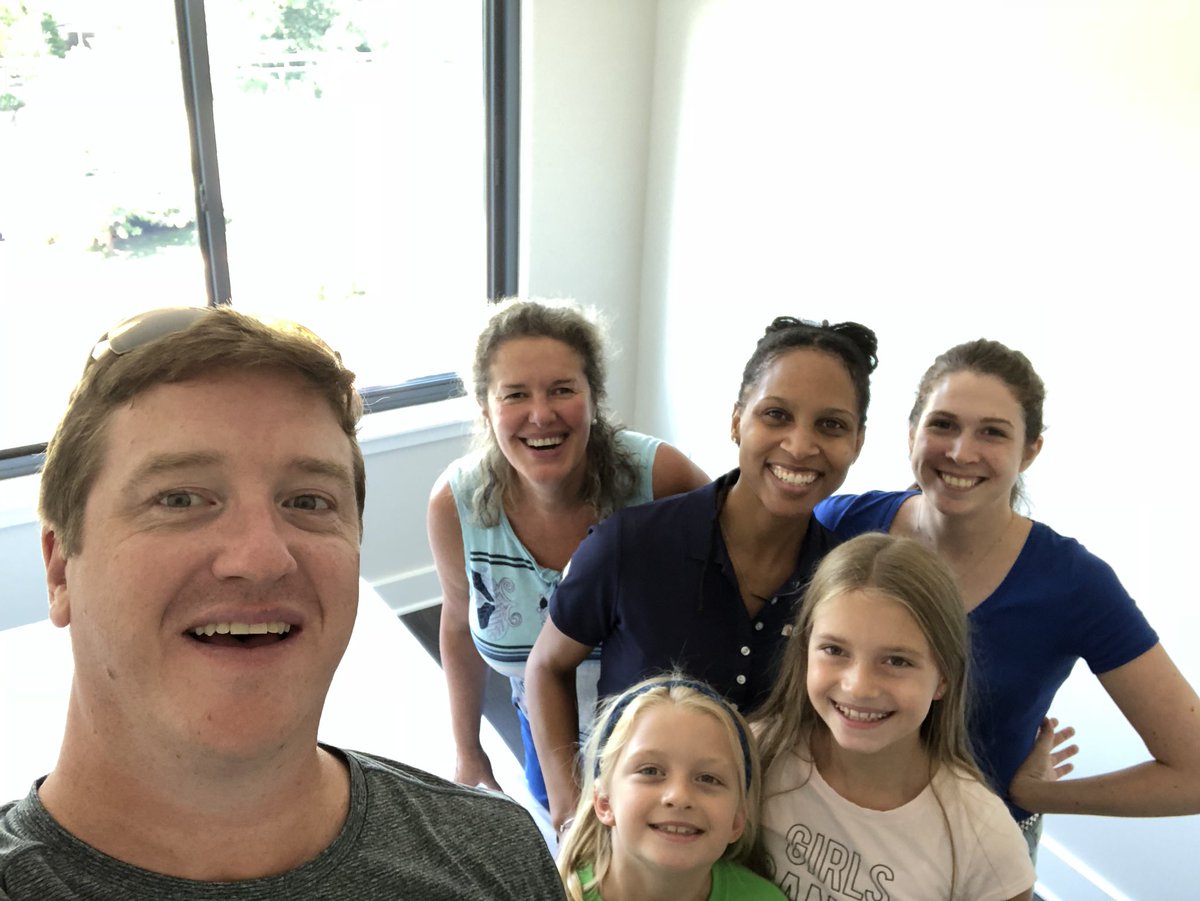 Our volunteers have been hard at work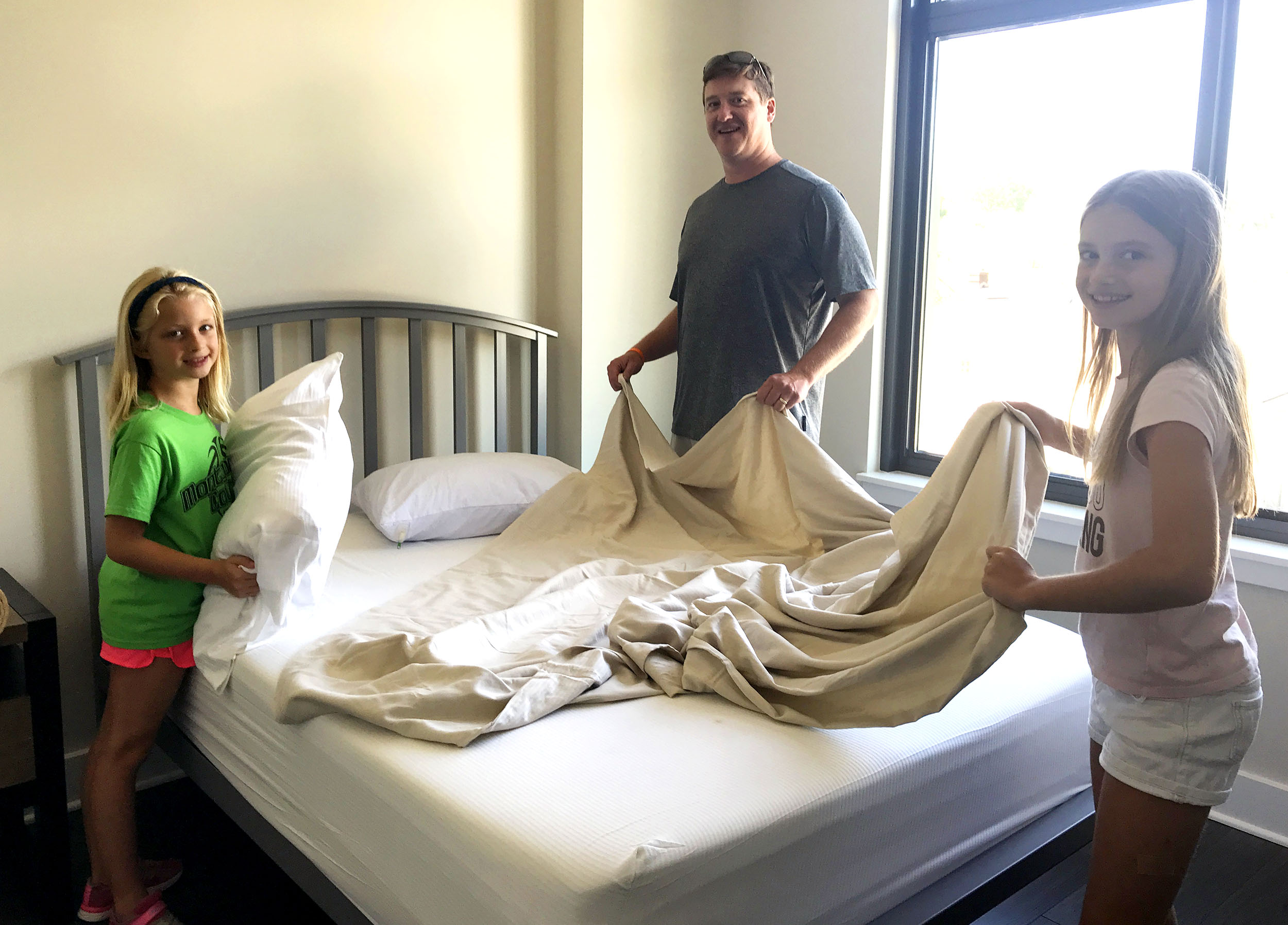 Unfortunately, the original side of The Inn will be closed through the end of the year while the roof is repaired, and construction is completed. Your support is absolutely essential during this difficult time, so please make a donation today.
Zilly, our therapy dog, is sad that part of her home is closed, but despite this, she is staying positive!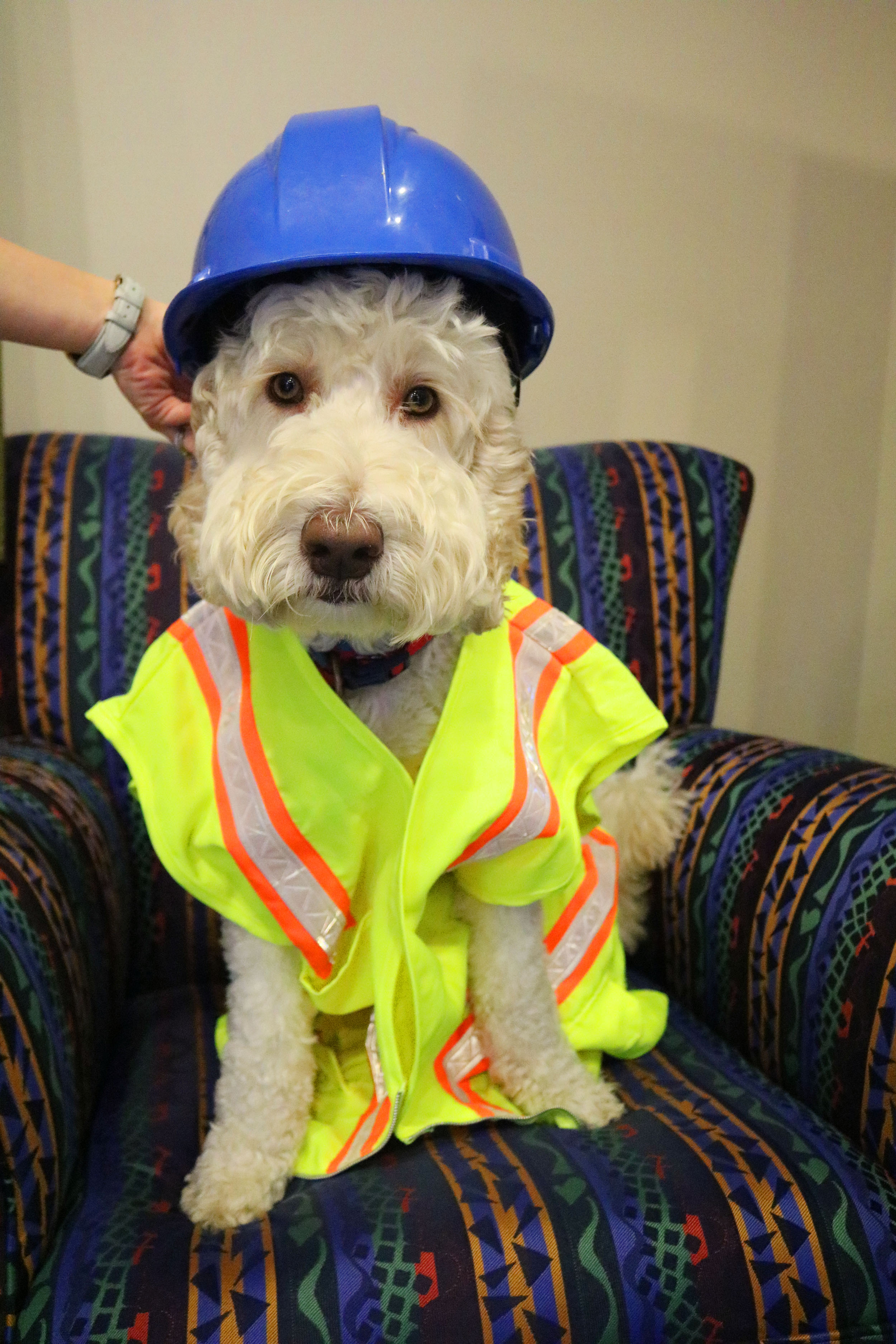 ---
Wednesday, August 29, 2018
ABC7 News visited The Inn to report on our emergency and recovery efforts. They interviewed Jennie Lucca, our CEO, and an Inn family.
ABC7's video story
Read their story
 about why our Inn families, like Amber's, still need your help during our emergency crisis. Click here.
---
Tuesday, August 28, 2018
Today, Children's Inn staff brought furniture and other needed items to the 10 newly leased community apartments near Bethesda Row to get them ready for families. We hope families will be able to move into the apartments early next week.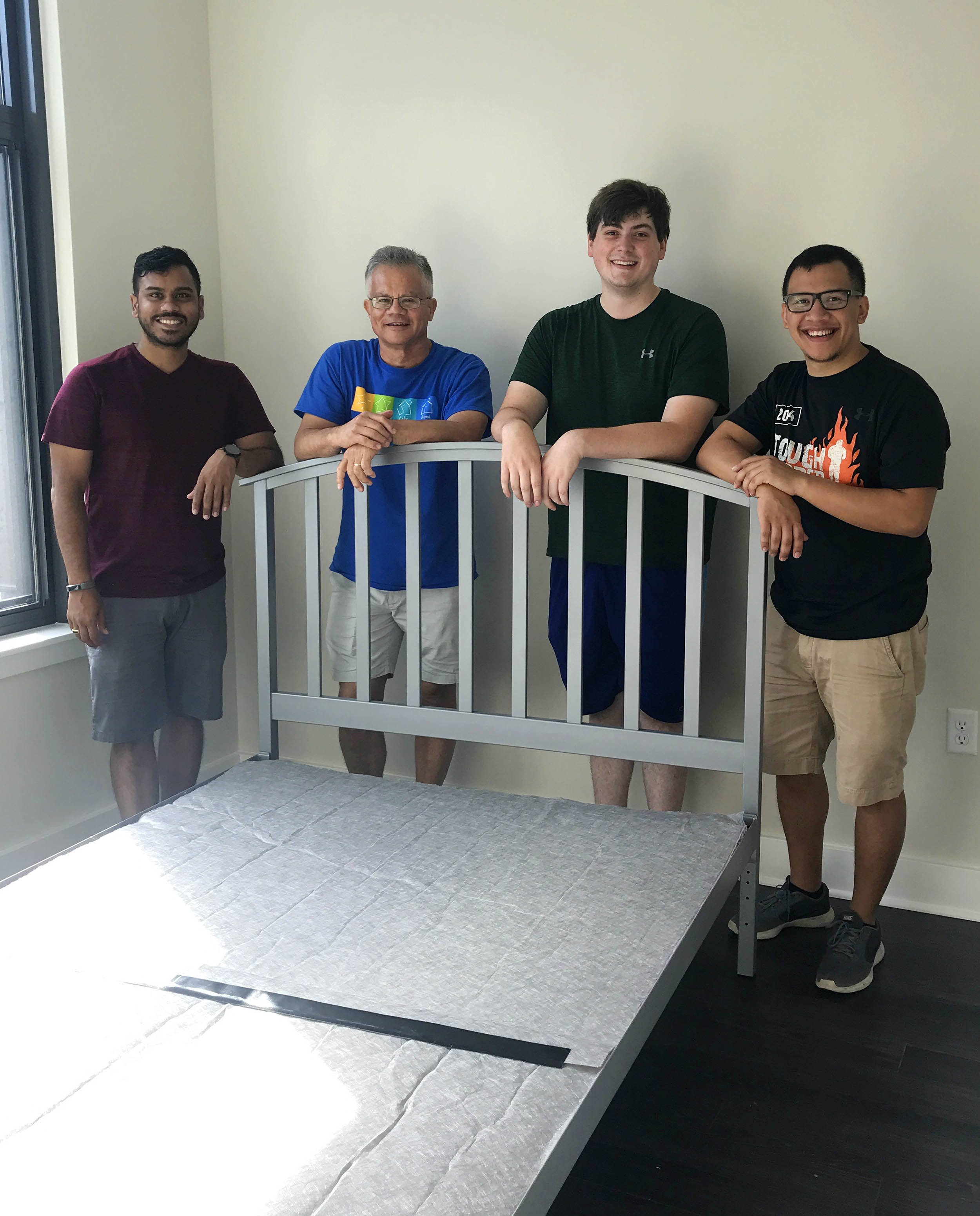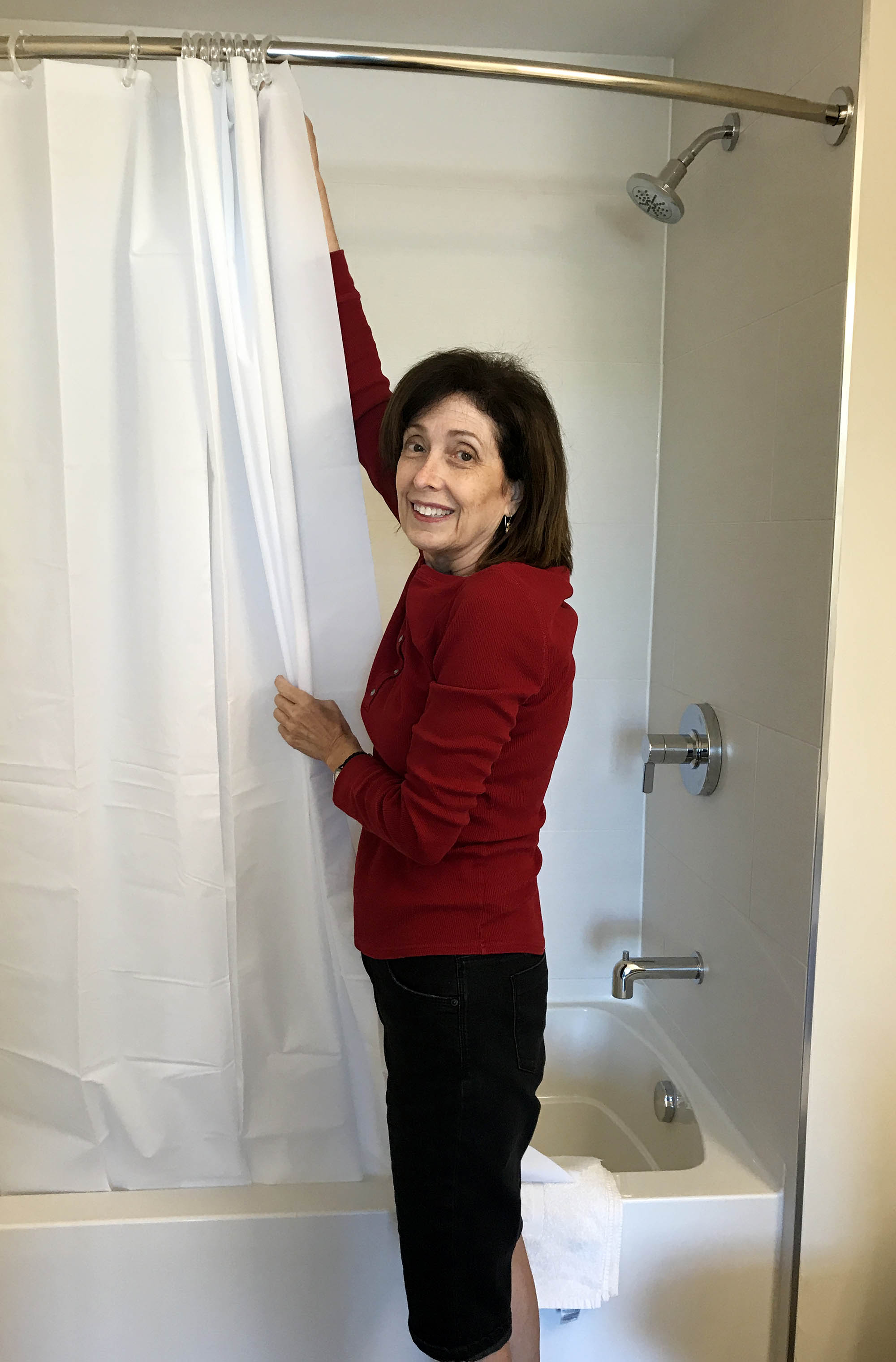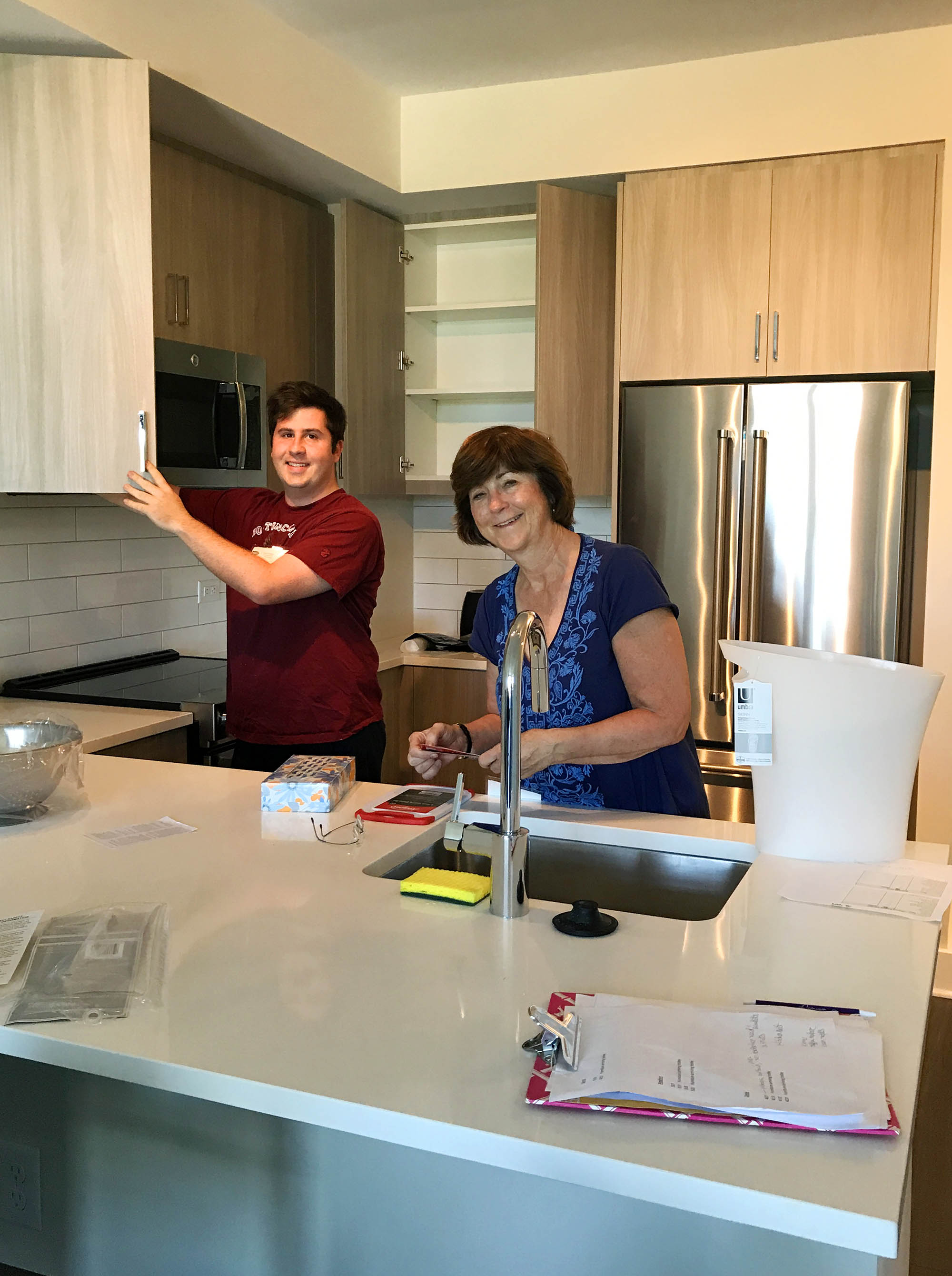 Family activities are picking back up at The Inn to make childhood possible and relieve the burden of illness on families. Today, the NIH acapella group Nerds in Harmony performed tunes from the popular musical Hamilton while children and families ate lunch catered by volunteers from TISTA.
Dr. Diana Bianchi, director of the National Institute of Child Health and Human Development, and an ardent Hamilton musical fan, introduced the performers and led a fun history lesson around the Founding Father. Watch the video here.
An interview with our CEO Jennie Lucca aired last night on WDVM, a television channel out of Hagerstown, Maryland, to help raise awareness of The Children's Inn's need for donations and community support. Read the story.
To support The Children's Inn during this difficult time, please make a donation or see other ways to help at the bottom of this webpage.
Thank you for your continued support!
---
Monday, August 27, 2018:
With The Inn's capacity now cut by more than half due to the emergency closure, we continue to make progress locating housing for our families, as well as providing meals and support programs.
On Friday, we were given the go ahead to move 23 families back into The Inn's E-wing, where all staff are also now relocated. Today, we signed a short-term lease for 10 local apartments that will be furnished and ready to receive families by the end of this week. These apartments, along with our other five long-term apartments, brings our entire housing capacity to 38 families. For context, at normal capacity, we can house 59 families at The Inn and five at local apartments.
Due to the ongoing construction and dust, some families with immunocompromised children are not able to stay at The Inn for the foreseeable future. Therefore, we are working to find appropriate accommodations for these families, making sure that they are well taken care of and can continue their appointments at the NIH Clinical Center.
---
Friday, August 24, 2018:
Today, The Inn was able to reopen the E-wing to families. However, with only 23 rooms available many families will continue to need to stay in local hotels as we look for additional housing to keep families comfortable and safe.
Our family programming staff has modified a full schedule of activities starting today.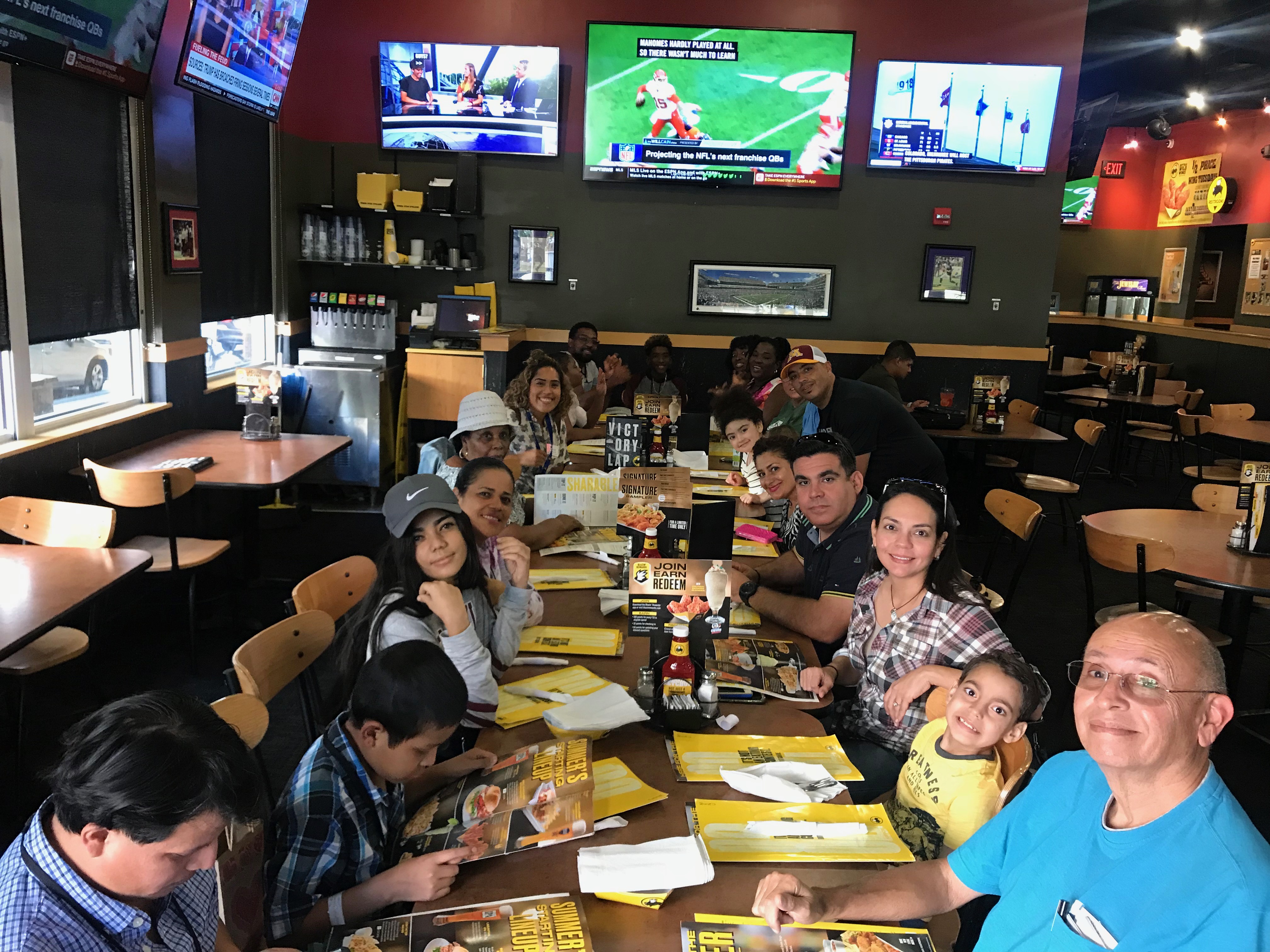 Families enjoying dinner at Rockville Town Center
Everyone at The Inn appreciates the outpouring of community support that has provided families with breakfast, lunch and dinners as well as in-between snacks and homemade goodies.
Your support during this challenging time is very much needed. Every donation made to The Inn before Sept. 5 will be matched dollar for dollar by Merck and the Merck Foundation. For more information or to donate, click here.
Thank you for your continued support!
---
Thursday, August 23, 2018:
Construction teams continue to stabilize The Inn's roof and develop plans for repairs. While the main part of the building will remain closed for the foreseeable future, we received the official go ahead to open the E-wing with 23 resident rooms for overnight stays beginning tomorrow, Friday evening. We are also looking into temporarily leasing some local apartments for additional capacity.
To protect the air flow into the E-wing while construction is being done, dust barriers were installed today, and a dedicated safety officer will remain on site.
The Inn continues to do everything possible to meet the needs of patients and their families. To date, all medical appointments continue as scheduled. We communicate directly and consistently with clinical teams on reservations and stay extensions.
During this emergency, we need the support of so many in our community. The Inn's most urgent need is help with covering the cost of temporary housing and meals for our displaced families. Our children, families and staff greatly appreciate your support!
---
Wednesday, August 22, 2018:
As you may know, on Tuesday, August 21, The Children's Inn at NIH had to be evacuated and closed due to structural damage to the roof of the original portion of the building. All 45 families who were staying at The Inn at the time were relocated to area hotels and continue to receive the full support of The Inn. We would like to take this opportunity to thank our partners, especially the NIH community, for their help and assistance during this difficult time.
All families have been able to continue with their medical appointments at the NIH Clinical Center. We are working around the clock to minimize the impact of this emergency on our families.
One parent shared this on Facebook:
"We were patients at the Inn during this time and the Children's Inn did a wonderful job of getting my family out safely and not only that, provide breakfast and lunch for all of us that were unable to purchase meals because we left funds in our room. And then provided us with a new place to stay while we complete our doctor visits. Thanks so much for all you do!"
A construction team has been working to stabilize the roof. Once this is done, engineers will determine the exact cause of the damage and develop plans for repairs. We are putting a contingency plan in place that will address future housing and support needs for our families.
Beginning Friday, The Inn will open the E-wing (23 resident rooms) for overnight stays. We are currently using this portion of the building for Inn staff and programming activities, including family meals. The E-wing rooms, in addition to our five community apartments, will bring the total number of available rooms to 28. We are also looking into temporarily leasing some local apartments for additional capacity.
We continue to need the support of so many in our community during this emergency. The Inn's most urgent need is help with covering the cost of temporary housing and meals for our displaced families.
Thank you for all your support.
---
Tuesday, August 21, 2018:
This morning, structural damage in the roof of The Children's Inn at NIH necessitated a full evacuation of the building. No one was injured, and the roof did not collapse. All residents and staff were safely relocated to the NIH Clinical Center and patients' medical appointments proceeded as planned. 45 patients and their families have been relocated to nearby hotels until repairs to The Inn are made and the building is deemed safe.
Operations are currently underway to shore up the roof and further investigation is needed to determine the cause of the structural damage.
Safety remains our utmost priority. Patients and families scheduled to stay with us next week will be contacted regarding alternative lodging and transportation if necessary. All medical appointments will proceed as scheduled. Residents having questions about their reservations, should contact Mallory Lewis at [email protected] or 301-325-3263.
We will update you with additional information as soon as we have more to report. Thank you for your support of The Inn, especially during this time.

---
Other ways you can help our families: