Today, Aaron, 22, of Los Angeles, California, is a first-year middle school science teacher with a degree in education and plenty of drive and energy to teach young minds. But just a few years ago, he was struggling to stay in school because of the disabling effects of a well-known genetic disease with few treatment options. Thanks to a National Heart, Lung and Blood Institute (NHLBI) clinical trial and a four-month stay at The Children's Inn, Aaron has been cured of sickle cell disease.
Aaron recently shared his story at The Children's Inn's annual Congressional Networking Reception, speaking to a room packed with legislators, legislative staff and NIH leadership as well as Children's Inn supporters from the healthcare industry.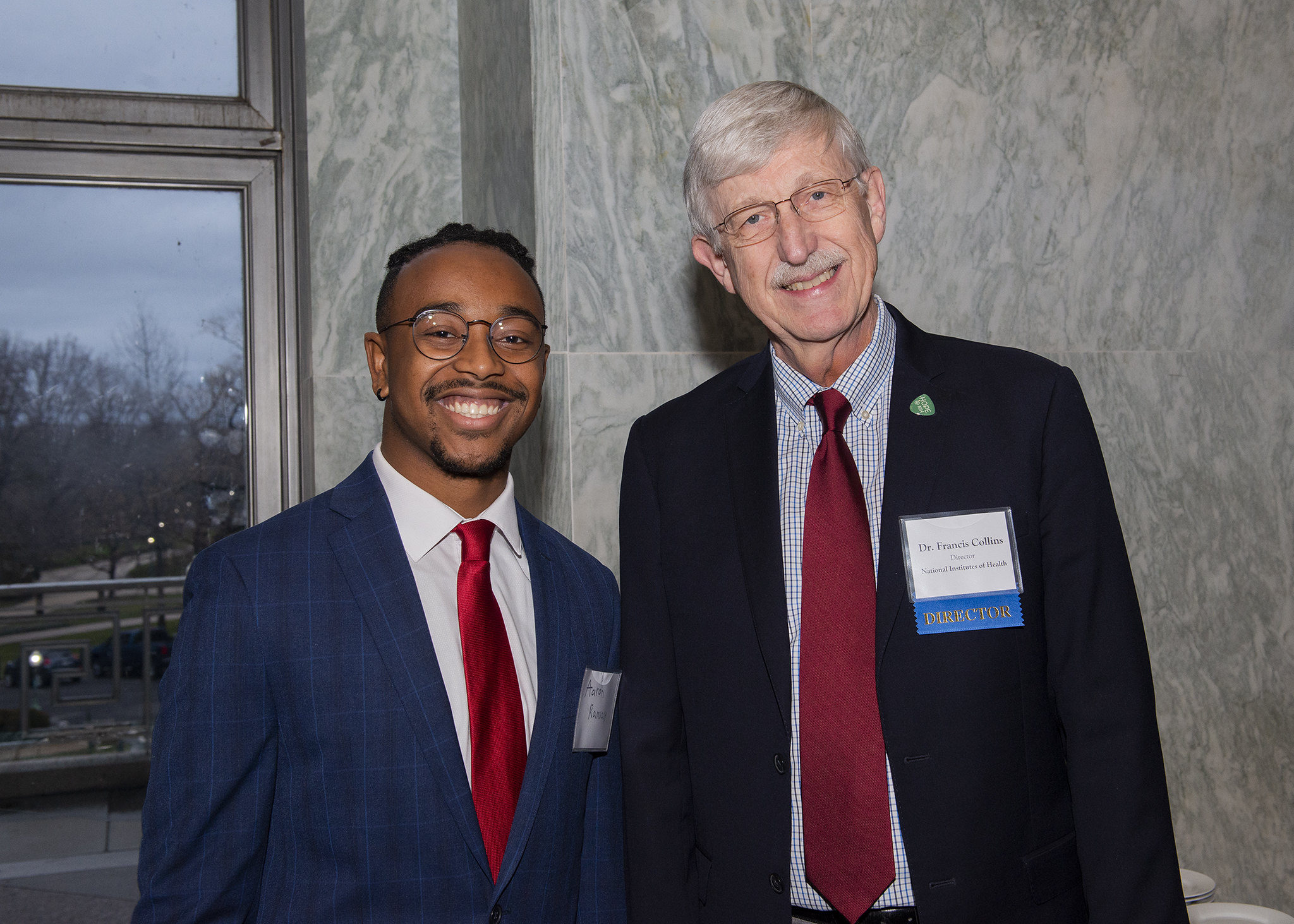 Aaron with NIH Director Dr. Francis Collins
Speakers in addition to Aaron included HHS Deputy Director Eric D. Hargan; NIH Director Dr. Francis Collins; NIH Principal Deputy Director Dr. Lawrence Tabak; Children's Inn CEO Jennie Lucca; Rep. Debbie Dingell, D.-Mich.; Sen. Roy Blunt, R.-Mo., and his wife, Abby, an Inn founder and trustee. Speakers lauded The Children's Inn's contributions to NIH clinical research benefiting pediatric and young adult patients and honored nationally renowned journalist and author Cokie Roberts, the longtime Children's Inn Congressional Networking Reception emcee and a Children's Inn board member for 27 years, who died in September 2019. Representing Roberts' family at the event was her daughter, Rebecca Roberts.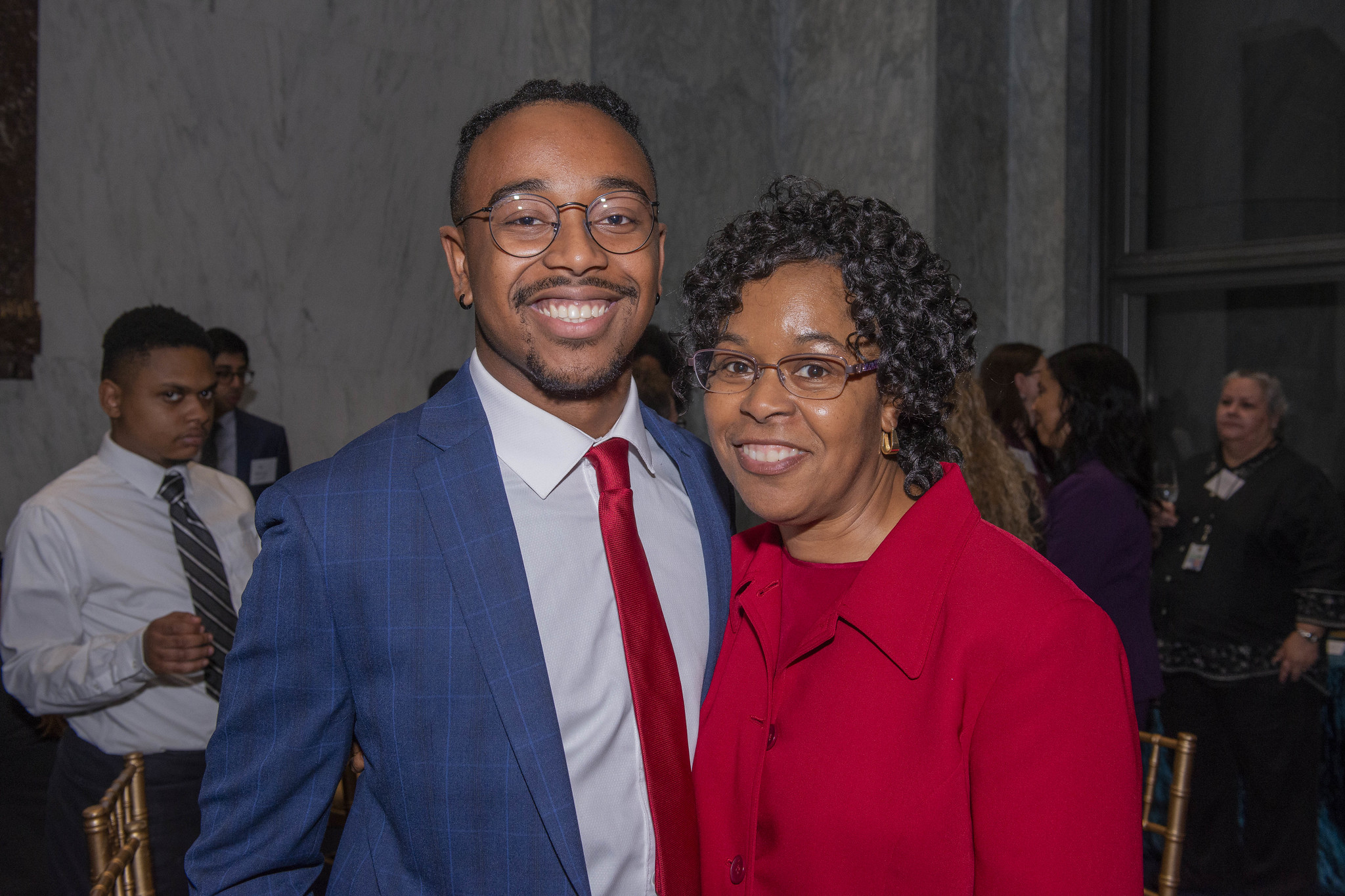 Aaron and his mother, Jacqueline
Aaron and his mother, Jacqueline, at The Children's Inn 2020 Congressional Networking Reception, where Aaron spoke about The Inn's role in helping him go through a life-saving stem cell transplant: "After my transplant, staying at The Inn was the best place for me to recover. I started feeling new energy and began working out in The Inn's fitness room. Putting in that physical work without the fear of pain was miraculous. During my three-month stay, I made friends with other young adults who were going through transplants and other treatments for sickle cell anemia, cancer, immune deficiencies and other diseases. We hung out, supported one another and some of us still keep in touch even today."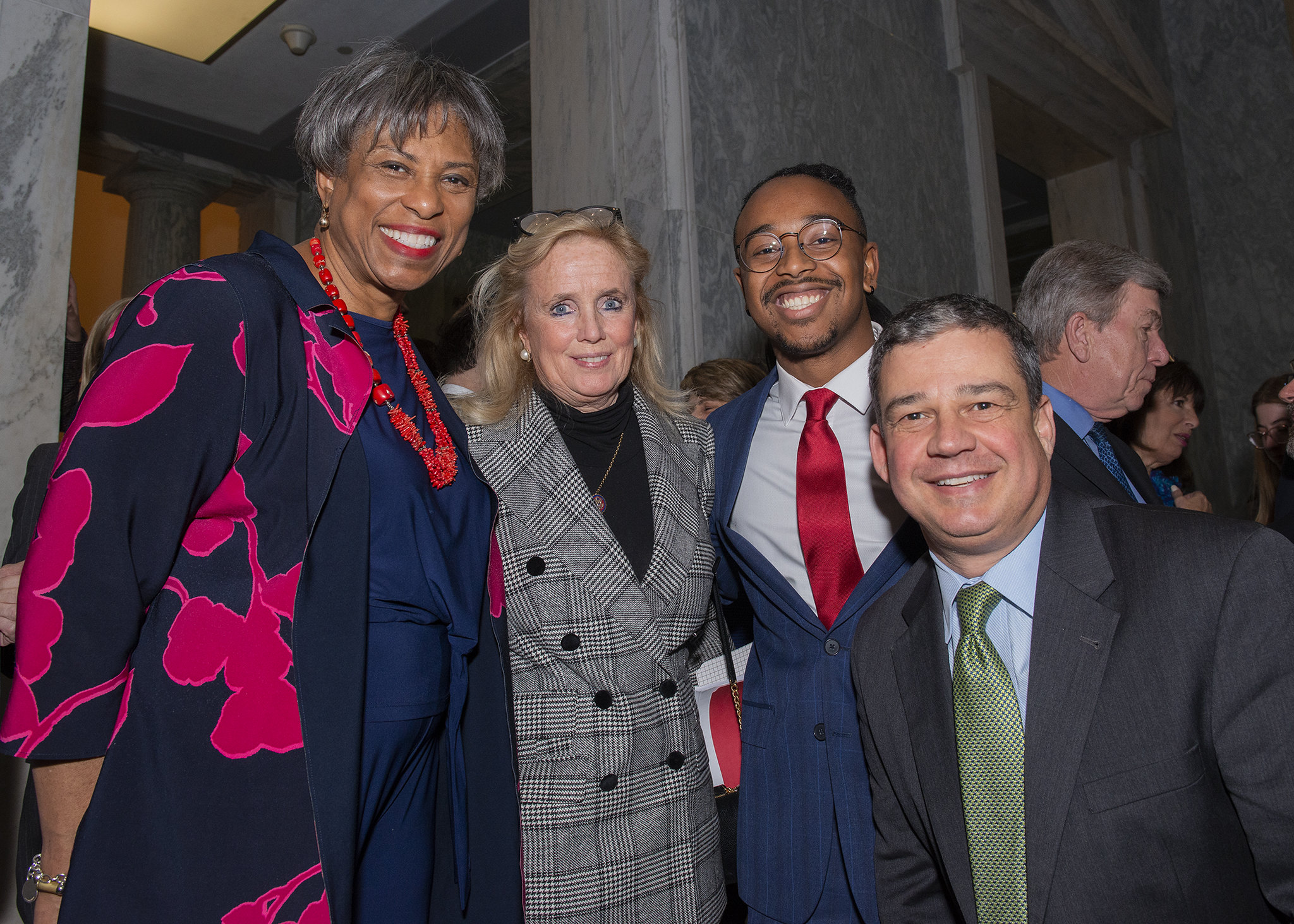 Rep. Debbie Dingell, D-Mich. and Aaron with invited guests
Aaron thanked legislators and Inn and NIH supporters – and all of you – for giving him the chance to be cured of sickle cell disease: "Your continuing support of NIH research and The Children's Inn is vital," Aaron said. "It's vital for me, my sister and the millions of people with sickle cell and other devastating diseases around the world whose best hope is ongoing medical research funded by the NIH. Thank you!"
See event photos here, or below.
Thank you for continuing to support Aaron, his family, and Inn residents like him.