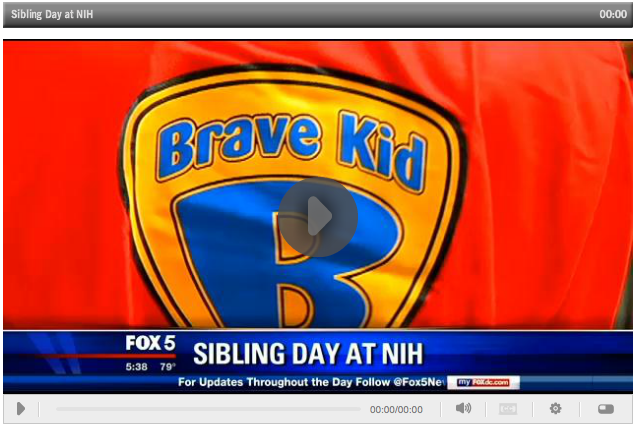 From Camp INNcredible to Sibling Day, and everything in between, Children's Inn residents have been busy with many fun and therapeutic programs this summer. Drawing "blood" from a fake arm, simulating brain surgery with a 3D monitor, using a surgical stapler, and viewing X-rays of everything from a human face to a fish were just some of the activities during the 7th Annual NIH Sibling Day.
The event provides brothers and sisters of pediatric patients a behind-the-scenes look at medical research and offers an opportunity to give them special recognition for the important role they play as part of the healthcare team. After spending the morning at the NIH Clinical Center, the 12 siblings, ranging in age from 7-15, returned to The Children's Inn for therapeutic games, art and music activities. "Sibling Day offers these kids recognition for their own needs, for their own worries, their own questions, their own concerns, their own hopes," says program creator Lori Weiner, head of the Pediatric Psychosocial Support and Research Program in the Pediatric Oncology Branch at the NIH.
"There is something new every year," adds Ryan Whited, The Inn's Family Program Manager. "A music teacher worked with the kids to compose a song about what it means to be a "Super Sibling," which they performed at the awards ceremony later that day." The day culminated with a surprise appearance by Batman, who handed out the awards along with special Batman prizes.
Camp INNcredible is The Inn's on-site summer camp program for patients and siblings that runs from late June to early August. Parents can drop off their children in The Inn's multi-purpose room for afternoon camp, providing caregivers with a much-needed break and allowing them to take some time for themselves.
During the seven weeks, kids enjoy a variety of creative and stimulating activities—this summer featured visits from Ronald MacDonald, Only Make-Believe theater troupe, and a special NASA Day. Volunteer counselors supervised arts and crafts projects that included making goo, hatching dinosaur eggs, and kite making. "Camp T-shirts were a new addition this summer and they really helped to bring the group together and get everyone excited," says Ronny Kempenich, The Inn's Education Program Coordinator. Even the nurses at the NIH Clinical Center heard about all the fun we were having at camp."