BETHESDA, Md. (Nov. 3, 2017) – The Children's Inn at NIH has joined #GivingTuesday, a global day of giving held annually on the Tuesday after Thanksgiving to kick off the holiday giving season and inspire people to impact their local communities by giving to their favorite causes.
In its fourth consecutive year of #GivingTuesday participation, The Children's Inn at NIH hopes to raise $50,000 through online giving campaigns and is encouraging its supporters to create Facebook fundraisers to help The Inn achieve its #GivingTuesday goal and raise awareness of its mission. Funds raised will be used to provide free lodging and support services to seriously ill, young NIH clinical trial participants and their families, some of whom stay at The Inn, a nonprofit hospitality house, for weeks or months at a time.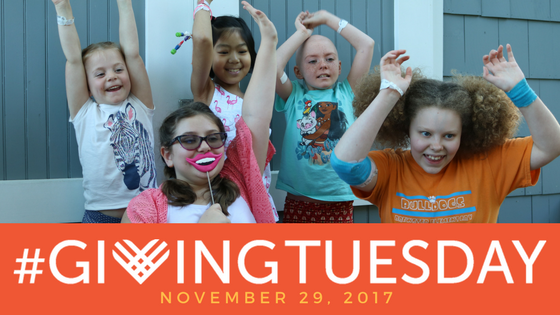 "#GivingTuesday continues to be one of our most successful social campaigns, and last year we raised over $47,000 in just one day!" said Katelyn Baughan, The Inn's digital media manager. "It's amazing to see supporters come together on one day to volunteer, donate and leverage their social networks to raise awareness for our mission. We hope by giving them the right tools, they will be inspired to help us reach our $50,000 goal this year – whether that be by sharing our messaging, donating to our campaign or creating their own fundraisers for The Inn."
On #GivingTuesday, The Inn will host several Facebook Live events with staff, families and volunteers.
Two volunteer service groups will also participate in #GivingTuesday. The Inn's playground holiday light display will be installed courtesy of employees from local commercial real estate developers, and a group from Emergent BioSolutions will help launch The Inn's Gingerbread Shop, where Inn children can shop for their family members' holiday gifts at no cost.
Those who want to support the children and families at The Inn by participating in #GivingTuesday can find more information at www.childrensinn.org/givingtuesday.
###
About The Children's Inn:
The Children's Inn at NIH is a private nonprofit with the mission to provide "A Place Like Home" for children and their families participating in pediatric research at the Clinical Center of the world-renowned National Institutes of Health. The Inn reduces families' burden of illness through free lodging and therapeutic and recreational activities as well as educational support to children. Since opening in 1990, more than 13,000 families from all 50 states and 94 countries have found a second home at The Inn. As a partner in discovery and care with the NIH, The Inn strives for the day when no family endures the heartbreak of a seriously ill child.
About #GivingTuesday:
#GivingTuesday is a global giving movement that has been built by individuals, families, organizations, businesses and communities in all 50 states and in countries around the world. This year, #GivingTuesday falls on November 28. #GivingTuesday harnesses the collective power of a unique blend of partners to transform how people think about, talk about, and participate in the giving season. It inspires people to take collective action to improve their communities, give back in better, smarter ways to the charities and causes they believe in, and help create a better world. #GivingTuesday demonstrates how every act of generosity counts, and that they mean even more when we give together.