ESPN STUDIO VIP TOUR WITH LIVE TAPING OF SPORTSCENTER – BRISTOL, CT
Donated by: The Helping Hand and The Children's Inn at NIH

SportsCenter is the daily flagship program of ESPN. Originally broadcast only once per day, SportsCenter now has up to twelve airings each day; the program features highlights and updates, and reviews scores from the day's (or depending on the airtime, the previous day's) major sporting events, along with commentary, analysis previewing upcoming games, feature segments, and news stories from around the sports world.
This is your opportunity to experience a one-of-a-kind, behind-the-scenes tour of ESPN's Bristol, Connecticut studio and watch a live taping. Two (2) people will enjoy this VIP experience to tour the entire ESPN studio (just a two-hour drive from NYC) and watch a live broadcast of SportsCenter and then meet and greet the show's anchors. Includes a lunch or dinner at 4-star rated Cava, an Italian restaurant near Bristol, where you will dine on sumptuous pastas, aged beef, and exceptional seafood dishes that are created with only the freshest seasonal ingredients. Includes one night accommodations at the Hilton in Bristol, CT. Tours take place on weekend afternoons, dates are to be mutually agreed upon.
Expires: April 29, 2018
Value: Priceless
YOUR CARICATURE AT THE PALM RESTAURANT IN TYSONS CORNER, VA
Donated by: The Palm Restaurant, Tysons Corner
When Pio Bozzi and John Ganzi opened The Palm Restaurant in 1926, they had no money to decorate. In exchange for their meals, local artists would often draw their own creations on the walls of The Palm. The restaurant has since become known for their caricatures of notable citizens decorating the restaurants. Add your face to the wall of fame and be displayed alongside some of the greatest celebrities, athletes, and politicians to ever dine there. Diners typically spend $15,000 at the restaurant before being invited to get their caricature on the wall.
Expires: April 29, 2018.
Value: $15,000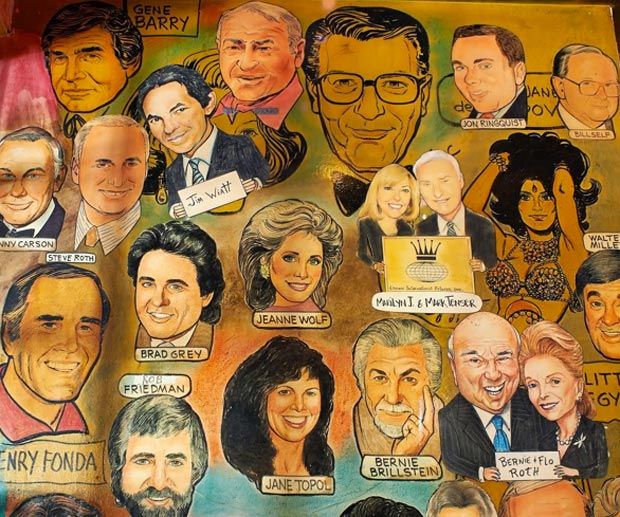 TWO TICKETS TO JIMMY KIMMEL LIVE (JKL) IN LOS ANGELES
Donated by: Jimmy Kimmel Live, Southwest Airlines & The Children's Inn at NIH
Who could forget Jimmy Kimmel as emcee of this year's Oscars? Now is your chance to win two nearly impossible to acquire tickets to Jimmy Kimmel Live, ABC's late-night talk show.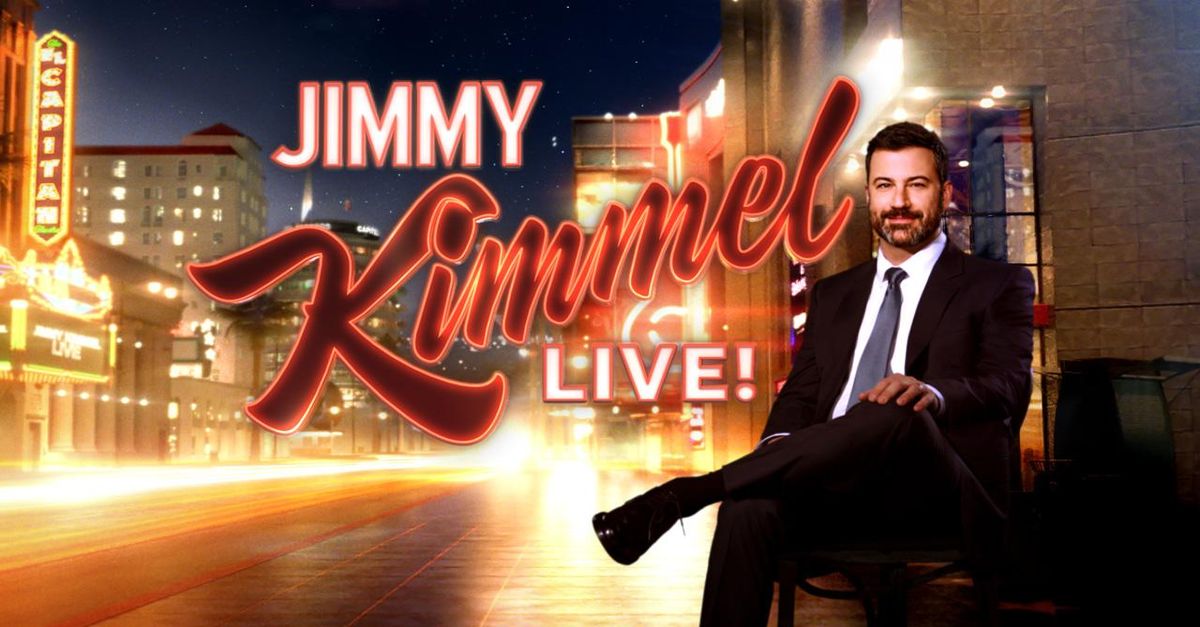 Jimmy Kimmel Live is now in its fourteenth season and is packed with hilarious comedy bits, featuring a diverse lineup of guests including celebrities, athletes, musicians, comedians and humorous human interest subjects. Every night, Kimmel delivers his up-to-the minute take on the latest news and pop culture topics from the day's events in his monologue.
Jimmy Kimmel Live is located on Hollywood Boulevard in the heart of L.A.'s star-studded Walk of Fame. Kimmel showcases this famous location's unique character throughout his show by regularly interacting with the local "Super Heroes" parading along the boulevard and challenging passersby to participate in various comedy bits. Kimmel has also created many one-of-a-kind concert experiences closing Hollywood streets around his studio to hold musical block party events with artists such as Coldplay, Lady Gaga and Depeche Mode, as well as special outdoor and lobby performances by Adele, Nicki Minaj, Drake, Tony Bennett, Pitbull, Britney Spears, Lady Antebellum, Usher, Lenny Kravitz, The Band Perry, Lil Wayne, Phoenix, 50 Cent, Bush and Gavin DeGraw.
Tapings occur Monday – Thursday. This package includes roundtrip airfare on Southwest Airlines to Los Angeles and three nights at Marriott Hotel near the studio.
Expires: April 19, 2018.
Value: $2,700
UNDER THE TUSCAN SUN VILLA MARGHERITA – TERRACE HOUSE, CORTONA, ITALY. SLEEPS 6 WITH POOL
Donated by: Sojourn Ventures and The Children's Inn at NIH
Ideally situated two hours north of Rome and 90 minutes south of Florence, the town of Cortona is well known from the best-selling book and movie, "Under the Tuscan Sun." Cortona offers a wealth of good restaurants, cafes, shops and entertainment. Villa Margherita, located just 25 minutes from Cortona, is a magnificent property amidst rolling hills with breath-taking views and a serene atmosphere to enjoy your one-of-a-kind Italian experience.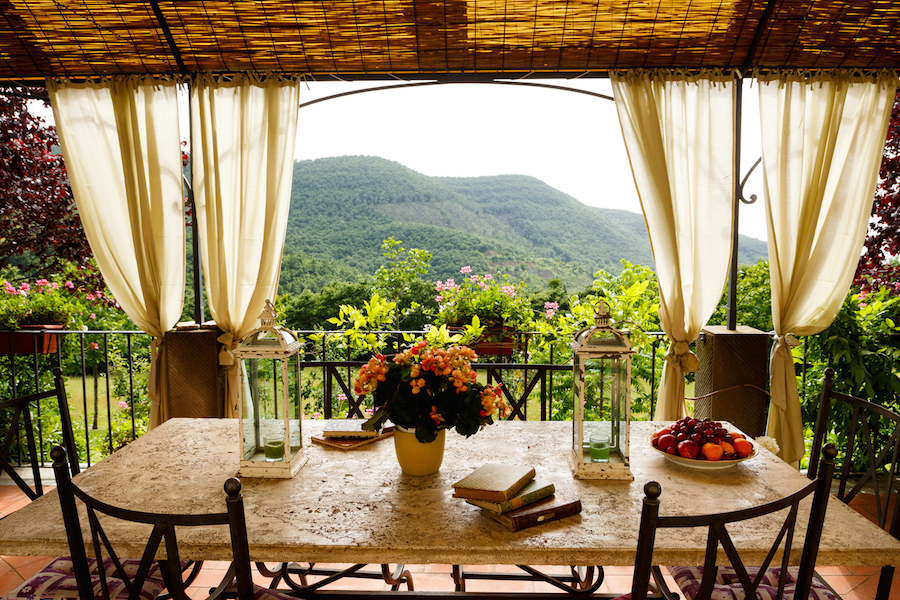 Villa Margherita consists of two fully restored centuries old villas that have maintained their traditional Tuscan architectural elements. Enjoy your 3-bedroom Terrace House villa that sleeps 6 with 3 full baths, kitchen, dining and living areas and large private courtyard garden, and outdoor pool (shared with cottage). An outdoor patio overlooks an impeccably landscaped garden, abundant with native Tuscan flora.
Amenities: Free Wi-Fi, washing machine, dishwasher, parking. Heating and air conditioning are extra fees that are based on usage, to be paid to the owner at the end of your stay. Dining services for breakfast and dinner are available upon request and in-home cooking classes can also be arranged with the property owner. The Villa Margherita Terrace House is truly an extraordinary home and a wonderful base for your Italian adventure! Airfare not included.
Expires April 29, 2019.
Value: $7,200
DREAM VACATION AT NORTH FORK RANCH, A PREMIER COLORADO ORVIS-ENDORSED FLY FISHING LODGE, PLUS AIRFARE
Donated by: North Fork Ranch- Hayley Horner and Jet Blue
Only 45 minutes from Denver, North Fork Ranch is located on the North Fork tributary of the famed South Platte River. Here you will enjoy some of the most exclusive private water fly fishing available in Colorado. The North Fork Ranch is situated within striking distance of the popular tailwaters of the South Platte River as well as countless miles of tributaries of the South Platte River. North Fork Ranch is the perfect location for an unforgettable fly fishing experience, whether you are exploring the South Platte drainage on your own or with one of North Fork Ranch's premier guides.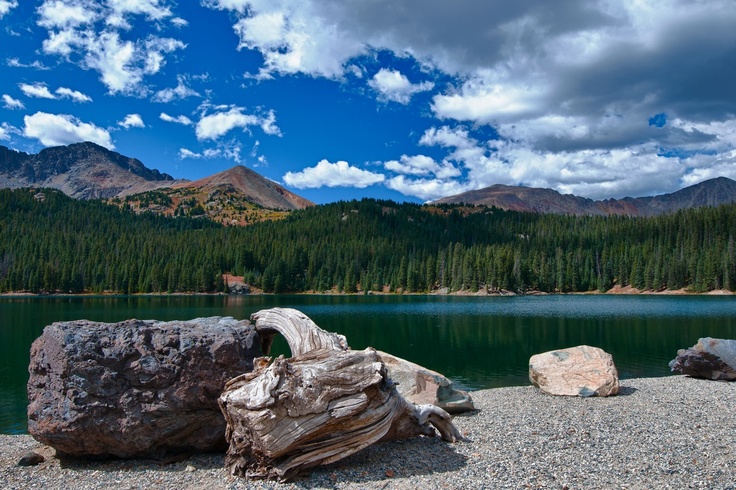 Enjoy the North Fork Ranch, an all-inclusive resort, for 6 days/5 nights for two. Private, cozy lodging provides incredible views of the river and mountains, 3 gourmet meals per day, and well stocked snacks throughout the day.
Includes 2 days guided fly fishing per person (2 full-day or 4 half-day sessions). The Orvis-endorsed guides at North Fork Ranch's Guide Service average over 10 years' experience and will provide you and your guest an unforgettable experience.
Select one additional activity for two people from the following:
• Orvis Fly Fishing Clinic,
• 2-hour Horseback Ride
• Wine Tasting at Aspen Creek Cellars
Reservations required and subject to availability – Fly fishing guides book well in advance. All activities are based on seasonal availability. Gratuities not included, additional guests can be added at normal resort fees and transportation from Denver airport (one hour drive) available for additional fee. Airfare for two included on JetBlue. More details.
Expires April 29, 2018.
Value: $5,000
THE ULTIMATE PINEHURST GOLF EXPERIENCE
Donated by: DogDen Golf
Pinehurst No. 2, the centerpiece of Pinehurst Resort in Pinehurst, North Carolina, remains one of the world's most celebrated golf courses. It has served as the site of more single golf championships than any course in America and hosted back-to-back U.S. Open and U.S. Women's Open Championships for the first time in 2014. The U.S. Open will return there in 2024.
You and three guests will play with David Ogden, top amateur who missed the U.S. Senior Open last year by one stroke.
Enjoy luxury accommodations for three (3), three-night stay in the Village of Pinehurst with access to the top courses in the Sandhills region and exceptional dining and activities.
Includes one round of golf at Pinehurst No. 2 and a second round ($150 credit per person) at another course in the Pinehurst region. You will have access to The Dormie Club, the exclusive Forest Creek Golf Club, CCNC, Pine Needles and other top courses. This spacious contemporary home sleeps 8 and has 4 master bedrooms (2 Master Suites/ 2 Guest Bedrooms – each bedroom with its own bathroom.) Great outdoor space with a game room that offers a pool table and massage chair. Accommodations are based on time of year availability.
Expires: June 29, 2018.
Value: $3,900
THE WASHINGTON LANDSCAPE
Donated by: The Children's Inn
Each year, over 1,500 seriously ill children and their families call the Inn "home" while they participate in potentially life-saving clinical trials at the NIH. This artful representation of the Washington, DC skyline was created with assistance from Inn residents, whose many colorful fingerprints fill the city's outline. The individual fingerprints in this beautiful piece represent the more than 13,000 children who have stayed at the Inn from all over the nation and the world since we opened our doors in 1990. Value: Priceless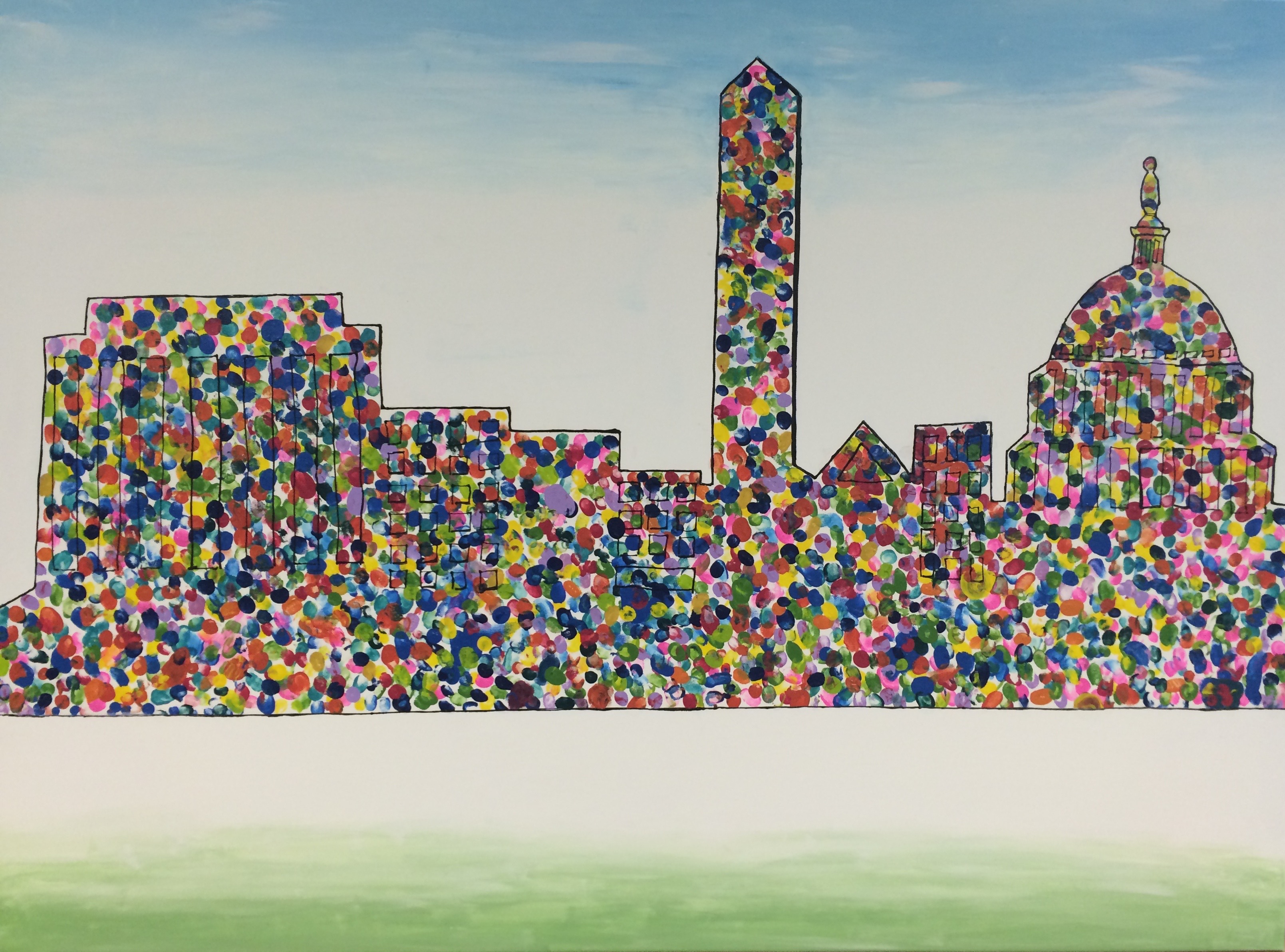 HAMILTON – TWO NIGHTS IN THE BIG APPLE AND BROADWAY'S HOTTEST SHOW!
Donated by: The Children's Inn
Easily the hottest Broadway ticket on the market. Written about the life of American Founding Father Alexander Hamilton, Lin-Manuel Miranda's hit Broadway show at the historic Richard Rodgers Theatre embraces the history and diversity of American culture like no musical before. In 2016, Hamilton received a record-setting 16 Tony Award nominations, winning 11, including Best Musical and Best Performance by an Actor in a Leading Role in a Musical. The show also won a Grammy for Best Album and a Pulitzer Prize for Drama.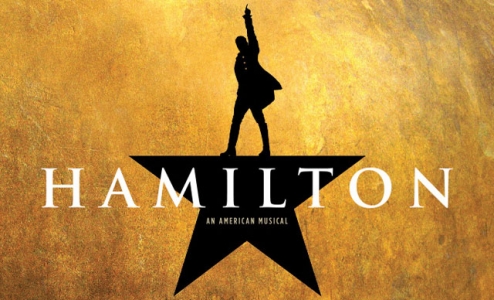 Make it a fun weekend celebration! Get two (2) exclusive nearly-impossible-to-find orchestra seat tickets to Hamilton, an experience you won't forget. Includes two (2) Premium Orchestra (Row G) tickets for Saturday, September 23, 2017 at 8 pm and two (2) nights (Friday, 9/22/17 and Saturday, 9/23/17) at The Gansevoort Park Avenue, a luxury hotel at 29th and Park Avenue South, NYC. Also includes a $100 gift card to Massoni Italian restaurant.
Expires: September 23, 2017
Value: $4,100
LUNCH FOR FOUR WITH ACTRESS AND HOMELAND STAR ELIZABETH MARVEL IN NEW YORK CITY!
Donated by: Elizabeth Marvel and Neal Katyal
Enjoy meeting veteran screen and stage actress Elizabeth Marvel who plays this season's POTUS Elizabeth Keane on the hit series Homeland. You could even say she has been moving up the ranks with her roles. As presidential candidate Heather Dunbar in Netflix's House of Cards, she had her sights set on the Oval Office and challenged Frank Underwood (Kevin Spacey) for the Democratic presidential nomination. Other TV roles include the second season of Fargo and many episodes of Law & Order: SVU. Enjoy a special lunch with Ms. Marvel whose acting career includes the movies Burn After Reading, True Grit, The Bourne Legacy, Hyde Park on the Hudson, and Lincoln, as well as many plays. Ms. Marvel lives in New York City, so lunch will be at a mutually convenient date and restaurant in the city.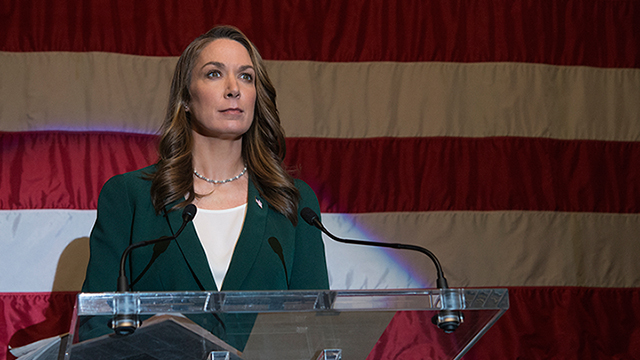 Inn Board Member Neal Katyal, who made his acting debut alongside Ms. Marvel in Season 3 of House of Cards, arranged this special opportunity and will join you and three guests for lunch (if scheduling allows). Neal is a partner with Hogan Lovells and former acting Solicitor General of the United States, perhaps best known for winning the landmark case of Hamdan v. Rumsfeld before the Supreme Court, one of 32 cases he has argued before the high court. He was originally called upon to make sure the Supreme Court scene on House of Cards was authentic and was later asked to play the opposition in the scene with Ms. Marvel.
Lunch included for four (4) guests at a mutually agreeable date, time and location.
Expires: April 29, 2018
Value: Priceless
EXPRESSIONS IN BLUE
Donated by: The Children's Inn

At The Children's Inn, each child and family experiences their own unique journey in search of medical discoveries that might alter their future and others for years to come. This soothing art display of beautifully hand-painted ceramic tiles expresses the unwavering hope of the children and families who stay at The Inn.
Throughout the year, art serves as a form of therapeutic release for Inn children and families. The 40 individual 4×4 tiles in this piece were created at The Inn during the past year. The art installation is a perfect showpiece for any home or office. Inspired and created by the residents of The Inn.
Value: Priceless